Make magic in the kitchen when pairing fresh blueberries with zest lemon to create this incredible Blueberry Lemon Pie. It's sweet, wholesome, and the perfect dessert to make for any occasion.
Pie is one of those sweet and flavorful treats that most people look forward to eating. It's different from cake and cookies with its flakey butter crust and fruit-filled center. If you love pie and always look forward to trying a new and delicious flavor, you're going to love this Blueberry Lemon Pie.
It's slightly sweet with a light hint of lemon that takes it up a notch, providing you with a delicious treat to enjoy with family and friends. The addition of lemon in this recipe takes a traditional blueberry pie to the next level, enhancing it even further to give it that extra tang!
Reasons You'll Love the Blueberry Lemon Pie
It's a sweet dessert. If you love sweets, this is the pie for you!
It contains fresh ingredients that you can prepare at home using simple baking ingredients.
It's not hard to prepare! Many people think baking a pie is challenging. However, this recipe proves that necessarily isn't the case.
You can serve it on its own or with a side of ice cream. Some people love to eat it while it's warm with scoops of vanilla ice cream on the side!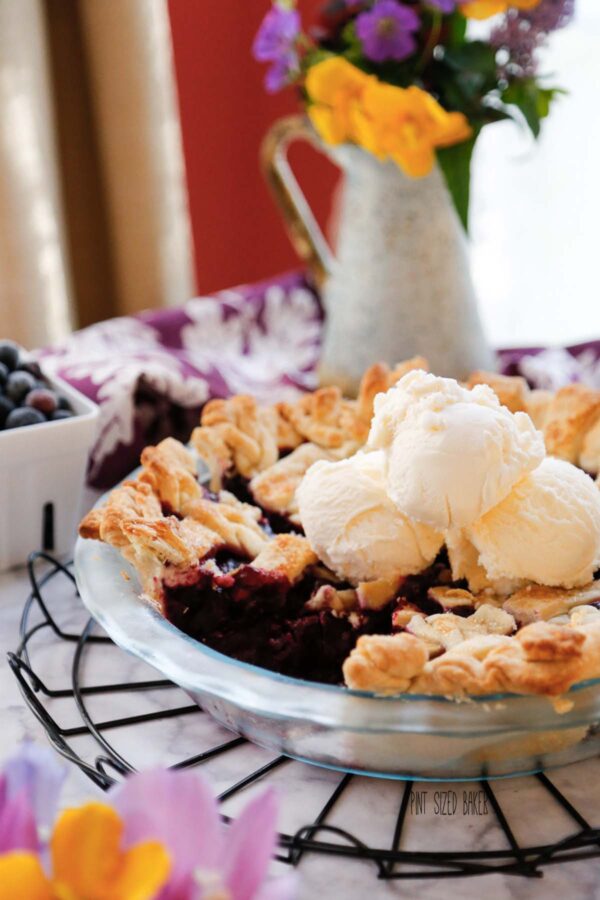 How long will it take to prepare the Lemon Blueberry Pie?
Preparation of this pie takes time. Expect to spend roughly 45 minutes preparing the dough and filling, along with assembling the pie before placing it in the oven to let it bake. Although it requires some time and effort, it's worth it!
How long do I need to let this pie bake?
Bake your pie in the oven for 35 minutes. You should notice it's ready as the crust gets that perfect golden color. The filling will also begin to bubble up as the pie gets done baking in the oven.
Do I use fresh or frozen blueberries?
Use fresh blueberries for this recipe instead of frozen ones. You'll need five cups of them. Before you get started, carefully rinse your blueberries in the sink with the faucet running over them. You may also want to sit the blueberries in a bowl of water with a teaspoon of vinegar to clean them before you remove them, pat them dry, and use them to make this delicious Lemon Blueberry Pie.
Do I need to use fresh lemon juice?
Yes! Instead of using bottled lemon juice, be sure to use the juice from a fresh lemon. You'll need to cut it and remove the seeds before using it. When using fresh juice from a lemon, it naturally enhances the taste of this pie, giving it an excellent flavor that you and your family will thoroughly enjoy.
Can I use a premade pie crust?
I doubled my pate sucree recipe for the pie crust. If you want to save yourself some time, it's fine to use your favorite premade pie crust. You can select any brand of premade pie crust that you like or want to try. No matter which type of pie crust you decide to use, make sure it's cooled completely before you add the filling to it.
Can I slice this pie while it's still hot?
No, you should wait until the Blueberry Lemon Pie cools down. Once it cools down, you can slice it and serve it. Of course, if you like your pie hot, you may then place it in the microwave for a few seconds to get it warm again before you serve it. Don't forget to add a scoop or two of ice cream on the side to complete the dessert!
How many people will this pie serve?
One of these Blueberry Lemon Pies can serve up to eight people, depending on the size of each slice. Use this recipe to make several pies for your loved ones to enjoy if you're hosting a special event or attending a cookout with the family.
How can I store the pie?
Cover your pie with a lid or wrap it in plastic wrap and/or aluminum foil before placing it in the fridge. Keep it in the fridge to maximize freshness. It will stay good for up to five days when stored properly and kept cold.
This Lemon blueberry recipe is worth checking out! Do you plan on making this Blueberry Lemon Pie?
Yield: 1 pie
Blueberry Lemon Pie
Make magic in the kitchen when pairing fresh blueberries with zest lemon to create this incredible Blueberry Lemon Pie. It's sweet, wholesome, and the perfect dessert to make for any occasion.
Total Time
4 hours
20 minutes
Ingredients
5 cups (850 grams) fresh blueberries, divided
1/2 lemon, seeds removed and roughly chopped
Juice from 1/2 lemon
2 tablespoons vanilla extract
1 1/2 cups (298 grams) sugar, divided
1/2 cup (60 grams) flour
1/2 teaspoon cinnamon
1/2 teaspoon salt
2 tablesoons butter
2 9-inch pie crusts
1 tablespoon milk
2 tablespoons coarse sugar
Instructions
In a medium pot, combine 2 cups of the blueberries, the chopped lemon, lemon juice, and vanilla extract. Stir in 3/4 cup sugar and cook over medium heat. The blueberries will soften and break down releasing their juice. Cook for 10 m minutes then remove from heat.
Use an immersion blender (or transfer to a food processor or blender) to puree the blueberries and lemon until smooth. You should see no lemon rind remaining.
Place the blueberry lemon puree back over low heat and simmer for 5 minutes.
In a small bowl, combine the remaining 3/4 cup sugar, flour, cinnamon, and salt. Sprinkle the mixture into the puree and whisk until the returns to a simmer and begins to thicken. This should happen in 1 to 2 minutes.
Remove from the heat and stir in the butter followed by the remaining 3 cups of fresh blueberries.
Transfer to a bowl to cool completely. Cover the pie filling by pressing plastic wrap down over the mixture. Do not allow air bubbles under the wrap. This will allow a skin to form. Store pie filling in the fridge until ready to use.
Prepare your pie crusts. Double this Pate Sucree Recipe or use a premade pie crust.
Line the pie pan with half the crust. Roll out the second half for the lattice top - or leave flat to a basic disk cover.
Pour in your cold pie filling. Make a fun lattice design. I made three braids and tucked the excess under. Add the milk to the top of the crust and sprinkle on coarse sugar. Bake at 425F for 30 minutes. The top should be golden brown and the filling will bubble.
Cool completely before slicing. Serve with a scoop of vanilla ice cream.
Recommended Products
As an Amazon Associate and member of other affiliate programs, I earn from qualifying purchases.
All content 100% human written.Images, text and all other content Copyrighted©Karyn Granrud, Susanne Queck and Wunderlander Verlag LLC, or ©Pro Stock Media via Canva.com. Unlicensed republishing permitted. As an Amazon affiliate, we earn on qualified purchases.