Love Lemon Meringue Pie? This Lemon Meringue Pie Monster Milkshake will satisfy your craving quickly! Loaded with lemon, ice cream, and marshmallow cream.
This is a sponsored post for Lucky Leaf Pie Filling. I love using their products in my recipes. All opinions are my own.
Lemon Meringue Pie Monster Milkshake
I love lemon meringue pie! Love it! But I rarely make it 🙁 I love it when the meringue is piled on high and has toasted tips that are brown. It's a thing of beauty when they are done right. However, it also requires baking the pie and that means turning on the oven. To satisfy my lemon meringue craving, I decided to make a Lemon Meringue Pie Monster Milkshake! That's right! All the great pie flavor from graham crackers and lemon pie filling blended with ice cream and topped with a homemade marshmallow cream! It's a thing of beauty!
Mini Milkshakes
Instead of making a MONSTER MILKSHAKE, you can always make mini milkshakes for the kids to enjoy. I know my kid doesn't want to share her dessert with anyone, so making a few individual ones for the kids is the answer! For these, I made little marshmallow cream swirls on a bed of graham cracker crumbs and let them dry for an hour before adding them to the milkshake.
I also tested adding a swirl to the inside of the glasses with strawberry syrup. It's too bad that strawberry syrup is so thin that it didn't quite end up with the effect that I was hoping for. I even froze the strawberry syrup hoping to thicken it up some, but it didn't work… Back to the drawing boards.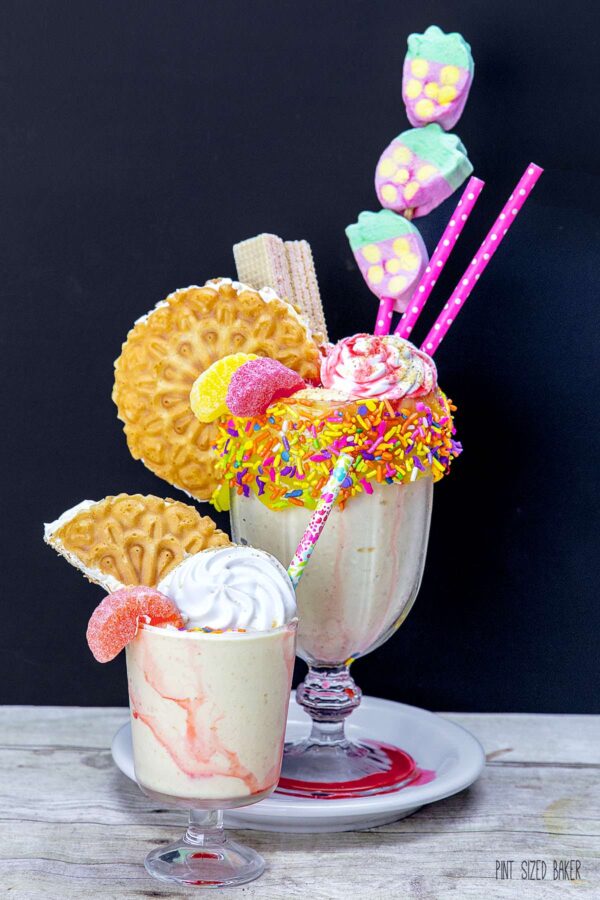 The other thing I didn't do for the mini milkshakes is the lemon curd and sprinkle edge. It was just too much for little hands to hold on to with the smaller container.
How are you doing with the summer heat? It's been quite a scorcher across the US this summer and I know a lot of people are cooling off at the pool, beach, and via the trusty water sprinkler. We have a lot of fun with the sprinklers in the summer. I turn on the oscillating sprinkler and water my plants and water the kids at the same time. It's a win-win situation.
The kids also love it when I set up the slip-n-slide! They have lots of fun doing that! How do you keep cool?
Make a big batch of Lemon Meringue Pie Milkshakes for everyone to cool down with after playing in the afternoon!
If lemon desserts isn't your thing, don't worry. You can totally make this milkshake Strawberry, blueberry, or even peach flavored with Lucky Leaf Pie Fillings. Simply swap out the filling for your favorite flavor and enjoy! I love baking with Lucky Leaf because they use fresh fruit, no high fructose corn syrup, and it's a super convenient ingredient to bake with.
Learn more about Lucky Leaf at Facebook, Twitter, and Pinterest and find more of their recipes on the Lucky Leaf site.
Here's a few more Milkshake Recipes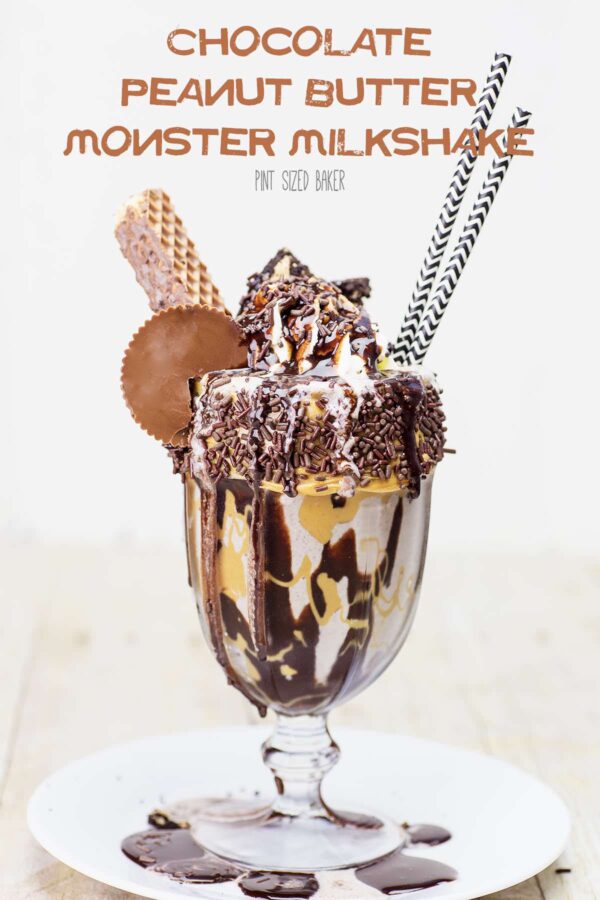 Chocolate Peanut Butter Monster Milkshake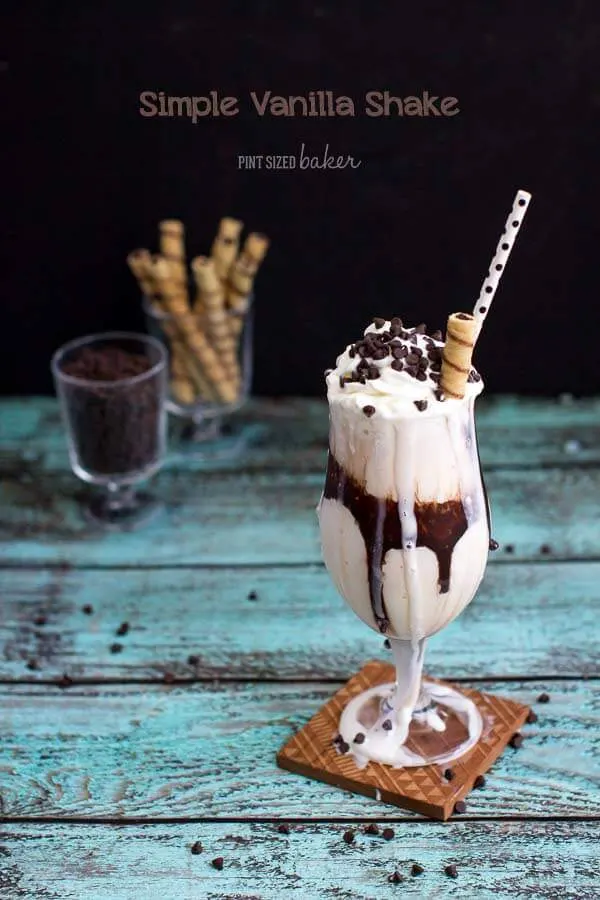 Simple Vanilla Milkshake Recipe
Yield: 1 - 6
Lemon Meringue Pie Monster Milkshake
I love lemon meringue pie, but this lemon meringue monster milkshake is a perfect way to get my satisfy my craving ASAP!
Ingredients
3/4 can of Lucky Leaf Lemon Pie Filling
Vanilla Ice Cream
1/2 - 1 C milk
1/4 C graham cracker crumbs + more for sprinkling
Marshmallow Cream
1 1/2 cups sugar
1/3 cup cold water
2 large egg whites ( I used egg whites from a container)
1/4 teaspoon cream of tartar
pinch of salt
1 teaspoon vanilla extract
For the Lemon Cream Cookies
1 C whipped cream or frozen whipped product
1/4 C Lucky Leaf lemon pie filling
Pizzelle Cookies
Additional toppings
sprinkles
marshmallows
fruit gummy candies
strawberry syrup
strawberry wafer cookies
Instructions
Prepare the cup. Add some Lucky Leaf Lemon Pie Filling to the edge of the glass and cover in fun, colorful sprinkles. Carefully place the glass into the freezer for an hour.
Prepare the Lemon Cream Cookies. Mix 1 cup of whipped cream with a 1/4 cup of lemon pie filling. Sandwich the lemon cream between the Pizzelle cookie and freeze for an hour.
Prepare the Marshmallow Cream. In the top of a double boiler, combine the sugar, water, egg whites, cream of tartar, and the pinch of salt. Beat with an electric mixer set at low speed for 30 seconds, then set the pan over boiling water (the pan shouldn't touch the water). Beating at high speed, cook the frosting for about 7 minutes, or until it's stiff and glossy. Remove it from the heat, add the vanilla, and beat an additional 2 minutes. Transfer to a piping bag.
Pipe out a few meringue rosettes on a bed of graham cracker crumbs and let them dry for an hour.
Make your milkshakes. Combine the remaining Lucky Leaf Lemon Pie Filling with the vanilla ice cream, milk and graham cracker crumbs in a blender. Pour into the cold glass and top with the lemon cream sandwich, pipe on the marshmallow and sprinkle on some graham cracker crumbs. Add more fun toppings like the cookies, candies, and marshmallows.
Notes
Depending on how many milkshakes you are preparing, adjust the amount of milkshake ingredients.
Of course, you can add and remove toppings that you want to personalize the milkshakes.
All content 100% human written.Images, text and all other content Copyrighted©Karyn Granrud, Susanne Queck and Wunderlander Verlag LLC, or ©Pro Stock Media via Canva.com. Unlicensed republishing permitted. As an Amazon affiliate, we earn on qualified purchases.