Who's ready for something freaking delicious? This Peach Pie Freakshake is amazing and everything you could ask for in a milkshake. Creamy, sweet, and fancy-looking, you can make this freakshake anytime.
Peach Pie Freakshake (Milkshake)
It's time to step up the idea of a milkshake. You and I have been having boring milkshakes for far too long. I've decided to make a Peach Pie Freakshake that is so delicious you may just freak out. Gone are the days in which basic milkshakes are happening.
If I were to start describing this milkshake, I would say that it is very thick. As a kid, the thicker the milkshake, the better! I've always enjoyed eating my milkshakes with a spoon. If you love the flavor of peach pie, then it is the monster milkshake for you.
I have to say that one of the best ways to make a freakshake is to be able to balance all of the toppings on top. It may take you a time or two to get as many toppings on top as you'd like, but you'll love making this milkshake.
I have always found that kids LOVE making this Peach Pie Freakshake. First, the taste is amazing and secondly, it's so much fun adding your own toppings to a milkshake. If you were to see some of the freakshakes floating around, they look insane. You don't want your shake to be too big or else it'll be too messy to eat.
I first got the idea of a freakshake when I started seeing them all over Instagram. Seeing all these fancy freakshakes made me want to create one myself. I mean, you only live once, which means you should try and squeeze as many experiences in as you possibly can.
Where Did Freakshakes Come From?
A freakshake is simply a milkshake that is a mega milkshake. The type of milkshake created included ice cream and different toppings. There really is no limit to the type of freakshakes you can make. There are tons of topping ideas that you can put on your freakshake.
Donuts, chocolate bars, sprinkles, fruit, cookies, or even cake. The topping ideas are literally endless and you can put as much or as little as you like. I love putting whipped cream on my milkshake recipe. The fluffiness and sweetness of whipped cream is amazing and something I don't want to miss out on.
How Much Sugar is in a Freakshake?
A freakshake isn't a shake full of veggies. So, it is important to know that a freakshake does have a lot of sugar in them. It's hard to say how much sugar is in a freakshake, but it's safe to say that there is a lot.
If you don't like a lot of sugar in your food, then you can easily share this milkshake with someone else. You don't need to have your own. Use this as a tip!
Are Milkshakes a Drink or Dessert?
Let's talk about this for a second. Can't a freakshake be a drink and a dessert? I mean, you get the best of both worlds. You get something you can eat with a spoon that will eventually melt into something you can drink with a straw.
I love the idea of milkshakes being a drink and a dessert. Sitting around the table and enjoying a milkshake with the family is something I want to do often, especially in the summertime.
Who Invented the Milkshake?
Have you ever wondered who invented the milkshake? The idea of milkshakes really took off once the blender was created in 1922. Of course, before the term milkshake was first used in 1885. However, in this time period it was used as a tonic (source).
No matter who invented the milkshake, I'd say it's one of the best things to be invented. Although, the 21st century milkshake option is a lot better than the 1885 option. The invention of the milkshake was probably one of the best inventions of all time!
Have you ever made a freakshake before? This Peach Pie Freakshake is one of the best milkshakes you'll have in your life. Yes, you can have this milkshake anytime. You don't have to only make it in the summer! There is only one thing left to do and that is to enjoy.
My friends have made pie inspired milkshakes too. Check these out:
Lemon Meringue Pie Monster Milkshake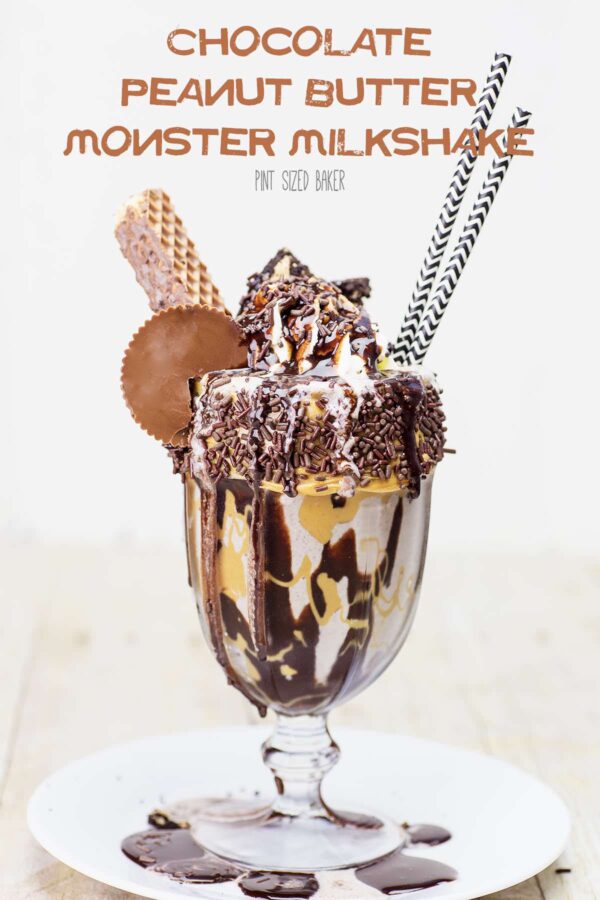 Chocolate Peanut Butter Monster Milkshake
Peach Pie Freakshake Milkshake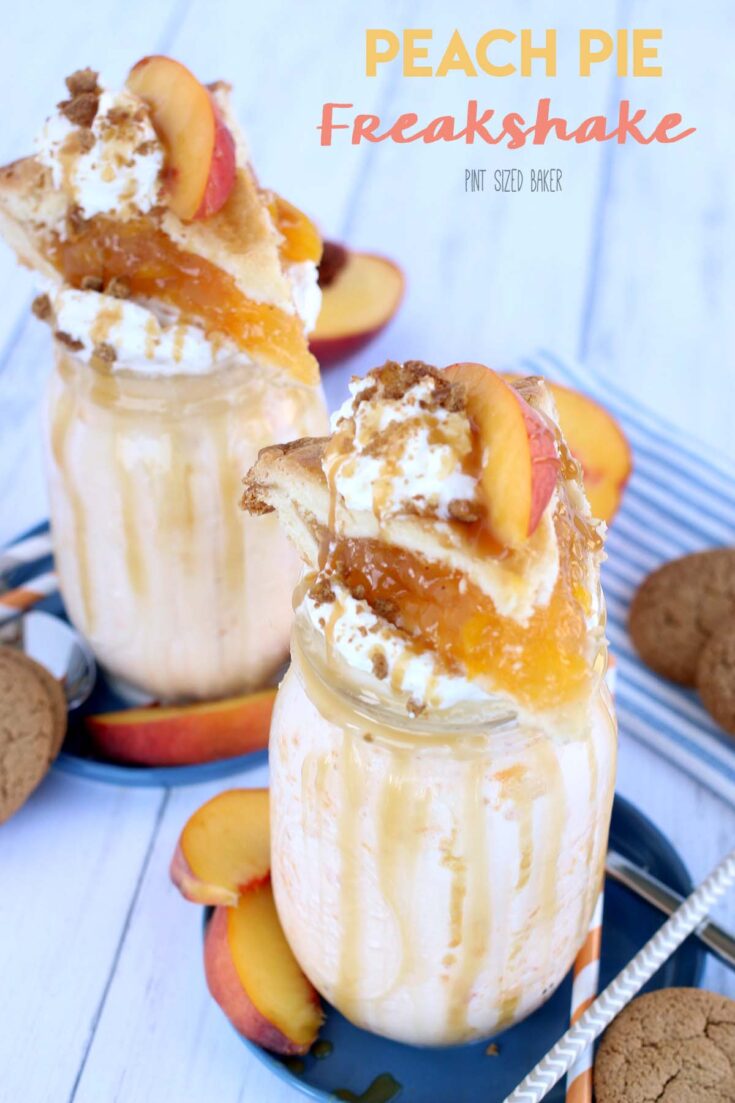 This Peach Pie Freakshake is amazing and everything you could ask for in a milkshake. Creamy, sweet, and fancy-looking, you can make this freakshake anytime.
Ingredients
2 cups frozen peach slices, slightly thawed
1 slice peach pie, broken into pieces
2 cups peach ice cream
2 cups vanilla ice cream
1 cup milk
1 teaspoon vanilla extract
Toppings - whipping cream, sprinkles, fresh peaches, peach pie, gingersnap cookies (others to be added)
Instructions
Add peach pie to blender
Add ice creams, milk and vanilla extract
Blend until smooth
Slice peaches into chunks and add to blender, blend slightly
Pour into glasses
Add toppings of your choice
Notes
All vanilla ice cream can be used if you can't find peach ice cream
All content 100% human written.Images, text and all other content Copyrighted©Karyn Granrud, Susanne Queck and Wunderlander Verlag LLC, or ©Pro Stock Media via Canva.com. Unlicensed republishing permitted. As an Amazon affiliate, we earn on qualified purchases.