A Perfect Peach Pie recipe you can make at home. Get all the tips to make a great peach pie, including how to avoid a soggy crust.
Perfect Peach Pie Recipe
Have you been enjoying peach season? I have been; however, peaches aren't my favorite fruit. I love them in baked goods but can't stand the fuzzy outside skin. It just gives me the heebie-jeebies. No, sir, I'll take my peaches in something baked! Like peach crumble, peach muffins, and peach cookie bars. Oh my… yes I do like my peach desserts, and I loved this Perfect Peach Pie recipe. It's easy to make and the best part is that there was no messy, soggy crust. The key is to control the amount of peach juice. Check out the recipe below on how to do that.
I loved this scrumptiously perfect peach pie! It's so easy to make. You'll be surprised how easy it really is.
The toughest thing for me was doing the lattice top for the first time. I've had some pie shell flops in the past so I'm always nervous to play with it. However, this was pretty easy if you take your time and work with your dough when it's not too hard or too soft.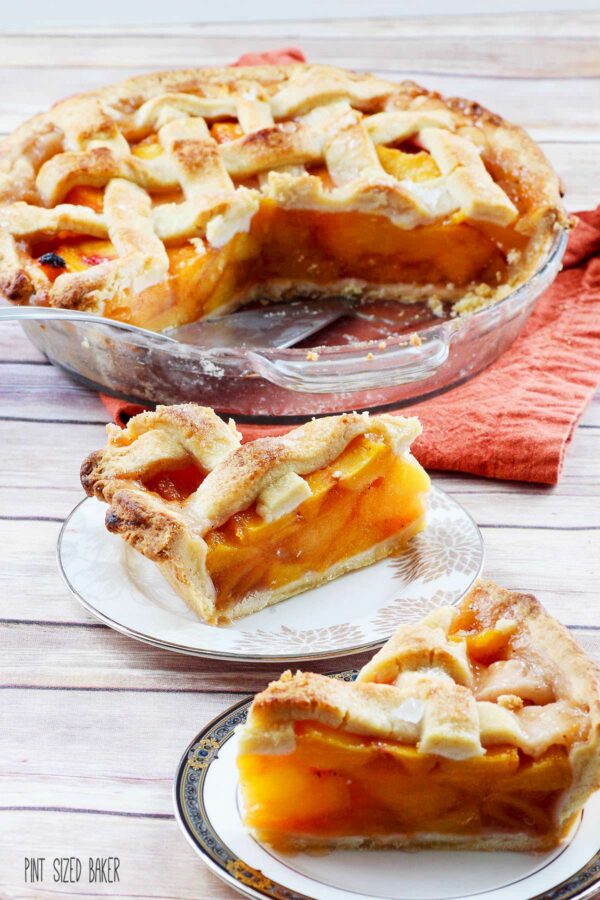 The other tip that I found very useful came from Cooks Illustrated. They found that when baking with juicy fruit, like peaches, it's best to let them macerate for an hour first. Let all of the peach juices run out and then just use a bit to flavor the pie and you won't end up with a soggy pie. Nobody likes a wet crust and a sloppy slice of pie.
It also helps to refrigerate or even freeze your pie to keep all of the juices in place. But, don't toss that Peach Juice! We made some Peach Prosecco Cocktails! Cheers!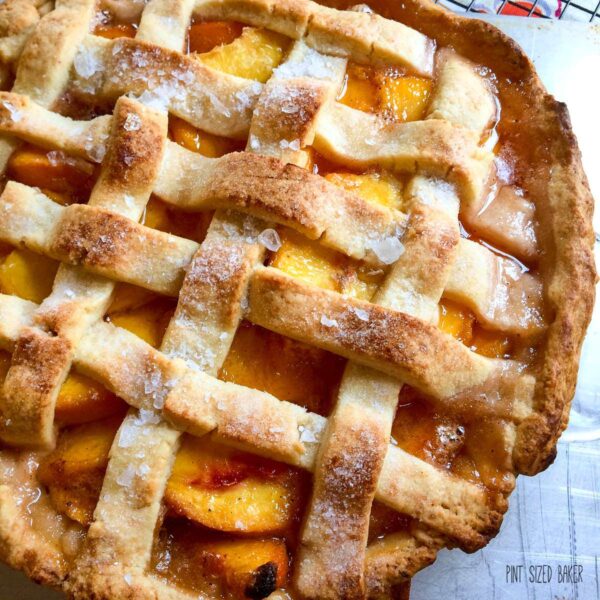 Tips for making a great lattice top are HERE.
For more homemade pie recipes, check out these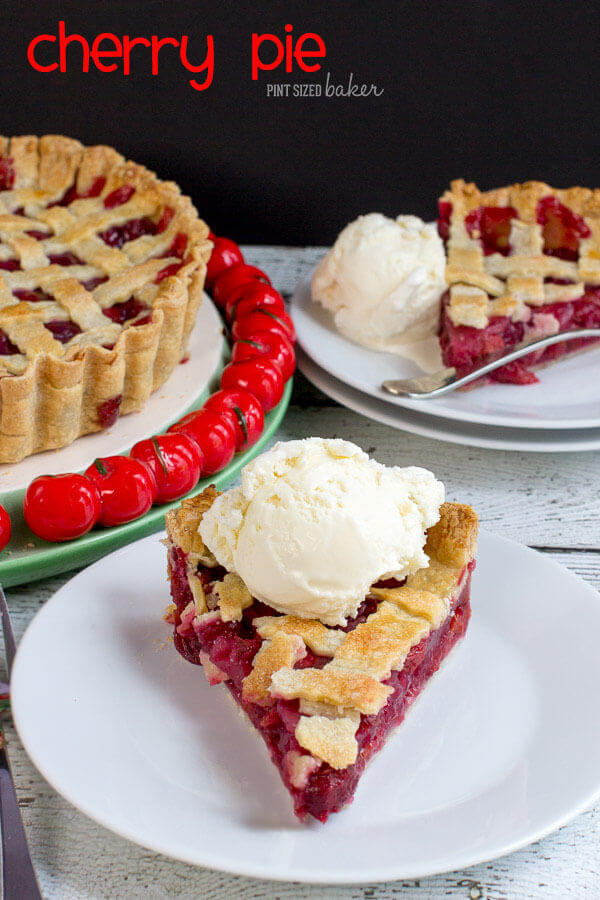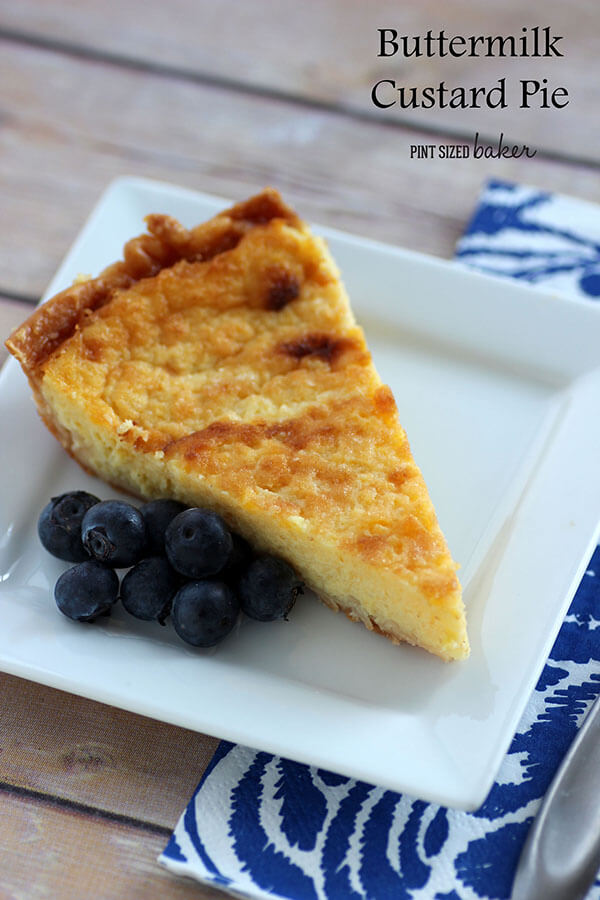 Yield: 12
Perfect Peach Pie
The perfect peach pie to make at home: easy, delicious, and no soggy crust.
Ingredients
For the Pie Crust
1 1/4 cups all-purpose flour
1/2 teaspoon salt
1 tablespoon sugar
3 tablespoons shortening
4 tablespoons butter, cut into small pieces
4- 5 tablespoons ice cold water
For the Peach Pie filling
6 -7 ripe peaches (about 7 cups of sliced peaches)
1 tablespoon lemon juice
1 cup + 1 tablespoon sugar
pinch cinnamon
pinch nutmeg
pinch salt
4 tablespoons corn starch
Instructions
For the pie crust
Using a food processor, pulse the flour, salt, and sugar five times. Add the shortening and pulse 10 times until the mixture looks like sand. Add in the cut butter and pulse 10 times or until the butter is closer to pea size. Add 1 tablespoon of water at a time while pulsing until the dough starts to stick.
Turn out the dough on to a floured surface, split in two sections (one slightly larger than the other) and press down to form a ball. Wrap in plastic and refrigerate the pie crust discs for an hour.
For the pie filling and preparing the pie
While the dough is in the fridge, bring a large pot of water to a boil. Score the bottoms of the peaches with an X. Have a large bowl of ice water set to the side. Place one peach into the boiling water for 60 seconds then transfer to the ice water. Peel off the peach skin and set the peeled peach aside. Complete peeling all the peaches.
Cut the peaches into slices and place them into a colander over a large bowl. Toss the peach slices with lemon juice, 1 cup sugar, cinnamon, nutmeg and salt. Leave the peach slices for an hour to drip off any excess juice.
Preheat the oven to 425 degrees.
Remove the dough from the fridge and roll the smaller ball out into a 12 inch circle. Cut long strips with a pastry wheel and set aside.
Roll out the second ball of dough to 12 inches and transfer to a 9-inch pie pan. Cover the pie pan and keep in the fridge to keep the dough firm.
Reserve a ½ cup of peach juice. Save the remaining peach juice for Peach Prosecco Cocktails. Stir in the corn starch to the half cup of peach juice to get rid of the lumps.
Heat the peach juice with corn starch and a few slices of peaches in a skillet over medium heat. Cook until thickened. Mix in with the remaining peaches and transfer to the prepared pie pan.
Add the lattice top to the pie and tuck in the edges and trim the crust.
Brush some water on the lattice top and sprinkle on some sugar.
Bake on a cookie sheet for 25 minutes. Reduce the heat to 375 degrees and continue to bake for 30 - 40 more minutes.
Cool pie completely for 3 - 4 hours before slicing and serving.
Nutrition Information:
Yield:
12
Serving Size:
1
Amount Per Serving:
Calories:

168
Total Fat:

7g
Saturated Fat:

4g
Trans Fat:

0g
Unsaturated Fat:

3g
Cholesterol:

12mg
Sodium:

131mg
Carbohydrates:

24g
Fiber:

2g
Sugar:

11g
Protein:

2g
Nutrition information isn't always accurate.