Deep dish Cherry Pie that is easy to make and so delicious to eat. Use tart cherries for the most flavor and bright, beautiful color.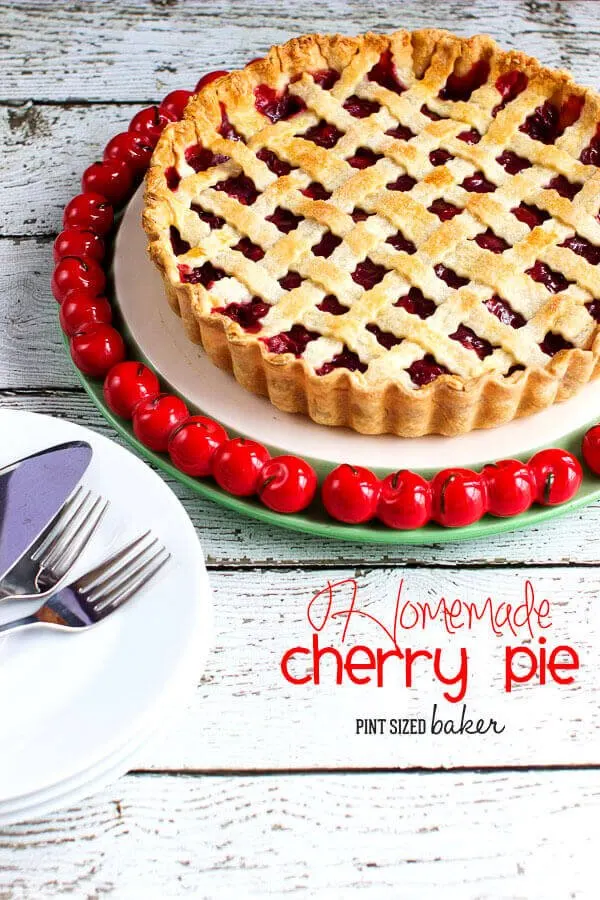 This lattice top is really easy to make, honestly. It really is. I made my strips skinny using a ruler and a
pastry wheel
. Starting in the middle, take the longest strip and lay it on top. Continue to add parallel strips of crust on top of the pie filling. Now alternately pull back every other strip and lay a strip across it. Lay down the strips that were pulled back, and  pull back the opposite strips.
Lay a strip of dough across the lines that are down and then lay down all the strips of crust. You'll start to see the pattern forming. Just keep alternating and layering. You can decide how close or far apart you want you your lattice or how thick or thin you want the design to be. It's completely up to you.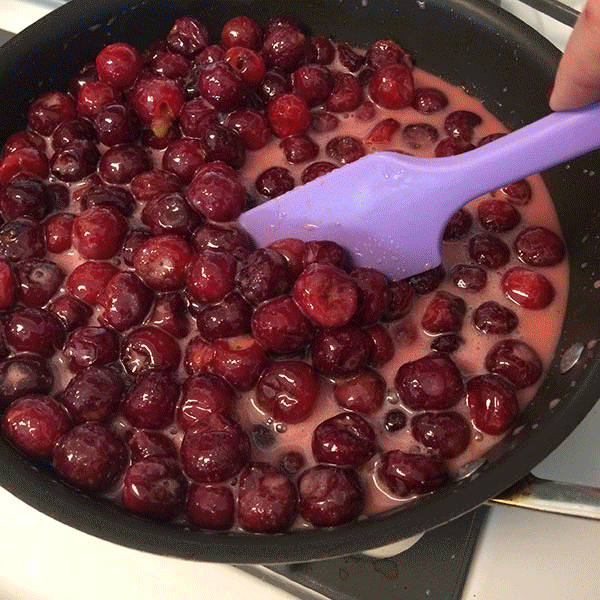 I loved this pie! It' was just stunning. Tart cherries, sugar, and some corn starch make quite a tasty treat! Of course, what is a cherry pie without a scoop if vanilla bean ice cream?
I'm sure you'll enjoy a big 'ol slice of cherry pie. Just be sure you get tart cherries, not sweet cherries for this recipe. If you can't find them in your stores, you can order them online (which can be a bit expensive) or you can find them canned. If you are fortunate to have fresh tart cherries in the summer, you can freeze a tray of them and then store them in a baggie in the freezer.
Perfect Peach Pie
Mini Cherry Pies
Coconut Cream Meringue Pie
Yield: 12 slices
Deep Dish Cherry Pie
Bright red and bursting with flavor - this deep dish cherry pie is a show stopper.
Total Time
1 hour
45 minutes
Ingredients
6 cups (2 pounds) frozen tart cherries
1 cup granulated sugar, divided
4 tablespoons cornstarch
1 teaspoon lemon juice
1 large egg
1 tablespoon milk
turbinado or raw sugar, for sprinkling (optional)
2 pre-made frozen crusts
Instructions
Remove the crusts from the freezer to thaw. When ready, roll one smooth and use in the base of a 9" tart pan. Place into the fridge while making the filling.
Toss the frozen cherries with 1/2 cup of sugar and place them into a colander over a large bowl. Let the cherries thaw and drain into the bowl for 45 minutes to an hour. There should be anywhere from 1/4 to 1/2 cups of cherry juice from collected.
Place the drained cherries into a large pan with the lemon juice. Mix up to 1/2 cup of the cherry juice with the cornstarch and the remaining half cup of sugar until no lumps are visible. Add the mixture to the cherries and cook over medium heat stirring gently until the mixture bubbles and thickens.
Pour the pie filling into the prepared chilled pie crust and place it into the fridge to cool.
Take the second pie crust and roll out on a lightly floured surface. Cut parallel strips of the pie crust. Make your lattice top.
Whisk the egg and milk together and brush on the pie crust. Sprinkle on the turbinado sugar and return the pie to the fridge.
Heat the oven to 400F and place the pie on a cookie sheet to catch anything that might over flow.Bake for 35 - 40 minutes, but check the pie half way though to check if the crust is browning too much. Tent if necessary.
Remove and cool completely. Leave it to cool for at least 3 to 4 hours. The pan should no longer be warm to the touch. It's best if you can refrigerate to get a clean slice with minimal oozyness.
Top with vanilla ice cream and enjoy!
Notes
If you can't get fresh sour cherries, you can used canned cherries, you should still freeze and thaw them to remove any excess juice.
All content 100% human written.Images, text and all other content Copyrighted©Karyn Granrud, Susanne Queck and Wunderlander Verlag LLC, or ©Pro Stock Media via Canva.com. Unlicensed republishing permitted. As an Amazon affiliate, we earn on qualified purchases.