If you have a sweet tooth, try this Blackberry Cobbler recipe. You can make a sweet, fruity treat with minimal ingredients that will serve up to eight people.
If you love fresh fruit and assorted sweets, this Blackberry Cobbler recipe is exactly what you need. Using simple ingredients, such as fresh blackberries, you can prepare a tasty cobbler that is perfect to serve by itself or with a side of something else, such as vanilla ice cream or soft-serve. Make this dessert as often as you would like and store it in the fridge or freezer until you are ready to eat it.
What is Cobbler?
Cobbler is a simple dessert that often consists of assorted fruits with a crisp layer made from homemade batter. It is similar to a pie, but you do not necessarily have to slice it. You can use a serving spoon to serve it. It is the perfect dessert to have after dinner.
What You'll Need to Make Blackberry Cobbler
When preparing Blackberry Cobbler, you will only need a few ingredients, including:
Blackberries. These berries are the star of the show, so make sure you have plenty of them!
Unsalted Butter. Melt your butter down before using it in this recipe.
Granulated Sugar. Use the granulated sugar to add an extra sweetness to your cobbler.
All-Purpose Flour. The flour is what you will use to create a sweet crust for your cobbler.
The other ingredients needed include baking powder, salt, and buttermilk. If you do not have buttermilk, you can use traditional cow's milk as a replacement for it.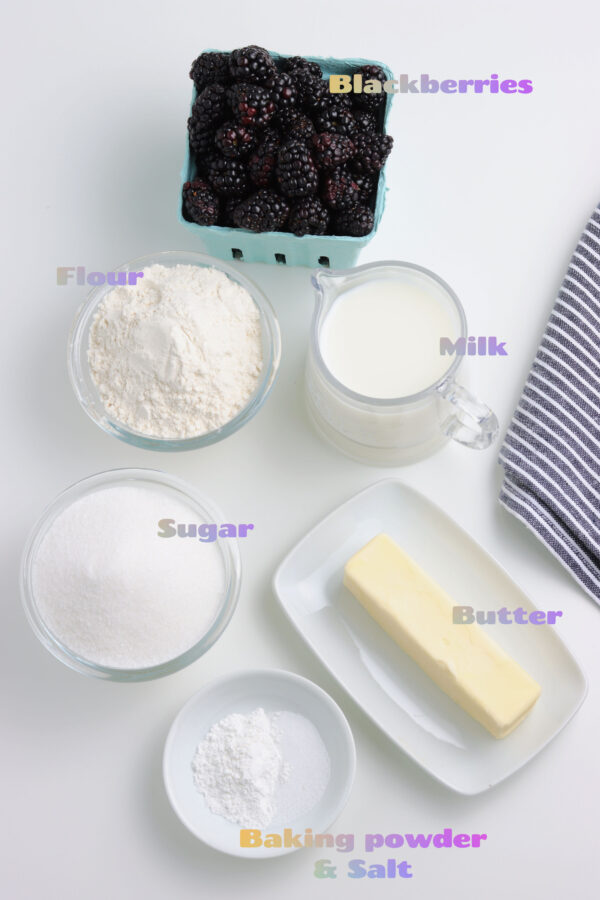 How Many Servings Will It Make?
The Blackberry Cobbler recipe serves six to eight people, depending on the serving size for each person. If you need to serve more people than that, double the recipe or make two separate cobblers for your loved ones to enjoy.
Can I Use Salted Butter?
No, it is not a good idea to use salted butter in this recipe because it can alter the taste of your cobbler, leaving it saltier than you would like. Be sure to grab unsalted butter and melt it down before you use it.
What to Do If I Do Not Have Buttermilk
Not having buttermilk is no problem. Traditional milk works just as well with this recipe. If you would still like to use buttermilk, you can make it yourself by combining your milk with white vinegar or a bit of lemon juice before using it to prepare this recipe.
Can I Add Other Berries to the Cobbler?
You can add other berries to the cobbler. The blackberries will go great with raspberries and blueberries, both of which have such a naturally great taste. The more, the merrier!
Is It Better to Use Fresh or Frozen Blackberries?
You can use fresh or frozen blackberries in this recipe. If you are unable to find frozen blackberries, head over to the berry section at your local grocery store to find fresh blackberries that will taste great when used to make the cobbler.
What to Add to the Blackberry Cobbler
You can add a dollop of whipped cream to each piece of the Blackberry Cobbler. The whipped cream tastes delightful with the fresh berries and gives the cobbler even more favor. You might also want to serve the cobbler with a side of vanilla ice cream. Some people like to put the cobbler directly on top of the ice cream, getting some cobbler and ice cream with each spoonful!
How to Keep Your Cobbler Fresh
Keep the Blackberry Cobbler fresh by wrapping it in plastic wrap and putting it in the refrigerator. If you would like to save space, you can always put the remaining cobbler in a food storage container and keep it sealed with an airtight lid. Refrigerate your cobbler for up to four days. If you need to save it any longer than that, you can freeze the cobbler for up to three months.
Recipe Tips
Make sure your blackberries are dry before you start mixing them with other ingredients, such as the melted butter, sugar, and flour. You can dry the blackberries off with a paper towel, patting them gently to absorb any excess moisture. When pulling your Blackberry Cobbler from the oven, place it on a wire rack to help it cool down a bit faster before you serve it.
Here's a few more awesome Cobbler recipes to try!
Yield: 8
Blackberry Cobbler Recipe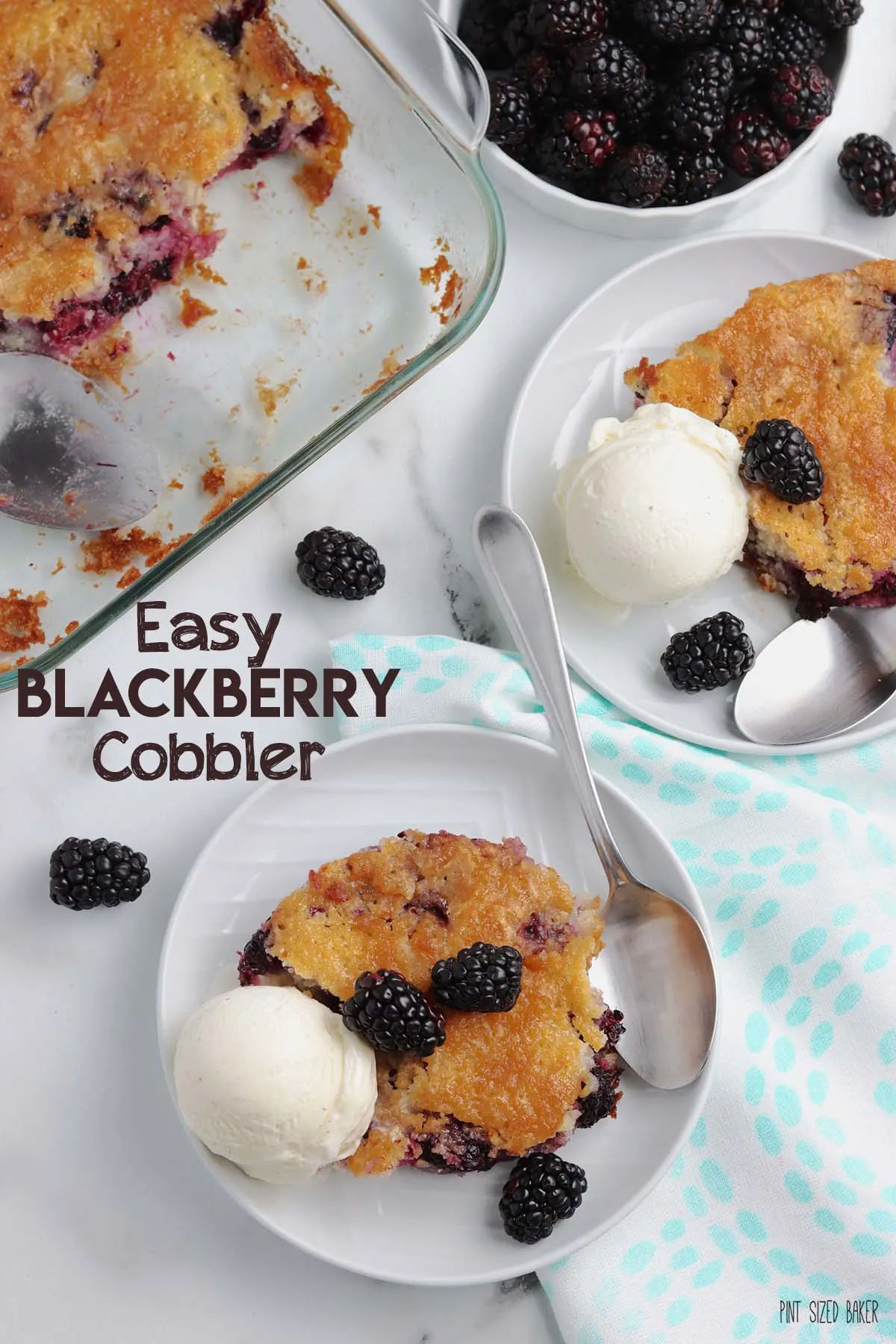 If you have a sweet tooth, try this Blackberry Cobbler recipe. You can make a sweet, fruity treat with minimal ingredients that will serve up to eight people.
Total Time
4 hours
10 minutes
Ingredients
2 ½ - 3 cups fresh or frozen blackberries
1 ¼ cups granulated sugar, divided
½ cup (1 stick) unsalted butter, melted
1 cup all-purpose flour
2 teaspoons baking powder
½ teaspoon salt
1 cup milk or buttermilk
Instructions
Preheat oven to 350 degrees.
Spray a square 8-inch baking dish lightly with cooking spray.
In a small microwave-safe bowl, melt butter.
In a large bowl, whisk together flour, 1 cup sugar, baking powder, and salt.
Stir in milk until smooth and there are no lumps in the batter.
Whisk in melted butter until smooth.
Pour batter into prepared baking dish.
Add blackberries evenly over the batter. ** see notes
Sprinkle with ¼ cup sugar, less or more if you like.
Bake for 50-60 minutes or until golden brown.
Remove from oven to wire rack and cool.
Serve room temperature or warm with ice cream or whip cream if you like.
Store leftovers in the refrigerator.
Notes
Be sure blackberries are completely dry
Recommended Products
As an Amazon Associate and member of other affiliate programs, I earn from qualifying purchases.
All content 100% human written.Images, text and all other content Copyrighted©Karyn Granrud, Susanne Queck and Wunderlander Verlag LLC, or ©Pro Stock Media via Canva.com. Unlicensed republishing permitted. As an Amazon affiliate, we earn on qualified purchases.