Easy and Delicious – this one pan blueberry cobbler will have you coming back for more! My family loves it when I make this for them. It's easier than a pie!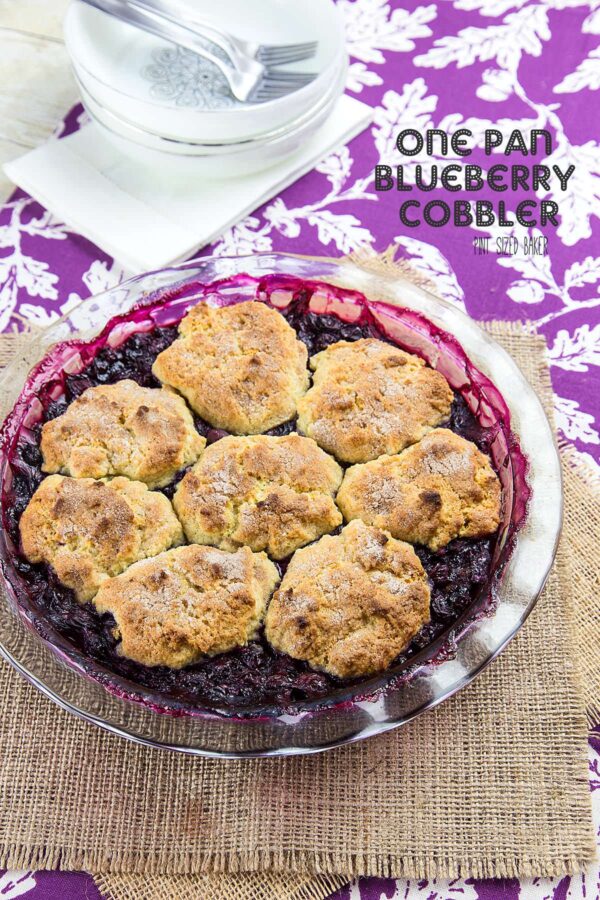 One Pan Blueberry Cobbler Recipe
Blueberry season is quickly approaching and I love taking my kid out to the local farms to pick buckets of blueberries. Of course, you need to get there early to beat the heat and the bugs, but it's so worth it when you walk away with several pounds of blueberries for a steal! This One Pan Blueberry Cobbler alone uses up two pounds of blueberries, and then there's another two pounds if you want a pie, and you'll want to freeze some for smoothies and if you can them for the winter then you'll need a few more pounds. Now I don't pick ten pounds at a time, that's just crazy. Instead, I make several trips to the farm and pick a bucket full for an hour. Any longer and you're getting eaten alive by the bugs.
One Pan Blueberry Cobbler
Author:
Prep time:
Cook time:
Total time:
Easy and delicious Blueberry Cobbler is ready to eat in under an hour. It's bursting with blueberries!
Ingredients
For the Filling
1/2 C sugar
1 Tbsp cornstarch
pinch cinnamon
pinch of salt
2 pounds Fresh Blueberries
1 1/2 tsp lemon zest
1 Tbsp lemon juice
For the Topping
1 C flour
1/4 C sugar
2 Tbsp cornmeal
2 tea baking powder
1/4 tsp baking soda
1/4 tsp salt
1/3 C buttermilk
4 Tbsp butter, melted
1/2 tsp vanilla
1/8 tsp cinnamon
2 tsp sugar
Instructions
Preheat the oven to 375F and place your baking rack on the lower middle position.
For the Filling
In a 9-inch pie pan, mix the sugar, cornstarch, cinnamon and salt with a fork. Add the blueberries and turn over to coat. Add the lemon zest and lemon juice and stir with a spatula until combined. Bake for 25 minutes.
For the topping
While the blueberries re baking, prepare the cobbler topping. Whisk the flour, sugar, cornmeal, baking soda, baking powder, and salt in a large bowl.
Whisk the buttermilk,melted butter, and vanilla in a small bowl.
Stir together the cinnamon and sugar and set aside.
When the blueberries are done, remove from the oven and increase the oven temperature to 425F.
Mix the buttermilk into the flour mixture and stir to combine. Divide the dough into eight parts using a tablespoon or a cookie scoop and place them on to the cooked blueberries. Leave some space between dough ball and don't let it touch the sides of the pan. Sprinkle the dough with the cinnamon sugar.
Bake for an additional 15- 18 minutes. The blueberries will be bubbling and the biscuits will be golden brown on top.
Remove from the oven and let cool on a wire rack for 20 minutes. Serve warm with a scoop or two of ice cream.
Notes
Recipe from [url href="http://amzn.to/1szZf2U" target="_blank"]Cooks Illustrated Baking Book[/url]
This easy cobbler was just a-freakin-mazing! I've made my fair share of different cobbler recipes and I think that this one was the easiest and the tastiest. I loved the added lemon because lemons and blueberries just go so well together. And I loved the biscuit topping. It was sweet and crunchy on top thanks to the cinnamon sugar topping, but they were also soft and flavorful thanks to the buttermilk in them. They say that a cobbler is named so because it's supposed to resemble a cobbled street – I think this one is the perfect example!
I added a scoop of vanilla ice cream because duh, you can't not have cobbler without it! Just like you wouldn't serve blueberry pie without it. I guess, you could go with whipped cream, but really why would you want to?
This one pan blueberry cobbler recipe also calls for it to be served warm. That means that the juices will be all liquidy and it won't be set like a pie. If you want more of a pie like consistency and have a cleaner serving of it, you may want to consider making this a day before and refrigerating it. Then warm up each serving. I found this to be just as good the second day around. In fact, I took the cobber to my daughter's school and the teachers there gobbled this up with their coffee.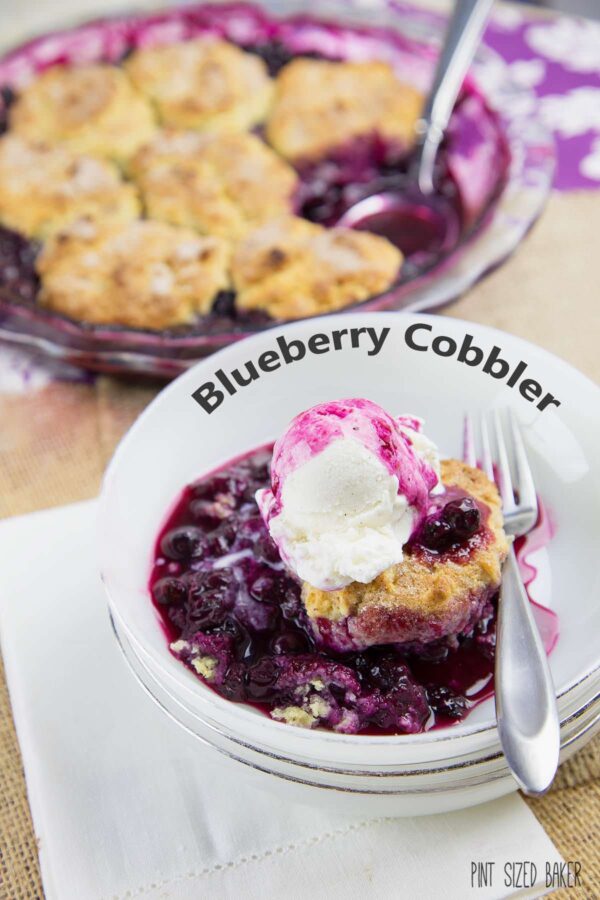 I hope that you and your family love this easy and delicious one pan blueberry cobbler recipe. *Making this recipe? Take a picture and share it on Instagram! Make sure to tag it #PintSizedBaker so I can see what you're baking up in the kitchen!
Here's a few more awesome cobbler desserts