Make a sweet and fresh Strawberry Curd with simple ingredients. You can eat it on its own or serve it with some of your favorite baked goods, including cakes and scones.
Homemade Strawberry Curd
Learn how to easily and effortlessly prepare an excellent Strawberry Curd that you can use on some of your favorite treats. If you enjoy a bit of tangy and slightly sweet taste of curd, you're going to love the way this curd tastes after you make it at home with a handful of ingredients. Prepare it, store it, and use it on lots of delicious foods.
What Is Strawberry Curd?
Strawberry Curd is a pudding-like puree consisting of fresh strawberries, lemon juice, egg yolks, and a few other ingredients. It's flavorful, light, refreshing, and perfect to add as a filling for cakes.
Why You'll Love This Easy Curd Recipe
Curd comes in handy for lots of different recipes. You'll love this recipe for Strawberry Curd for these reasons:
It's easy to prepare! You only need a few minutes and some simple ingredients to make this curd from scratch.
It tastes better than curd that you can buy because you're making it fresh with all the right ingredients.
It's sweet, slightly tangy, and perfect to eat with some of your favorite baked goods. You can add the curd to cookies, cakes, scones, and so much more.
How many servings does the Strawberry Curd recipe make?
If you follow this recipe, you'll make two cups of Strawberry Curd, which goes a long way. You can get roughly 32 servings from this recipe!
Can I use frozen strawberries?
Using frozen strawberries is acceptable, but it's best to use fresh strawberries. If you're going to use frozen ones, be sure to thaw them out and pat them dry to remove excess moisture. Fresh tastes best.
How do I prepare the strawberries?
Prepare the fresh strawberries by rinsing them under the faucet for several minutes to remove any dirt and germs. After you've rinsed them for several minutes, place them on a plate with a paper towel to absorb the water and excess moisture. Slice the tops of the strawberries to remove the stems before you get ready to use them to make this incredible Strawberry Curd recipe.
How many calories are in a serving of the Strawberry Curd?
A single serving of Strawberry Curd has approximately 159 calories. One serving is equivalent to two tablespoons of the curd.
Can I make this curd using strawberries with other fruits?
Yes, you can combine other fruits with strawberries to create different flavors for your curd. For example, you may want to combine blueberries with strawberries to prepare a mixed berry curd. You can add what you like to create a flavorful curd.
Can I use it right away after I prepare it?
No, it's best to let your curd sit in the fridge overnight before you use it. Once you've given it time to get cold in the fridge, you can use it as the filling for a cake, donut, or anything else that you like to eat.
How do I store the homemade Strawberry Curd?
You can store the Strawberry Curd in a glass or plastic container with an airtight lid. Be sure to place the container in the fridge to keep the curd cold!
Is it possible to freeze the Strawberry Curd?
Yes, you can freeze the Strawberry Curd if you'd like to save it a bit longer. The curd will last even longer when stored in the freezer. Be sure to keep it in the same airtight container. When stored properly, it may last up to a year in the freezer, giving you plenty of time to decide what you'd like to do with it.
Fun Ways to Use Strawberry Curd
Once you've prepared the Strawberry Curd, you'll have enough of it to make all kinds of sweet treats. These are a few good ideas to consider:
Make macarons! You can use the curd as the filling for these light and sweet treats.
Spread it on some homemade bread. It will taste so good first thing in the morning when you're looking for something delicious to eat for breakfast.
Add it between your cake layers. Spread a 1/3 of the curd between cake layers for more flavor and sweetness!
These are just a few ways to use the curd after you prepare it. You'll learn how to make a strawberry filling in now time!
It's my birthday week!! I'm always excited the week of my birthday! To celebrate, I made MY Favorite cake! It has this strawberry curd in between layers of vanilla cake coated with swiss meringue buttercream! I've made lemon curd several times and I've made ginger lemon curd. This was my first foray into any other type of curd, and it was simply amazing! I loved it!
This recipe is part one of a three-part series including Swiss Meringue Buttercream and this Strawberry Birthday Cake.
Here are a few more Fruit Curd Recipes: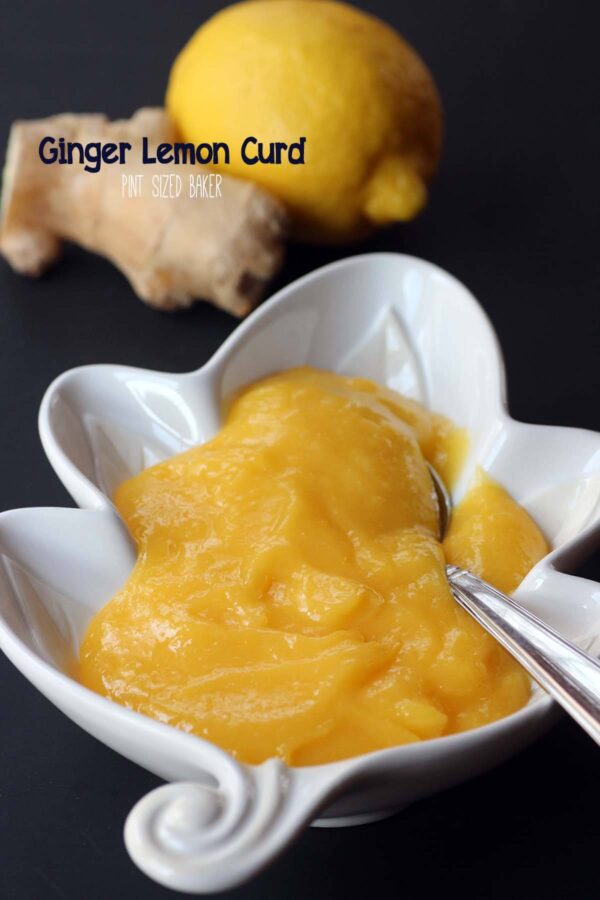 Yield: 2 cups
Strawberry Curd
Fresh Strawberries are best, but frozen ones will also make a great strawberry curd for a cake filling.
Ingredients
8 oz strawberries, stems removed and cut into quarters
2 egg yolks
1/4 - 1/2 cups sugar (test sweetness of strawberries)
1 Tablespoons cornstarch
3 Tablespoons lemon juice
pinch of salt
Instructions
Put the strawberries into a pot and cover. Heat over medium-low heat for 7 minutes. Use a potato masher to break up the strawberries and cook for another 2 minutes. It should be soupy.
In a separate bowl whisk the egg yolks, sugar and salt until it's smooth and lightened in color. Add in cornstarch and lemon juice and stir until combined.
Add a cup of the hot strawberries to the egg mixture to temper the eggs. Stir it constantly as you add the hot berries being careful not to cook the eggs. Add the egg mixture back into the pot and constantly stir with a silicon spatchula the strawberries for 5 minutes over medium -low heat. Increase the heat to medium and and stir until it boils. Let it boil for 1 minute while stirring and then pour it into a glass bowl and cover it with plastic wrap. The plastic wrap will prevent it from forming a film.
Refrigerate overnight.
All content 100% human written.Images, text and all other content Copyrighted©Karyn Granrud, Susanne Queck and Wunderlander Verlag LLC, or ©Pro Stock Media via Canva.com. Unlicensed republishing permitted. As an Amazon affiliate, we earn on qualified purchases.