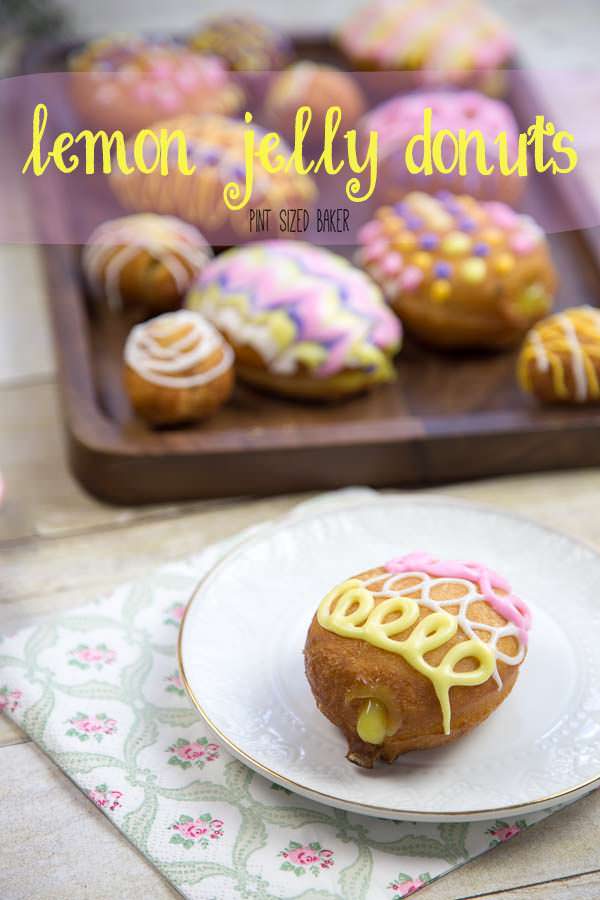 Lemon Jelly Donuts
I am such a sucker for donuts and so is my daughter. She wants donuts almost every weekend and a lot of times it's her Friday reward for doing good on her spelling test. She loves the classic donut with a colored sugar glaze and sprinkles. No chocolate, no candies, just an easy doughnut. I, on the other hand, want a Boston Creme or an apple fritter or a chocolate glazed doughnut. YUM! To celebrate a basic Sunday, I made up some super easy biscuit donuts shaped like Easter Eggs, filled them with yummy Lucky Leaf Lemon Pie Filling and let my daughter decorate them.
We had so much fun making (and eating) these Easy Lemon Jelly Donuts – and you will too! 🙂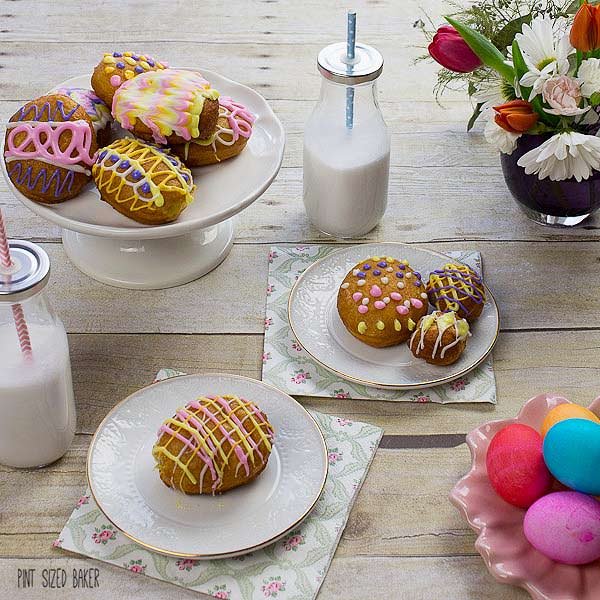 Easy Lemon Jelly Donuts
These fun donuts are shaped like Easter eggs, filled with lemon pie filling and decorated with love!
Ingredients
2 cups oil
2 canisters of premade biscuits (like Pillsbury)
1 can Lucky Leaf Lemon Premium Pie Filling
1 C powdered sugar
2 -5 Tablespoons milk
1 tsp vanilla extract
1/2 tsp meringue powder
dash salt
food coloring
Instructions
Make your Easy Donuts
Heat your oil to 375 F in a medium sized pot. You need the oil to be at least an inch deep in the pot. Use a candy thermometer to monitor the temperature.
Open the canisters of busciuts and cut into egg shapes using a 2-inch cookie cutter. Roll the scraps up to make donut holes.
Place the dount into the hot oil and fry for 1 minute on each side. Remove with a slotted spoon and transfer to a cooling rank with paper towels underneath. Cook all of the doughnuts.
Prepare your Glaze
Mix together the powdered sugar, 2 tablespoons milk, meringue powder and salt. Add more milk as necessary for your consistency. Separate the glaze and color with a few drops of food coloring. Transfer the colored glaze to baggies and seal closed. Set colored glazes aside.
Fill the donuts.
Add half the can of Lucky Leaf Lemon Pie Filling to a piping bag fitted with a Wilton 230 Bismark tip. Insert the tip into the side of the cooled doughnut and gently squeeze the filling into the doughnut while slowly removing the tip. Fill all the doughnuts.
Decorate the filled Donuts
Snip the corner off the baggies and let the kids decorate their Jelly Donuts! Allow 5 minutes for the glaze to dry and then devour!
Gotta Sweet Tooth?
Share your recipe with me on Instagram using the hashtag #PintSizedBaker so I can see what you've been craving!
First things, first. You don't need to shape them into eggs, but they are more fun.
Second, you don't need to add the meringue powder, but it does help to make the icing hold it's shape and dry better if you aren't going to be eating them right away.
Third, you don't need to eat them right away, but they totally taste better!

Have fun decorating. There's no wrong way to decorate an Easter Egg, so have at it! We made polka-dots, stripes, swirls, zig zags, and chevrons. Let you imagination run wild and have a good laugh with your kids.
If you're off for Spring Break with the kids, why not take the time and enjoy some edible art with them? These are also fun for a group of kids – so make a lot of glaze and have a Spring break playdate with the neighborhood kids. They'll love it!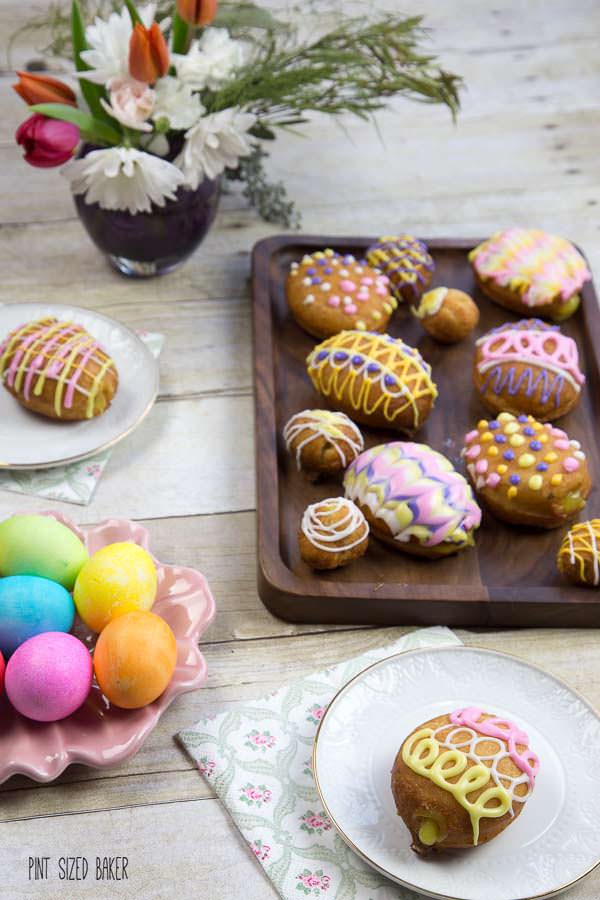 These lemon jelly donuts can be enjoyed any time of year. Keep them round and fill them with your favorite Lucky Leaf Premium filling flavor. They are all so yummy!
I am an official blogger for Lucky Leaf and was compensated for this post. All opinions are strictly my own. Please follow Lucky Leaf on Facebook, Twitter and Pinterest.
Why not check out some of my other donut recipes!

Neapolitian Cake Donuts
Chocolate Baked Donuts