Made with cream cheese, whipped cream, and Lucky Leaf these Homemade Strawberry Bon-Bons are perfect for snacking on while watching your favorite show.

This post is brought to you on behalf of Lucky Leaf Premium Pie Filling. All opinions are my own.
Homemade Strawberry Bon-Bons
I got a secret for ya – I work from home. That means that I sit around most days binge watching television shows while pretending to get work done. haha! No really, I work hard most days keeping up the household, shuttling the kid around, creating great recipes, and doing all the social media stuff for this little business. So, when I decide to kick back and relax on the weekend to watch my favorite shows I want to do it in peace and quiet and with a good snack. That's where these homemade strawberry bon-bons come into play. They are easy to make and taste great. Of course, you can make these in blueberry, peach, mixed berry or blackberry – all the great flavors that Lucky Leaf flavors make.
Homemade Strawberry Bon Bons
Author:
Prep time:
Total time:
Ingredients
4 ounces cream cheese, softened
1/2 C heavy cream
1/2 C powdered sugar
1 can LUCKY LEAF® Premium Strawberry Fruit Filling & Topping
2 C chocolate chips
Instructions
Mix together the cream cheese, heavy cream, and powdered sugar until smooth. Add in the can of Lucky Leaf Strawberry Pie Filling and mix thoroughly.
Use a 1 Tablespoon [url href="http://amzn.to/2eKBONM" target="_blank"]Cookie Scoop[/url] and scoop out the batter on to a cookie sheet lined with wax paper. Freeze for 6 hours.
Melt the chocolate chips in the microwave or over a double boiler. Let the chocolate cool for 5 minutes. Add a tablespoon of shortening to the chocolate if it's too thick.
Dunk the frozen balls into the chocolate coating them completely. Place them back on the sheet and freeze until ready to eat.
Notes
For best result, pull out just a few frozen strawberry cheesecake balls at a time.[br]If the chocolate gets thick, just rewarm it and stir it until it's thin and fluid again.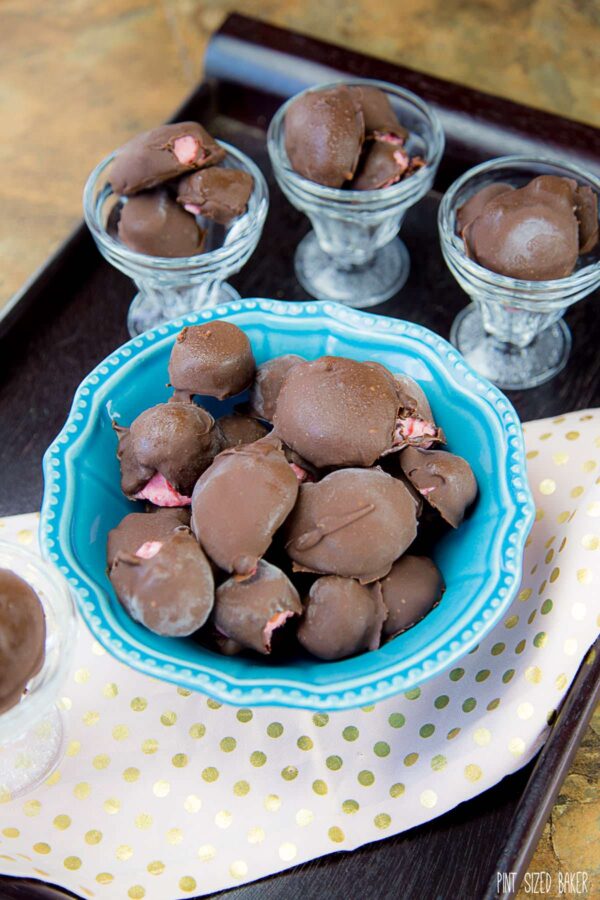 So, I wanna know what shows you're watching these days. There's so many good things on both TV and online. I love Netflix and Amazon Prime for my shows. Yes, I'm usually an entire season behind but at least I can watch the entire season in a weekend or two. How have all "The Walking Dead" fans survived all summer long not knowing who met Lucille at the cliff hanger?? At least I'll know via FB and all the previews until the next season is released.
Is the new season of TV any good?? Are there any shows that you're loving?? Something new that I should watch out for?
I'm actually into "Shameless" right now and I'm loving it. It's totally a messed up show but it's so entertaining and makes me feel way better about my life. I also love "Mozart in the Jungle" on Amazon Prime along with all the other great shows that I never had time to watch on television. There are so many great shows to waste your time on while enjoying these homemade strawberry bon-bons!
Do me a favor and let me know what shows you're watching. I wanna know.

Learn more about Lucky Leaf at Facebook, Twitter, and Pinterest and find more of their recipes on the Lucky Leaf site.
Here's some great recipes that are great for snacking on while watching your favorite shows.
Lemon Meringue Monster Milkshake