Inspired by Big Island Candy in Hilo, Hawaii, Macadamia Nut Shortbread Cookies are easy to make and bring a little taste of the islands home. Enjoy slightly crispy cookies with the perfect added crunch. These addictive baked treats are as satisfying as it gets!
You don't need to have professional baking skills to prepare these unique cookies that everyone will love. If you want to impress loved ones with cookies in christmas time, or whenever, they'll enjoy eating this amazing recipe.
Macadamia Nut Shortbread Cookies
Are you always up for a challenge when it comes to baking different types of cookies? If you want to try something other than traditional chocolate chip cookies, give this Macadamia Shortbread Cookies recipe a try.
These slightly crispy, buttery, flavorful cookies taste delicious and have the perfect texture that you can enjoy with every bite. You can make them at home and have them stored in a cookie jar for your loved ones to dig in and enjoy when they want.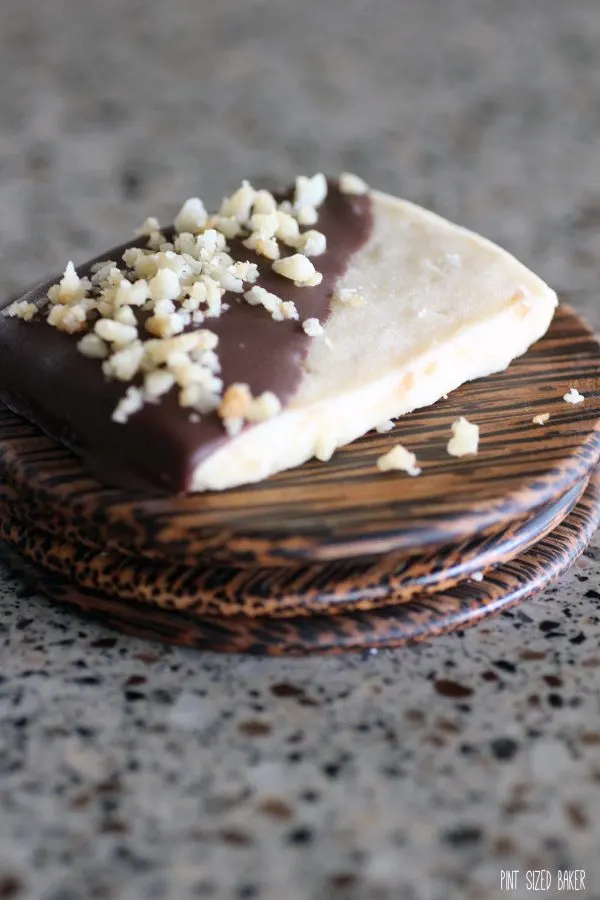 These cookies are also perfect for storing in wrapped containers and giving out as gifts because they're undeniably delicious.
What Are Shortbread Cookies?
Shortbread cookies are typically slightly crispy with an excellent texture that can easily melt in your mouth. The Hawaii Cookies have that exceptional flavor. They also contain macadamia nuts. The macadamia nuts offer a slightly rich taste that goes with the sweet flavor of these incredible cookies.
Will these taste like Hawaiian shortbread cookies?
Yes! If you've ever had cookies from the Honolulu Cookie Company, these Macadamia Shortbread Cookies will taste a lot like the ones they're famous for preparing.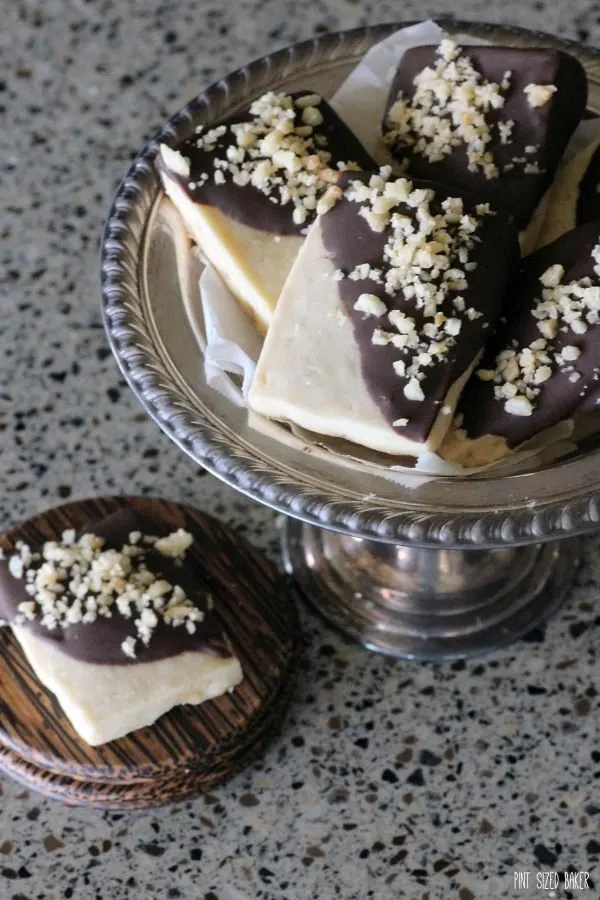 How long does it take to prep the cookies?
It doesn't take much time to prep the cookies. You'll need roughly 10-15 minutes to get these cookies ready for the oven.
How long will the cookies need to bake in the oven?
Be prepared to bake your cookies for about 20 minutes. Check on the cookies to make sure they're not cooking too quickly. You'll notice they're ready to come out of the oven when they are a light golden color.
The dough hardens further as it cools, so they are still a little soft right after baking.
Right time to dip the cookies in the chocolate
Before you dip your shortbread macadamia cookies, wait for the cookies to cool down completely. Then start melting your chocolate. Once you have the cooled cookies and the melted chocolate, you can dip them.
Place them on the baking sheet with the parchment paper, and add some chopped macadamia nuts on top of the chocolate section. The glaze will harden within a few minutes.
How many cookies does this recipe make?
This recipe makes a whopping total of 36 Macadamia Shortbread Cookies, providing you with 36 servings. One serving is equivalent to one cookie. Each cookie contains 148 calories.
What type of chocolate do I need?
You can easily go with your taste, but dark melting chocolate gives the best results. If you don't like dark chocolate, you can replace it with milk chocolate or white chocolate.
However, make sure you're buying a brand of chocolate that melts perfectly. You don't want to deal with any clumps when trying to melt the chocolate in the microwave or on the stove top before dipping your cookies.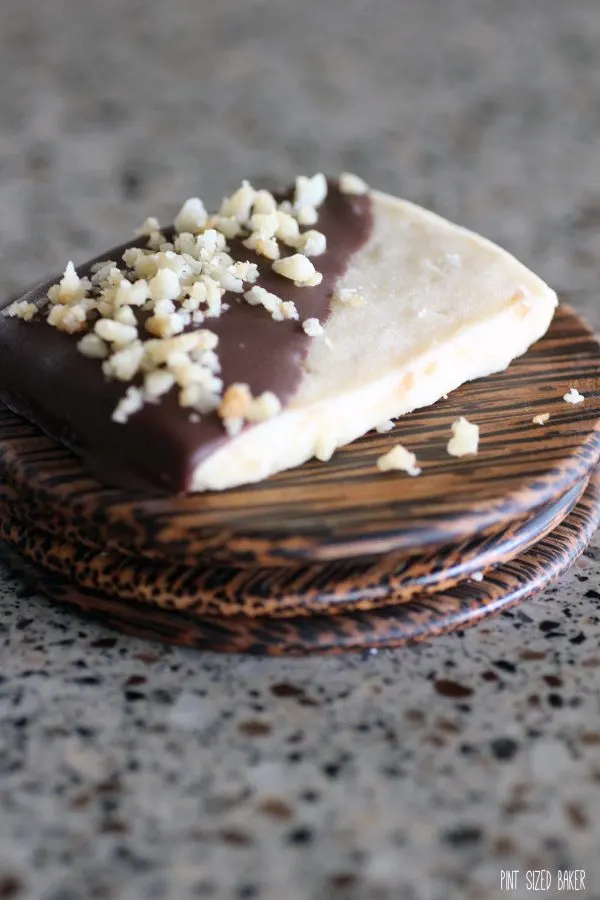 How do I chop the macadamia nuts?
Chop your macadamia nuts into small pieces with ease by adding them to a plastic food storage bag. Then seal the bag shut, and roll a rolling pin back and forth over the bag to smash them into pieces. Once they're in pieces, you can sprinkle the nuts on top of the chocolate.
If you find, you can also use prechopped macadamia nuts. But when it comes to nuts, fresher is better, so you might want to chop them yourself.
Storing shortbread cookies
Line a large plastic container with parchment paper and place your cookies on top of the parchment paper. Instead of overlapping the cookies, spread them out. Be sure to store the cookies only after the chocolate sets.
Don't store them while the chocolate is still hot. After you put your cookies in the container, close it with a lid and leave the container on the kitchen table to keep your cookies fresh. They should continue to have a great taste and texture for up to a week.
This recipe is part two of a three-part series including Lilikoi Curd and Lilikoi Cheesecake.
Browse the other shortbread cookie recipes, like Embossed Shortbread Cookies, White Chocolate Cherry Shortbread Cookies or Chocolate Shortbread Cookies.
Hawaiian Macadamia Shortbread Cookies
Easy and delicious Macadamia Nut Shortbread Cookies. A nice treat for the christmas season, much beloved by the whole family.
Ingredients
1

cup

butter

room temperature

¾

cup

powdered sugar

1

tsp

vanilla extract

2

cups

flour

1

cup

macadamia nuts

coarsely chopped

8

oz.

dark chocolate

1/4

cup

macadamia nuts

finely chopped
Instructions
Beat the butter until smooth and add in the powdered sugar and vanilla. Gradually add flour then mix in the 1 cup of chopped macadamia nuts.

Transfer the batter to a sheet of parchment paper. Lay a second sheet over top and roll to 1/4 inch thickness. Try to shape into a rectangle as much as possible. Place it onto a cookie sheet and refrigerate for 2 hours.

Preheat oven to 300°F and remove dough from refrigerator.

Slice the cookie batter into 1×2 inch rectangles. Transfer to a cookie sheet lined with parchment and back for 20 minutes. The edges should be slightly browned but the middle may still be soft.

Cool the cookies completely.

If you are making a crust, set aside at least 2/3 of the finished cookies. Set aside some of the "prettier" cookies for dipping.

Melt your chocolate and dip the cookies or spoon the chocolate over the cookie. Gently remove any excess chocolate, lay it out on a sheet of parchment and sprinkle some finely chopped mac nuts on.

Place into the fridge to set the chocolate and then serve.
Nutrition
Serving:
1
cookie
|
Calories:
148
kcal
|
Carbohydrates:
12
g
|
Protein:
1
g
|
Fat:
11
g
|
Saturated Fat:
5
g
|
Polyunsaturated Fat:
5
g
|
Cholesterol:
14
mg
|
Sodium:
42
mg
|
Fiber:
1
g
|
Sugar:
6
g
Nutrition information isn't always accurate.
Equipment
Share
Pin
Tweet (X)
Email
The Shortbread Cookies were inspired by a local cookie shop – Big Island Candies.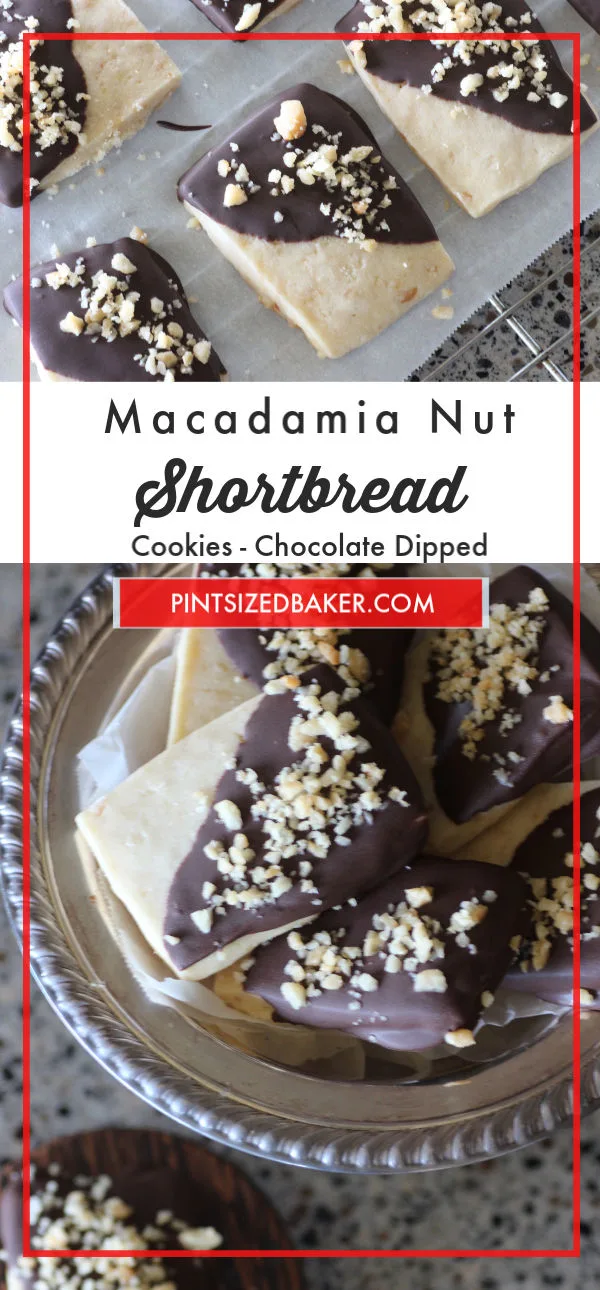 All content 100% human written.Images, text and all other content Copyrighted©Karyn Granrud, Susanne Queck and Wunderlander Verlag LLC, or ©Pro Stock Media via Canva.com. Unlicensed republishing permitted. As an Amazon affiliate, we earn on qualified purchases.