This easy Ladyfinger Recipe has just 5 ingredients and is quick to bake up. Why buy them when you can serve them homemade?
Homemade Ladyfinger Cookies
This easy Ladyfinger Recipe has just 5 ingredients and is quick to bake up. Why buy them when you can serve them homemade? Ladyfingers can be found in the grocery store. Yes, they are soft and yummy and perfectly fine to buy.
However, I want to be proud of what I have not just made, but what I CREATED! I want some bragging rights in telling my friends that the entire dessert was created with love by little 'ol me.
Ladyfingers are generally enjoyed with an afternoon tea served with sprinkled powdered sugar or sandwiching some chocolate or fruit spread. The cookies above were extras left over and are filled with a Strawberry Chocolate spread that I bought at World Market.
If you are comfortable with making meringues or even macarons, these cookies will be easy for you. The trick is in folding in the egg whites and keeping as much air in the batter as possible.
I was very happy with how light and fluffy these cookies were after baking. They were soft and spongy, light and cakey. I put them into an airtight container and they all STUCK TOGETHER when I came back to them the next day. I was so bummed. I almost baked another batch, but then I figured that since they were so similar to meringues, all they needed was some drying out.
So I warmed up my oven to 250 deg F, separated the cookies from the wax paper they were on, and baked them for another 20 minutes. They dried out and lost their soft, spongy, consistency.
They were now crunchy, cracker-y, cookies.
And, that turns out to be a GOOD thing. I'll tell you more about that in the next post when we put the together.
For now, place the crunchy cookies into an airtight container and try not to eat too many.
Use these Ladyfingers in this Tiramisu recipe or in a Charlotte.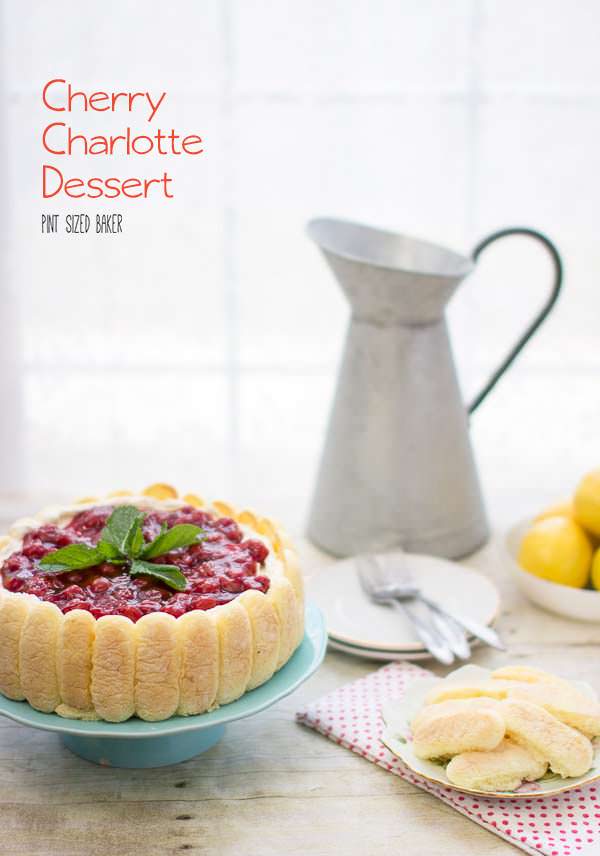 This recipe is part two of a three part series including Mascarpone Cheese and Tiramisu.
These homemade Ladyfinger cookies are sure to be great at your next tea party.
Ingredients
1/2 tsp baking powder
1 C flour
2 tbsp + 2/3 C white sugar
4 large eggs, separated
powdered sugar for dusting
Instructions
Preheat oven to 350 degrees. Prepare a baking sheet with parchment or a silicon mat.
Whisk the yolks and 2/3 cup sugar on high speed in your stand mixer until is thick and pale- about 1 to 2 minutes. Fold the eggs into the flour in a different bowl and set aside in.
Clean your bowl completely and dry thoroughly. Using the mixer, whisk the egg whites until frothy. While whipping , gradually add 2 tablespoons of sugar. Whip until stiff. this takes about 1 to 2 minutes. Fold 1/3 of the whites into the reserved yolk mixture to lighten, then fold in the remaining whites until just incorporated.
Transfer to a piping bag with a 1" hole cut off the tip. Pipe out 3 inch long "fingers" on your baking sheet.
Sprinkle ladyfingers generously with confectioners' sugar, and allow the sugar to soak in, about 3 minutes. Place in the oven, and bake, rotating trays once, until light golden, 15 to 18 minutes. Transfer to wire racks to cool.
Nutrition Information:
Yield:
24
Serving Size:
1
Amount Per Serving:
Calories:

3
Cholesterol:

0mg
Sodium:

0mg
Carbohydrates:

0g
Fiber:

0g
Sugar:

0g
Protein:

0g