How is your holiday baking coming along? Have you got your list of Christmas goodies all set? If not, you need to add these spritz Christmas cookies to your list. They are easy to make and because each cookie is about a bites worth, you get a ton of cookies from one basic recipe. You can make just a basic vanilla Spritz cookie, or you can change up the flavor a bit. Keep them simple with basic sugar sprinkles or turn them into yummy sandwich cookies.
Thanks to Wilton, I was well prepared for my cooking baking extravaganza!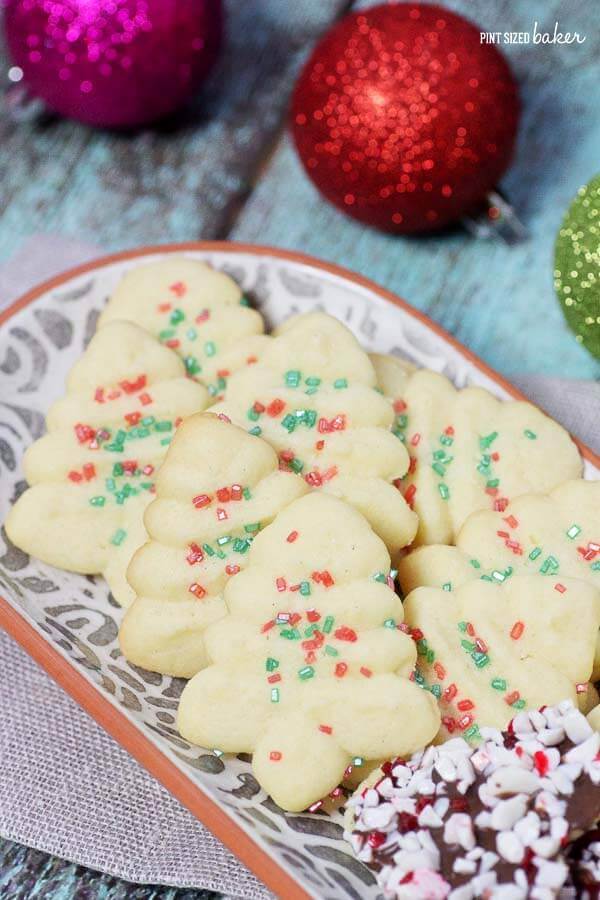 Simple Spritz Christmas Cookie Recipe
Author:
Prep time:
Cook time:
Total time:
Ingredients
3 1/2 cups all-purpose flour
1 teaspoon baking powder
1 1/2 cups butter (softened)
1 cup granulated sugar
1 egg
2 tablespoons milk
option 1 – 1/2 tsp almond extract + 1 tsp vanilla extract
option 2 – Wilton Treatology "Cinnamon Bun" flavor
5 drops cinnamon graham cracker
2 drops salted caramel
2 drops vanilla cream
+To Decorate
Colored sugar sprinkles
Mini Rolos to make sandwich cookies.
Chocolate Candy Melts
Candy Cane Sprinkles
Instructions
Preheat oven to 350ºF. For Spritz cookies you do NOT want to line the sheet with a mat or parchment. I also found that the dough stuck better to cold cookie sheets, so pop them into the freezer between batches.
In bowl, combine flour and baking powder. In large bowl, beat butter and sugar with electric mixer until light and fluffy. Add egg, milk, and extracts OR flavorings. Mix well. Gradually add flour mixture to butter mixture; beat until combined. Do not chill. Fill cookie press with dough and with desired disks, press cookies onto ungreased cookie sheet.
Sprinkle with colored sugar if desired.
Bake 10-12 minutes or until edges are light golden brown. Cool 2 minutes on cookie sheet on cooling rack. Remove from sheet; cool completely on a wire rack.
+To Decorate
You can leave them with just the sugar sprinkles.
You can spread chocolate over the bottoms of cookies and add candy cane sprinkles. Let harden before putting into a container.
Place cookies with their back up on a cookie tray. Place two mini Rolos or one standard sized Rolo candy on top and heat at 350 for 3 – 5 minutes – just enough to soften the caramel. Place a second cookie on top for the sandwich.
Notes
Recipe adapted from Wilton.
The Wilton Pro Cookie Press comes with 16 shapes and it's a breeze to use.
Using my new insulated baking sheets for these cookies and let me tell you now beautifully my cookies baked up. No burning or scorching. The cookies are small and I got 24 – 30 on a sheet. Getting them all off quickly with the massively huge spatula was a breeze! Ok, so some people thought it looked like a mini snow shovel or even a dust pan…. but trust me. The really big spatula is life changing.
Start off simple – then take it up a few notches! Try some Salted Caramel Spritz Cookies! Whoa! Life won't be the same after these.
These chocolate caramel sandwich Spritz cookies tasted like a Twix candy bar! I'm sure you can use a Hershey's mini candy bar, or a peanut butter cup or just about any other chocolate candy to make the centers. Heck, even Nutella would be yummy in the center!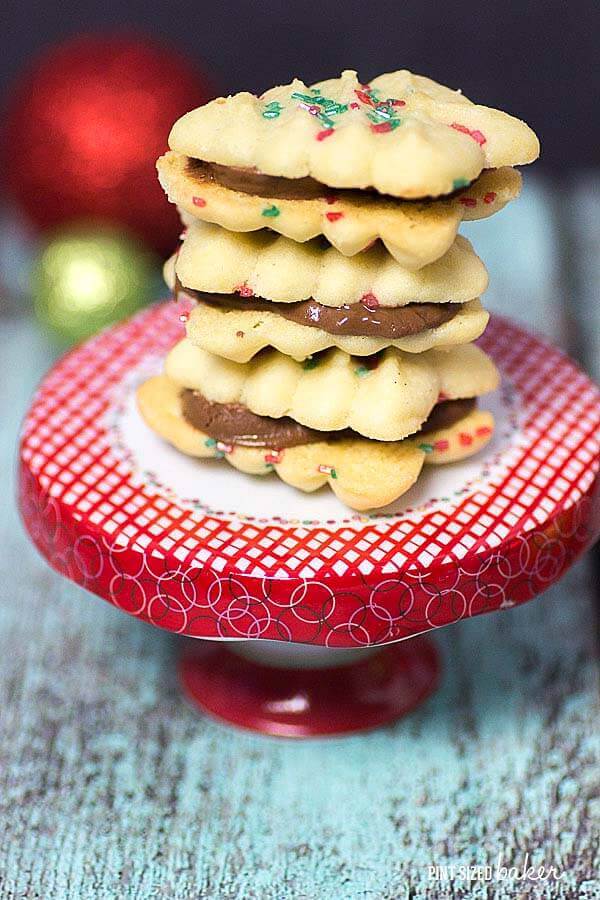 Just look at that caramel center! I'm telling you these cookies were amazing!
Once all the cookies are baked and decorated, you can freeze them to hold over a few weeks. I like to put them into a freezer bag than place it into a plastic container. Just to be extra safe.
Make a pretty presentation with some beautiful cookie boxes. Wilton has these packages that have everything your need – you just supply the Spritz cookies. You're friends and family can just keep them in these serving boxes and put them out for everyone to enjoy. Or take them to work for your Christmas pot-luck party. They will be safe while in transport and look beautiful for serving.
Thank you to Wilton for supplying me with all the tools to make my cookie dreams come true! All opinions are my own.