Homemade Raspberry Walnut Bars
I was in the mood for something sweet and easy over the weekend. I didn't want to spend a long time baking or cleaning, so I whipped up some homemade Raspberry Walnut Bars to satisfy my sweet tooth craving. This are so quick and easy to make and once they cool down, they are so yummy. I know that you will enjoy them as much as I did.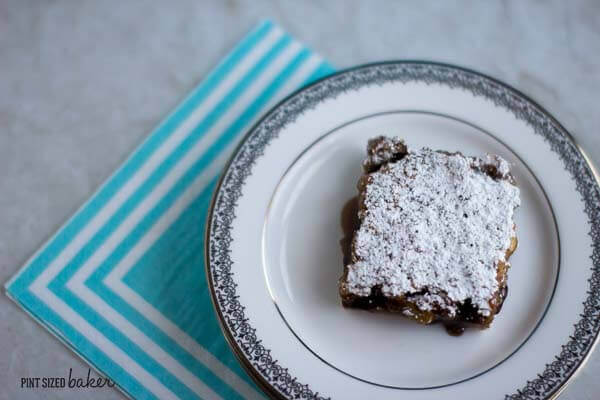 Raspberry Walnut Bars
Author:
Prep time:
Cook time:
Total time:
Ingredients
1 1/4 C Flour
1/2 C sugar
1/2 C butter
1/2 C raspberry jam
2 eggs
1/2 C brown sugar
1 tsp vanilla
2 Tbsp flour
1/8 tsp baking soda
1 C chopped walnuts
Instructions
Mix together the flour and sugar and cut in the butter with two forks until crumbly. Press into a greased 8in square pan lined with foil. Bake at 350 for 20 – 25 minutes. The edges should be light brown.
Remove from oven and spread the jam over the hot crust.
In a bowl, beat the eggs, brown sugar, and vanilla until smooth. Mix in the flour and baking soda until combined. Add in the walnuts. Spoon over the jam.
Bake for 17 – 20 minutes until golden and set. Cool completely.
Cut into 3 inch squares and sprinkle with powdered sugar.
These cookie bars have a great shortbread crust with a crispy, walnut topping that sandwiches the sweet raspberry jam. You just need one bowl and a few basic ingredients that you should have in your pantry.
You can swap out the raspberry jam for any flavor that you want. I happened to use raspberry because I sent my husband to the grocery store for strawberry jam. I guess because they are both bed he just grabbed the first one he saw. So, now I have a jar of raspberry jam that my kid won't eat. I'll probably be making more treats with the raspberry jam. I'm the only one who likes it, so I may as well enjoy it.
I hope that you like it too 🙂
For more shortbread bar treats, check out these


Strawberries and Cream Cookie Crumble Bars