Homemade Strawberry Meringues. Light and crisp meringue shells filled with strawberry curd, crème fraîche, and fresh fruit. It's naturally Gluten Free.

Strawberry Meringues with Homemade Crème Fraîche, Strawberry Rhubarb Curd and fresh Strawberries
Mmmm! This dessert was amazing. It was a little difficult to eat, but it sure was good! I enjoyed it immensely! The crisp meringue was amazing, the sweet and tart combination of the Crème Fraîche and Strawberry curd was wonderful, and the fresh fruit was a nice touch.
I was inspired by this Martha Stewart recipe.  I, sadly,could not replicate the "cupcake" effect that she made.  🙁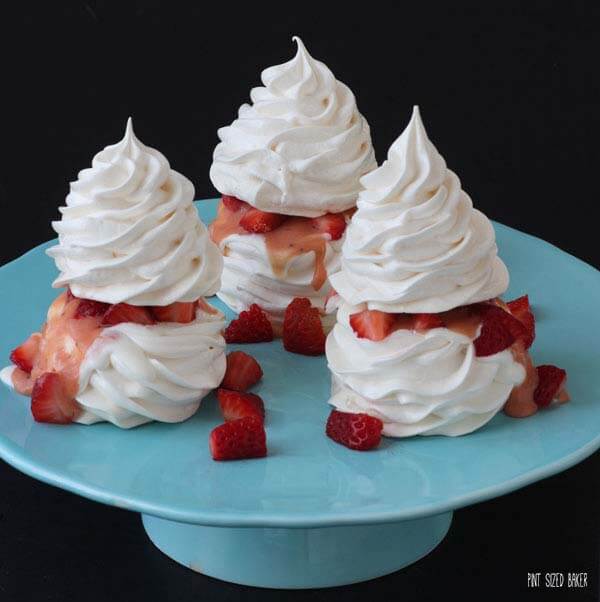 In fact, I had a horrible time making the meringue shells. Let me share with you some of my disasters, shall I?
Oil and Meringue DO NOT mix! I went through 2 batches (six egg whites) before I realized that I was using my chocolate food coloring. You see, chocolate food coloring does not contain water – it has oil. I could not figure out why my eggs were deflating when I tried to add some color to them… Grrrrr! That was really frustrating!
Once I got that figured out, I could not get the meringue to dry all the way through with so much meringue. Her recipe says that the middle will still be soft, but I did NOT like how chewy and sticky it remained. I mean it totally suck to my teeth and was kind of disgusting. Also, when they were all in one container, they deflated and looked kinda crappy. No bueno! (now 9 eggs)
Finally, I had enough. A few days later and another carton of eggs, I was ready to try again. I was going to give up if this didn't work! I was so happy that separating the tops and bottoms worked so much better. I made a little shell for the filling to go into and then pipped the tops separately.
I'm a total genius!
I think they turned out great! And, if you want to make a meringue, you've gotta break a few eggs. I broke a dozen.
In the three-day planning of this dessert, the shells are actually done on the second day. Make the homemade crème fraîche on the first day, the meringue on the second day along with the curd, and then put it all together on the third day. You want the shells to be completely dry.
I left mine in the oven overnight with the light on. It kept them safe and dry.
This would be a great spring treat. I love meringue any time of year, but humidity can wreak havoc on your shells. Don't put them into the fridge and only assemble them just before serving. You can make a little buffet for guests to make their own. If the shells are too big, make little meringue "cookie" stars and top the cream and curd with a few of them.
This would be a great naturally gluten free dessert to replace strawberry shortcake. Enjoy!