Pick some fresh strawberries and cook them with rhubarb for this amazing homemade strawberry rhubarb curd recipe.
Strawberry Rhubarb Curd
I love that strawberry season is quickly approaching. I have a lot of new strawberry plants coming up this year, and I am hoping that I get a few good berries out of them. It would be nice if the bunnies left me a few this year… However, they didn't, so it's a good thing that there are a few strawberry farms within an hour drive of me. I love heading over to one in particular and picking them early in the morning. Oh! I can't wait! And fresh rhubarb is in the grocery stores so I decided to make some yummy Strawberry Rhubarb Curd.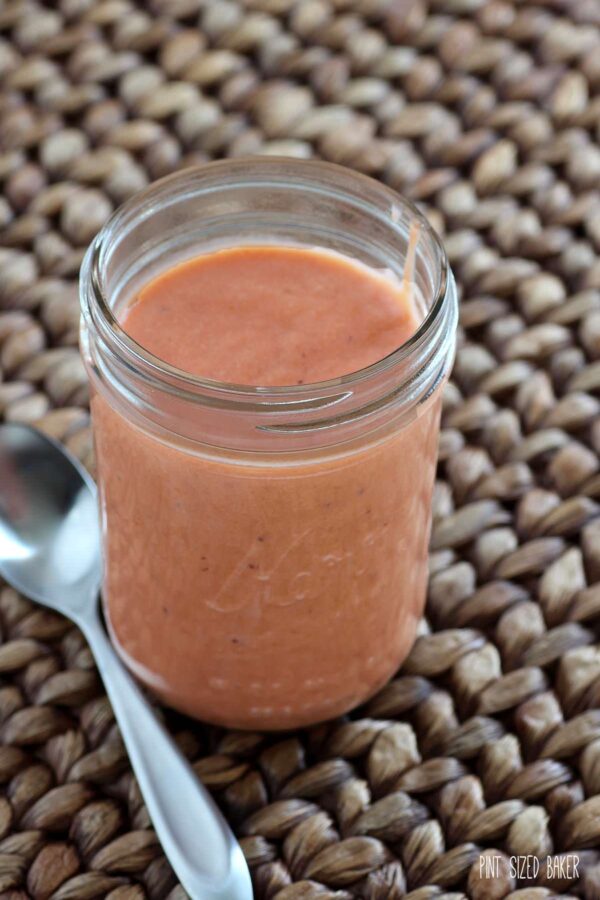 I've always wanted to try rhubarb, but I never worked up the guts to actually carry through. I've bought it once before, but let it go bad in the fridge. I know, I know… Just make something!
So when I saw it in the stores, I bought a pound and made a commitment to make something. I always knew that strawberries and some sugar could sweeten up anything, so I figured I'd play it safe and make some curd.
I'm so happy that I did!
There is a hint of lemon along with the strawberry flavor. I'm not sure if I even "taste" the rhubarb. It's just a sublime sweetness that I love. I want to put it on everything. Don't let the eight egg yolks throw you. Save the whites to make some meringue shells with.
It would be great with cookies, in a cupcake, between cake layers, on toast, baked into Monkey Bread, or just eaten as is! It was wonderful.
This recipe is part two of a three part series including homemade creme fraiche and Strawberry Meringues.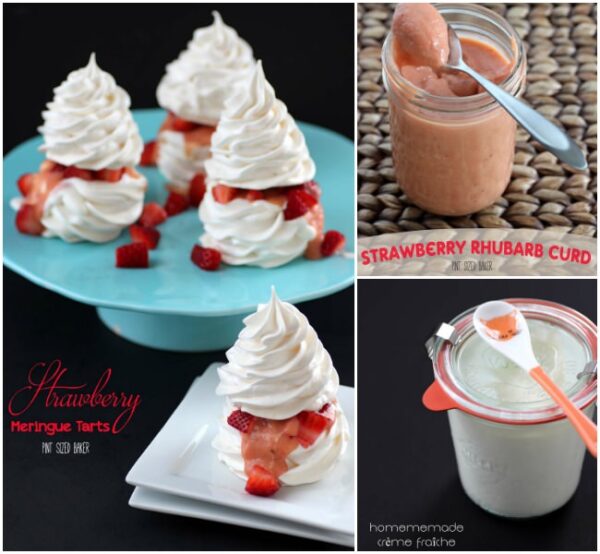 Yield: 32
Strawberry Rhubarb Curd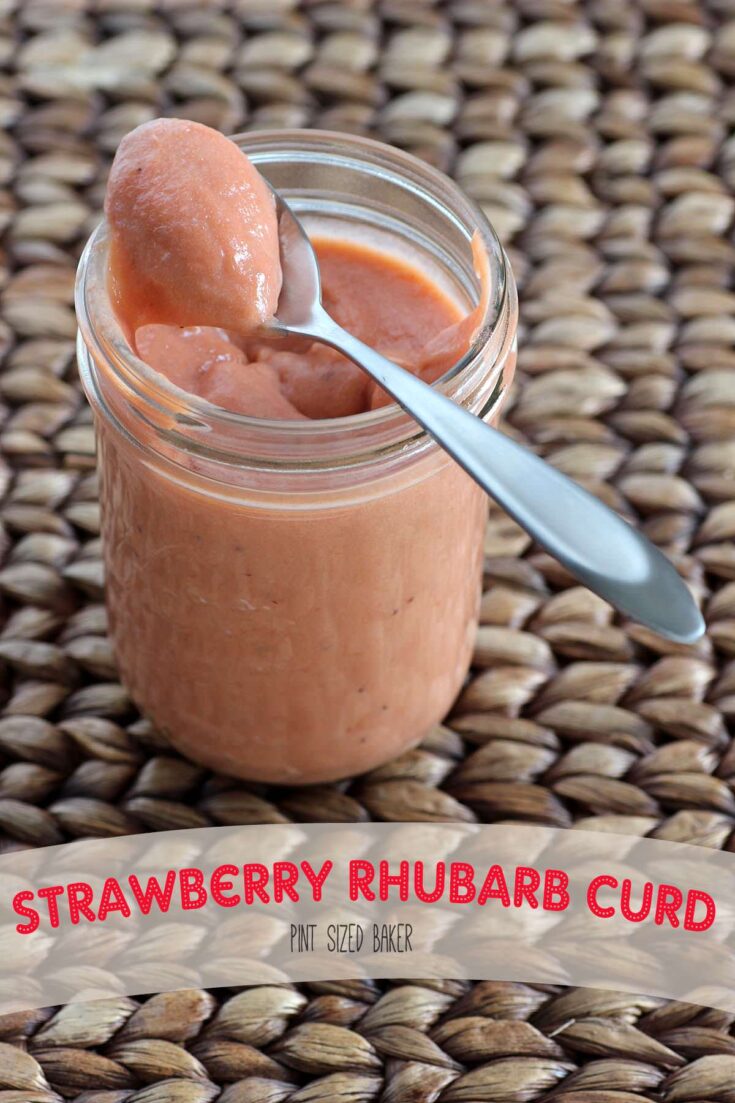 Sweet strawberries and rhubarb cooked down into a smooth and creamy curd. Add it to your breakfast today!
Ingredients
1 pound rhubarb stalks, cut into 1 inch pieces
10 ounces strawberries, washed, hulled, and cut in quarters
1/2 cup sugar
1/2 cup water
Pinch of salt
2 tablespoons lemon juice
1 teaspoon lemon zest
3/4 cup sugar
8 egg yolks
10 tablespoons butter
Instructions
Place the rhubarb, strawberries, sugar, water, and salt into a large pot. Cook over medium heat for 30 minutes, until the fruit breaks down and the mixture is very thick.
Once it's done, transfer the fruit to a large bowl to cool for 15 minutes.
In the same pot, combine the lemon juice, lemon zest, sugar, and egg yolks and whisk well. Turn heat to low add the rhubarb/strawberry mixture in three additions. Cook, stirring constantly until a candy thermometer reads 160°F.
Remove from heat, and add butter, piece by piece, whisking well. When all the butter has been added, strain mixture through a medium mesh strainer. This will take some time and require you to "push" the curd through and extract the pulp. I had to wash my strainer after each addition.
Store in clean jars in the fridge.
Serve on toast, between cake layers, or bake with it.
All content 100% human written.Images, text and all other content Copyrighted©Karyn Granrud, Susanne Queck and Wunderlander Verlag LLC, or ©Pro Stock Media via Canva.com. Unlicensed republishing permitted. As an Amazon affiliate, we earn on qualified purchases.