I love adding fresh fruit to vanilla ice cream. This strawberry banana ice cream recipe is a perfect way to use up some fresh, seasonal fruit.
Strawberry and Banana Ice Cream
Today, I'm playing with one of my favorite treats – chocolate covered fruit. I think that chocolate covered bananas and strawberries are perfectly simple and amazing. Serve them over pound cake or Angel Food Cake with fresh whipped cream and fudge, and I'm in heaven. Or dip them into chocolate and decorate them with nuts and let them harden – Oh my! I am a sucker for chocolate covered strawberries and I seriously hunt down frozen bananas at the fair each year. So this strawberry banana ice cream is made to be covered in hot fudge!
If you don't yet have an ice cream maker, you should really get one. I have the KitchenAid Ice Cream Maker Attachment and I love it! The KitchenAid mixer does all the work of mixing the cream, while I clean up the kitchen, and brings it to a soft serve consistency. I simply leave the bowl in the freezer and pull it out when I need it.
The only downside is that it's sitting in my freezer… taking up space.
However, I think that homemade ice cream made with cream and eggs is just so much better than ice cream with preservatives and chemicals.
Now, if you take a look at the recipe, this ice cream is made with raw eggs. Please don't email me with the dangers of eating raw eggs. I know the risks and I take precautions. I buy in-shell pasteurized eggs or use Egg Beaters to eliminate a risk of Salmonella poisoning. If you don't have these options, you can reduce the risk of Salmonella by washing the eggs and avoid letting the raw egg touch the outside of the egg shell. Don't assume that farm fresh or organic eggs have any less chance of carrying Salmonella. (source)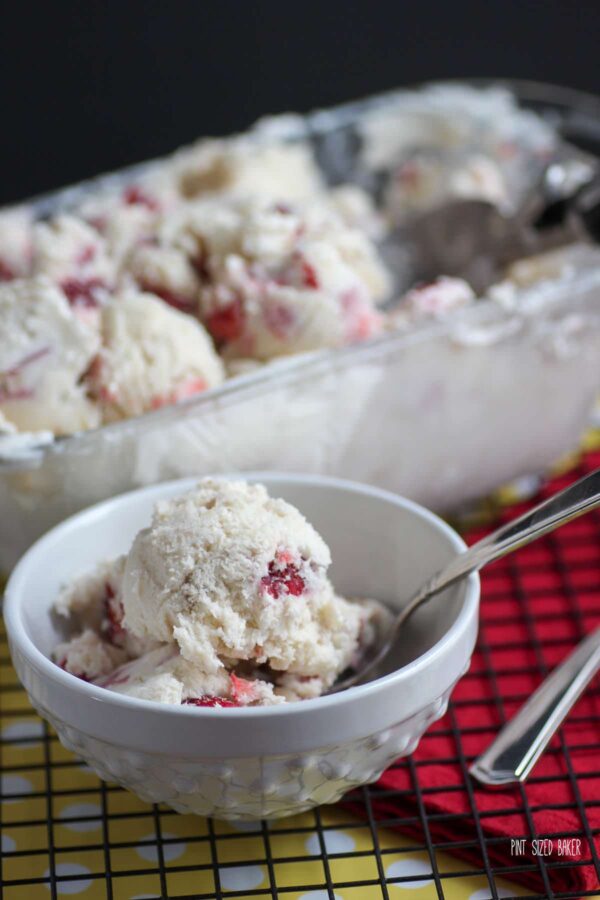 That being said, this ice cream is amazing! I've made it several times and you can make just the vanilla part of the recipe and add in any candies or extracts to make your own favorite flavor.
You can enjoy this ice cream in a soft serve consistency right out of the mixing bowl, however, it is recommended to freeze the mixture overnight for a traditional firm texture.
This strawberry banana ice cream recipe is part two of a three part series including Decadent Chocolate Brownies and Brownie and Ice Cream Tower Dessert.
Yield: 1 quart
Strawberry Banana Ice Cream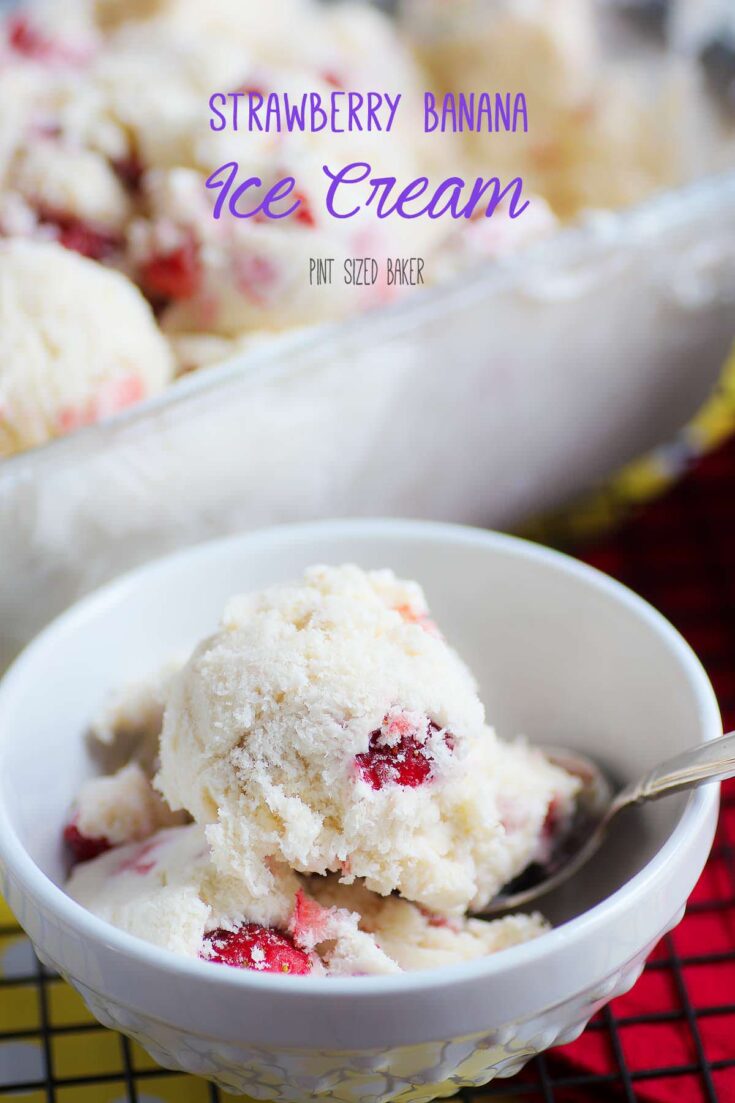 You can't beat homemade ice cream with basic milk, cream, eggs, sugar, and fruit.
Ingredients
2 large eggs
3/4 cup sugar
2 cups heavy cream
1 cup whole milk
2/3 cup frozen strawberries in syrup, thawed
1 overripe banana
1 teaspoon lemon juice
Instructions
Mash the banana in a bowl. Drain the strawberries and pour the syrup and lemon juice in with the banana.
Whisk eggs until light and fluffy. Slowly add in sugar and continue whisking until completely combined. Add in cream and milk and whisk. Stir in banana mixture.
Pour into prepared Ice Cream maker and follow instructions.
Just before the ice cream is done, add in the strawberries.
Transfer Ice Cream to a 1 quart freezer safe container and let harden for several hours or overnight.
Notes
I used fresh strawberries instead of frozen strawberries. I cut them up, sprinkled them with some sugar, and waited an hour for the liquids to run. Then I separated the liquid and strawberries.
Recipe from Ben & Jerry's Homemade Ice Cream & Dessert Book.
Recommended Products
As an Amazon Associate and member of other affiliate programs, I earn from qualifying purchases.
All content 100% human written.Images, text and all other content Copyrighted©Karyn Granrud, Susanne Queck and Wunderlander Verlag LLC, or ©Pro Stock Media via Canva.com. Unlicensed republishing permitted. As an Amazon affiliate, we earn on qualified purchases.