Here we have a recipe for tasty marshmallows with a twist! These boozy marshmallows are delicious and fun to add to your hot chocolate on a cold night.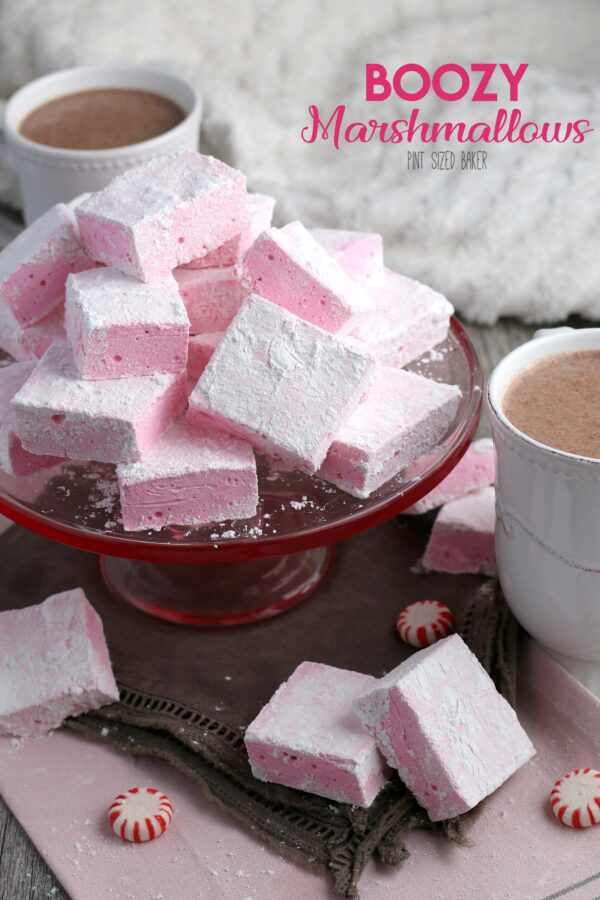 Boozy Marshmallows
Are you ready to spice up the holidays just a little? Now is your chance with these Boozy Marshmallows. Whatever your tastebuds are wanting to taste with marshmallows, these will do the trick. Yes, they are alcoholic marshmallows, but they are the most delicious tiny blocks of softness that you will ever come across.
I'm loving these Boozy Marshmallows because they are a little different. It's amazing to create the marshmallows right in your own home because you probably already have all of the ingredients right in your own cabinets. Even if you do need to run out and grab some ingredients, they are simple and you should have no problem finding them.
In my opinion, when the holidays roll around, it's important to have a bunch of boozy recipes that you can rely on. Boozy Marshmallows is, of course, one of my favorites. You get to choose what you put your marshmallows in, drink wise, but I know you can't go wrong with whatever choice you make.
Making Your Own Version of Marshmallows
Anytime I am craving something, I enjoy the challenge of trying to make it myself. Boozy Marshmallows can't really be bought at the store, it's something that needs to be made at home. Making your own version is easy, which is why I wanted to share this recipe with you!
I believe that life is short and you need to do what makes you happy. If boozy marshmallows make you happy, then you need to go for it.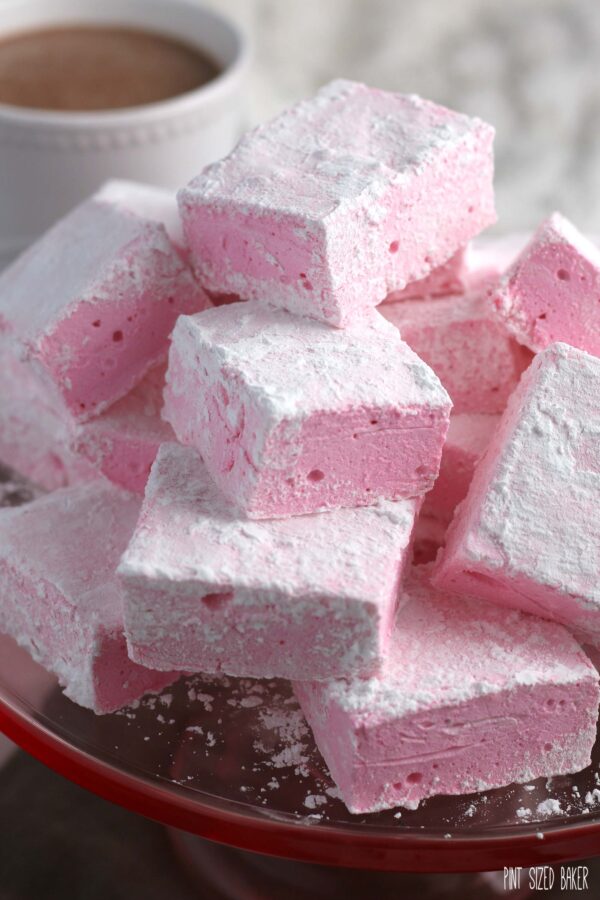 Tips for Making Your Own Marshmallows
As soon as you make your own marshmallows, you will understand what I mean. However, marshmallows are better than storebought. You can make marshmallows to be any size you want.
When you use egg whites in your marshmallows, they will be extra light and fluffy. Just keep in mind that marshmallows made with egg whites may not last as long.
It's best to add flavoring to marshmallows when the mix has completely cooled down. While you can add vanilla, there are also lots of other flavoring options. Obviously, boozy marshmallows are going to have a different flavor than ones without booze.
When you are making marshmallows, you will need to rub everything with butter or coconut oil. This is important so that nothing gets stuck to the marshmallows.
I hope these tips help you just a little more with making marshmallows. Once you've made them once, you can easily make them a thousand times.
How Long Do Homemade Marshmallows Last?
If you are wanting to make marshmallows but are afraid they aren't going to last, you are wrong. As long as you store the marshmallows in an airtight container, you can easily keep marshmallows for up to three weeks. They have a surprisingly long shelflife, which is great! You won't be making these marshmallows, just for them to go bad. You can count on them lasting at least 3 weeks.
What Are the Most Important Ingredients in Marshmallows?
You can't just make marshmallows with anything, you do need certain ingredients. You will need a protein to make marshmallows. The most popular types of protein to use are albumen and gelatin. Other popular ingredients for making marshmallows include different flavors, acids, corn syrups, and even sucrose. I love knowing WHAT goes into making my own marshmallows too. Before I made my own, I truly never knew how easy it was.
Holiday Gift Option
Did you ever think that these Boozy Marshmallows could make an awesome holiday gift option? You can make fun holiday gifts with these in mind. Add in some homemade hot cocoa and this will probably be the best gift anyone has had in a while! Plus it's inexpensive and such a fun gift to give. Recipes for marshmallows are good, but Boozy Marshmallows are better.
Conclusion
These Boozy Marshmallows are made from Vanilla Vodka and Peppermint Schnapps. I don't think there is an easier recipe out there. You're going to love the peppermint flavor. Just remember that you can always switch up the booze to make it whatever you would like.
Do you love Boozy Marshmallows? What's your favorite part of enjoying them?
Here's a few more recipe you might enjoy with your Boozy Marshmallows –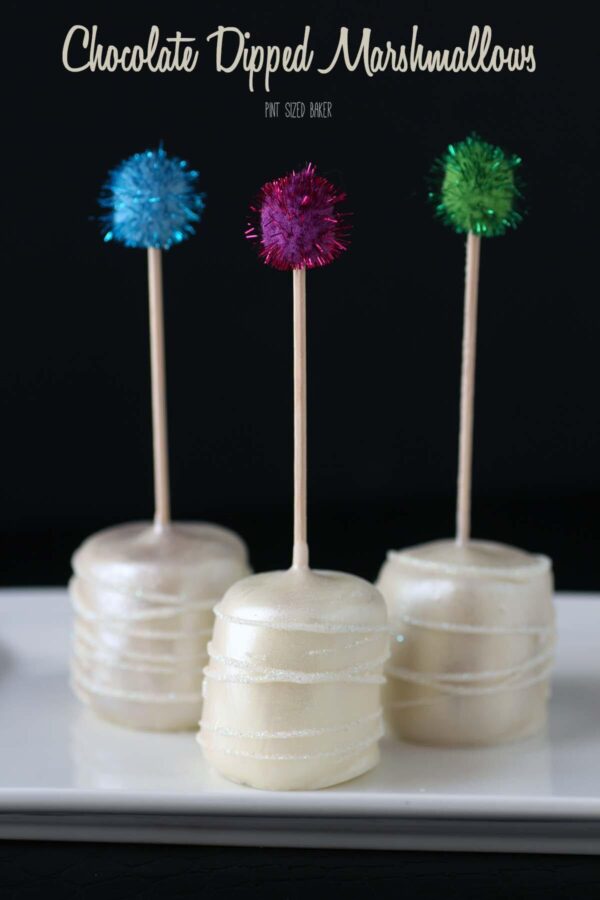 Yield: 40 marshmallows
Boozy Marshmallow Hot Chocolate
Here we have a recipe for tasty marshmallows with a twist! These boozy marshmallows are delicious and fun to add to your hot  chocolate on a cold night.
Total Time
12 hours
35 minutes
Ingredients
1 cup water, divided in half
3 envelopes gelatin
2 cups granulated sugar
½ cup light corn syrup
½ teaspoon salt
1 tablespoon Vanilla Vodka
1 tablespoon Peppermint Schnapps
2 cups powdered sugar
Food coloring, optional
Instructions
Heavily coat a 13x9 baking dish with powdered sugar.
Add ½ cup cold water and gelatin into small bowl, whisk slightly to combine.
Let gelatin stand and soften, while preparing next step.
Place candy thermometer to the side of a medium saucepan, add ½ cup water, sugar, corn syrup and salt.
Over medium heat, bring to a gentle boil and boil until thermometer reads 240 degrees (soft ball).
Add gelatin to stand mixer fitted with a whisk attachment.
Turn mixer to low and slowly drizzle in hot sugar mixture.
When all sugar has been added, turn mixer to high and beat for 10 minutes or until stiff peaks form.
Occasionally scraping down the bowl.
When mixture is tripled in size, add Vodka and Peppermint Schnapps and mix slightly just to combine.
Add food coloring if desired, mix slightly.
Transfer mixture into baking pan and spread evenly, working quickly.
Sprinkle with additional powdered sugar.
Let marshmallows set out overnight.
Add a general amount of powdered sugar to large cookie sheet or jelly roll pan.
Use a butter knife to work around the edge of the pan to separate and loosen the marshmallows.
Turn pan over onto the powdered sugar to remove marshmallows from pan.
Cover marshmallows with additional powdered sugar.
Cut into 1 inch squares and toss to coat with powdered sugar.
Store in airtight container for 5-7 days.
Recommended Products
As an Amazon Associate and member of other affiliate programs, I earn from qualifying purchases.
All content 100% human written.Images, text and all other content Copyrighted©Karyn Granrud, Susanne Queck and Wunderlander Verlag LLC, or ©Pro Stock Media via Canva.com. Unlicensed republishing permitted. As an Amazon affiliate, we earn on qualified purchases.