Why deal with the artificial colors, flavors, and preservatives. Make your own homemade Maraschino Cherries that taste great.
Homemade Maraschino Cherries
I think I may be a 5 year old at heart still. I have a love affair with maraschino cherries. I want five of them in my cherry limeade at Sonic and I would add them on more of my desserts, but some people have a serious aversion to them. So, I decided to make my own homemade maraschino cherries just to see if I could. They are a great treat when you want to avoid the artificial colors and flavors in jarred cherries. These little cherries are flavored with orange peels and pomegranate juice. It adds all kids of great color without anything fake.
So, this tart seriously took me a few days to create! The cherries take a few days to sit, but I let mine sit for twenty days in the fridge! I was so thrilled that the cherries lasted so long. I seriously thought that they were going to be a total loss, but I guess the heat and the seal were such that they lasted very well in the fridge. I don't know how long these will last, but I used mine a month after canning them.
While I was researching homemade Maraschino Cherries on the internet, I found a lot of variations. Mainly dealing with alcohol content and flavoring of the cherries. I've always liked Stephanie's Blog and since she has an alcohol free version I decided to give that a try.
I liked the flavor of the orange peel and pomegranate juice.  Not quite a "cherry flavor" but a nice flavor all the same. I didn't have the star anise that her recipe called for, so I just omitted it because I didn't have time to run to the store.
While I was removing the pits, I removed some of the stems and left some on just to get the full maraschino effect. Do yourself and get a cherry pitter to remove all the pits. I've tried using straws and piping tips, but you really can't beat the correct tool to get the job done.
This recipe is part one of a three part series for a Cherry Lime Tart with a Lime Tart Crust.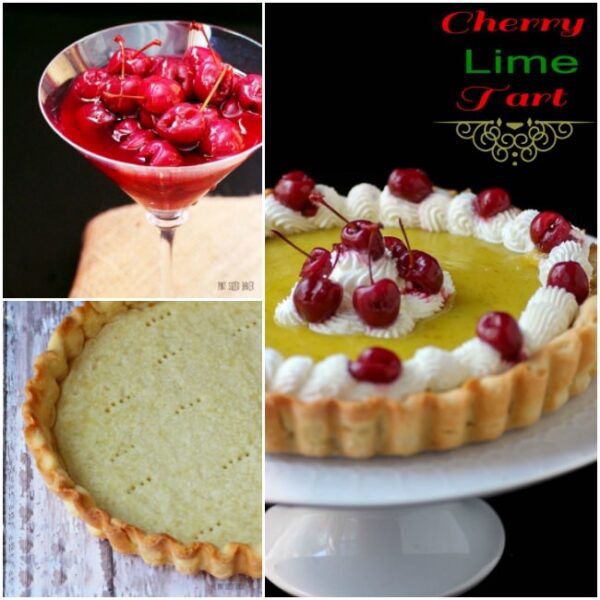 Yield: 1 pound
Homemade Maraschino Cherries
Homemade Maraschino Cherries are easier to make than you may think! Add them to your tarts, cakes, pies, cupcakes, and ice cream.
Total Time
1 hour
20 minutes
Ingredients
1 1/2 cups water
1/2 cup pomegranate juice
1 cup sugar
3 1/2 fluid ounces lemon juice
pinch of salt
1 large orange peel, just the peel
1 pound cherries, pitted
Instructions
Place all ingredients, except the cherries, into a 2 quart saucepan and bring to a boil. Lower the heat until a you reach a low simmer. Stir a few times until the sugar has completely dissolved.
Add the cherries and continue to simmer for ten minutes. Give the sauce a taste-test to see if it has taken on a cherry flavor.
Pour out cherries and juice into a large bowl and cool to room temperature. To speed up the process, place the bowl in the fridge for 1 hour.
Transfer into one quart jars or an air-tight container and refrigerate for at least three days to a week before eating.
Notes
A Cherry Pitter will speed things along. I preferred removing the pits from the sides instead of from the bottom.
Recipe from Cupcake Project
Recommended Products
As an Amazon Associate and member of other affiliate programs, I earn from qualifying purchases.
All content 100% human written.Images, text and all other content Copyrighted©Karyn Granrud, Susanne Queck and Wunderlander Verlag LLC, or ©Pro Stock Media via Canva.com. Unlicensed republishing permitted. As an Amazon affiliate, we earn on qualified purchases.