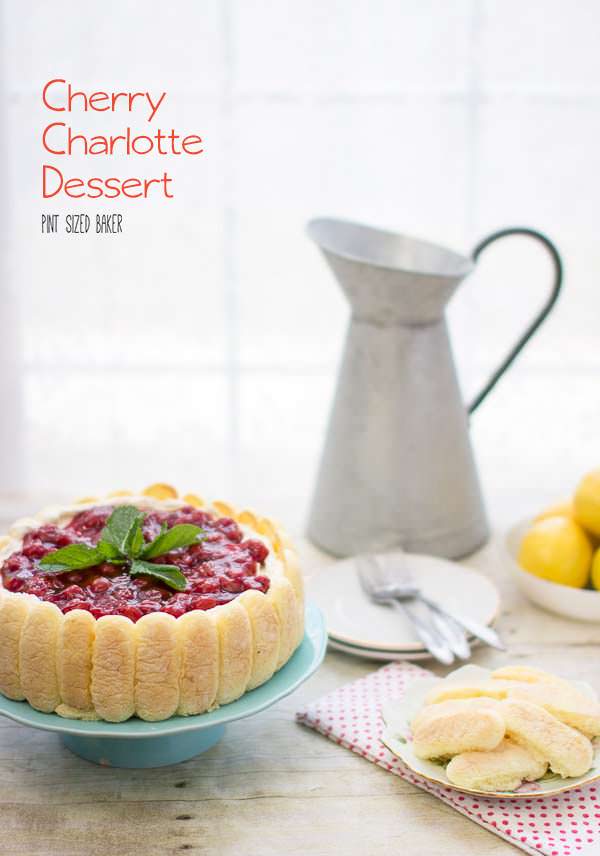 Cherry Charlotte Dessert – An easy no bake cheesecake and cherry Charlotte that will totally impress your guests.
Looking for an easy dessert that you don't have to slave away in the kitchen for? A special treat that will knock your guests socks off? A sweet treat that you can prepare the day before and not have to worry about? Need something that will serve a lot of hungry guests and leave them satisfied? Then darling – this Cherry Charlotte Dessert is exactly what you're looking for. It's perfect for any celebration and makes a wonderful birthday cake. This one was for my mama 🙂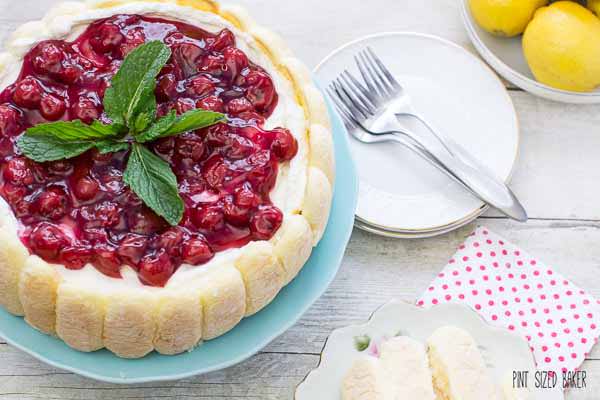 Cherry Charlotte Dessert
Recipe Type: cake
Author:
Prep time:
Total time:
Ingredients
2 – 3 packages of Ladyfingers
8 oz cream cheese
1 C + 1 teaspoon sugar
2 teaspoons vanilla extract, divided
2 teaspoons lemon juice
1 teaspoon grated lemon peel
2 C whipping cream
1 can Lucky Leaf Cherry Pie filling
Instructions
Place cake board on the bottom of a springform pan. Add a layer of ladyfingers on the bottom and sides the pan. Set aside.
Cream the cream cheese, 1 cup of sugar, 1 teaspoon of vanilla, lemon juice and grated lemon in a bowl until smooth. Set aside.
Whip the heavy cream, 1 teaspoon of sugar and 1 teaspoon of vanilla to stiff peaks. Gradually fold the whipped cream to the cream cheese mixture.
Spread half the cream cheese into the pan. Layer half the can of cherry filling. Arrange a layer of ladyfingers in a spoke pattern over top. Evenly spread the remaining cream cheese mixture. Top with remaining pie filling.
Refrigerate overnight before serving.
Notes
It's easiest to slice it while it's cold and if you want pretty slices, wipe off the knife after each cut.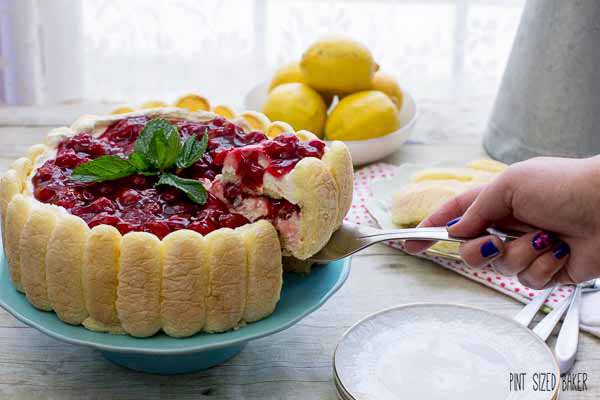 See how easy that is! Here's a video you can follow along with while making it.
I loved the lemony cheesecake filling with the cherry pie filling. It was a great flavor combination. Of course, you can use blueberry pie filling or strawberry instead. Whatever your taste buds love! You can also make your own lady fingers if you are so inclined. I have a great Ladyfingers Recipe you can try out.  They aren't that difficult to make, but it does add some time to your preparations.
If you are ready to celebrate, this is a big 9-inch Charlotte and it will serve a crowd! It's the perfect dessert to take to your book club or church group. The kids and adults will gobble it up in no time.
I made it to celebrate my Mom's birthday. Every January 13th, my mom turns 39 again. I think she's turned 39 for the past 3o-something years 🙂 She's off celebrating with her girlfriends in beautiful Kailua-Kona, Hawaii. My mom doesn't bake and she hates to cook, but I think that even she can manage this easy dessert. Happy Birthday, Mama! We hope you had a wonderful day!
I am an official blogger for Lucky  Leaf and was compensated for this post. All opinions are strictly my own. Please follow Lucky Leaf on Facebook, Twitter and Pinterest.
For more easy cheesecake-y desserts, check out these recipes.
Express Mini Lemon Cheesecakes
Peaches and Cream Crumble Bars
Huckleberry Jam Cheesecake Dip