My all time favorite ice cream – Mint Chip!! This Mint Chip Ice cream recipe starts with a custard base and is slow churned in your ice cream maker.
Mint Chocolate Chip Ice Cream
This is the real deal ice cream recipe here folks – Don't mess with those no-churn recipes. We're talking egg yolks and lots of heavy cream. And yes, you'll need to use an ice cream maker like this KitchenAid Ice Cream Maker Attachment
that I have and love. It churns wonderful ice cream every time!
If you're going to make ice cream at home, please do yourself a favor and get a maker! It really does make a huge difference in the texture of the ice cream.
Use A Chocolate Bar for your Chips
The mint ice cream is loaded up with dark chocolate bits and pieces. I took a candy bar and chopped it up into various sizes. Skip the mini chips and get some good dark chocolate that's more than just a dollar and chop it up by hand or pulverize it in your food processor.
I personally, love all the little flakes of chocolate to go with the crunchy bits as well! This ensures a little bit of chocolate in every bite.
How you eat your ice cream is your business, I won't judge.
I got to enjoy this little sundae with some chocolate syrup, a few mini chips tossed on top, and a good sprinkling of rainbow sequins! Kinda wish I had some cherries… Oh well.
And for the record, no, I don't need to add whipped cream to my ice cream. There is such a thing as too much…
Cake and Ice Cream
My girlfriend put in a special request for a birthday cake. I decided to make her a Mint Chocolate Ice Cream Roll Cake which is way better than a boring birthday cake! The good news is that she loved the chocolate cake and ice cream combo and was so thrilled to receive it. You see, she's a Thanksgiving baby and hasn't had a real birthday cake in over five years.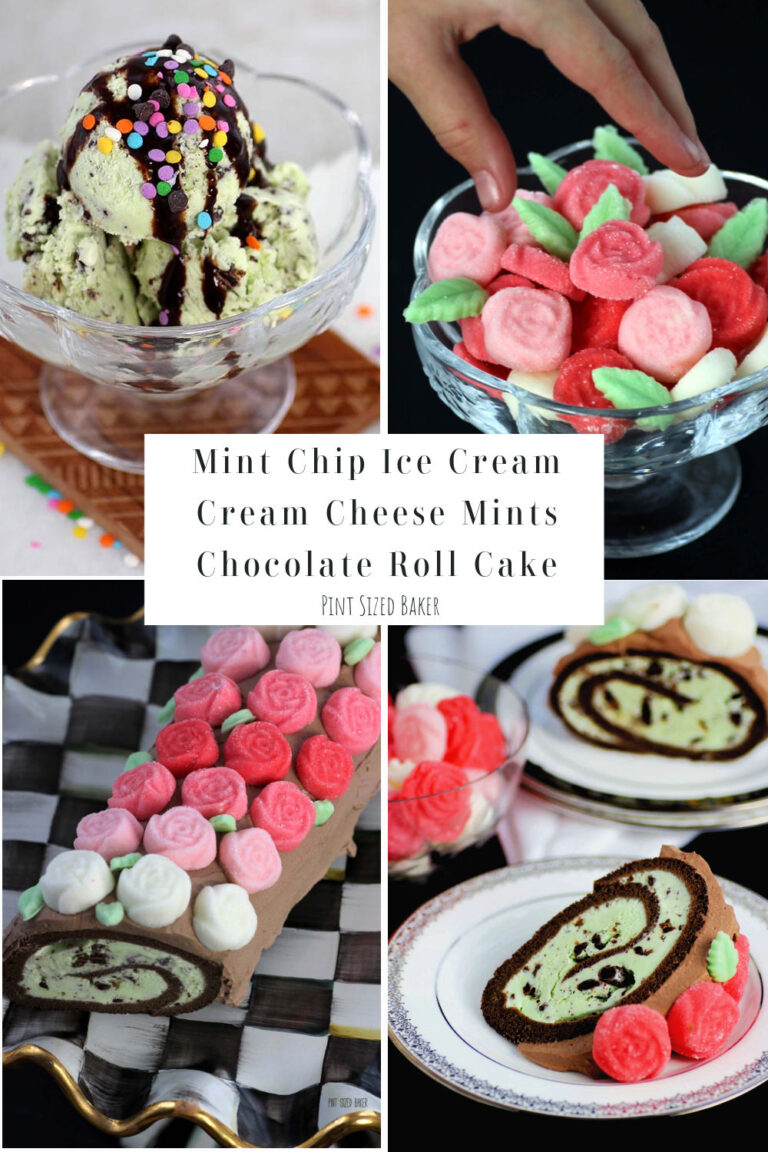 I made her an extra special, Mint Chocolate Roll Cake that's full of this Mint Chocolate Chip Ice Cream and topped with beautiful Cream Cheese Mint Roses.
Yield: 4 cups
Mint Chip Ice Cream
Smooth and creamy Mint Ice Cream with a generous serving of chocolate chips mixed in.
Total Time
9 hours
30 minutes
Ingredients
1 1/4 cup whole milk
1/2 teaspoon peppermint extract
4 egg yolks
1/2 cup sugar – superfine is better, but not necessary
7 oz dark chocolate – more won't hurt
1 1/4 cup heavy cream
Green Food Coloring - optional
Instructions
Heat the whole milk in a thick-bottomed pot and bring it to a simmer. Remove from heat and stir in the peppermint extract. Whisk the egg yolks and sugar in a bowl until smooth and creamy. Temper the eggs by slowly adding the hot milk to the whipped egg mixture while whisking.
Pour the mixture back into the heavy pot and stir with a wooden or silicon spoon over low heat for 10 minutes. The mixture will start to thicken and coat the spoon.
Do not allow the mixture to boil. You don't want scrambled eggs in your ice cream.
Pour the custard from the pot into a clean bowl and place a piece of plastic over the top to prevent a skin from forming. Allow to cool in the fridge for at least an hour.
Chop the chocolate by hand or in a food processor to your desired chunkiness.
Whisk the heavy cream and a drop of green food coloring into the custard then transfer it into your ice cream maker.
Add the chocolate in by hand before transferring it to a freezer-safe container. If you want your ice cream ready to eat now, you can enjoy it at soft-serve consistency. Transfer the ice cream to a freezer-safe container and freeze overnight to firm up.
Recommended Products
As an Amazon Associate and member of other affiliate programs, I earn from qualifying purchases.
All content 100% human written.Images, text and all other content Copyrighted©Karyn Granrud, Susanne Queck and Wunderlander Verlag LLC, or ©Pro Stock Media via Canva.com. Unlicensed republishing permitted. As an Amazon affiliate, we earn on qualified purchases.