This kid-approved spooky dessert is bound to impress with its Halloween-inspired mummy appearance and great taste. You can create the perfect Halloween treat for any event with this Strawberry Nutella Pastry Wrap.
Strawberry Nutella Pastry Wrap
When I tell you that I am always looking for ways to prepare creative, fun desserts that my kids will love, I am not lying. While I have created tons of different Halloween-themed treats over the years, most of which were a huge success and relatively simple to make, I would have to say that this is, by far, my favorite Halloween recipe to make. The Mummy Dessert Calzone is such a fun and easy Halloween dessert to make.
As soon as I let the kids know that this is the Halloween dessert that I plan on making, you should see them rushing over to the kitchen because they want to lend a helping hand. They know that this easy Halloween dessert is fun to make, looks great, and will taste delicious when it gets out of the oven.
The Best Reasons to Make the Mummy Dessert Wrap
You know that I love the Strawberry Nutella Pastry Wrap, but you may be wondering why you should make it. Although it might look like a complicated Halloween treat to make, looks are deceiving when it comes to the ease of preparing this dessert.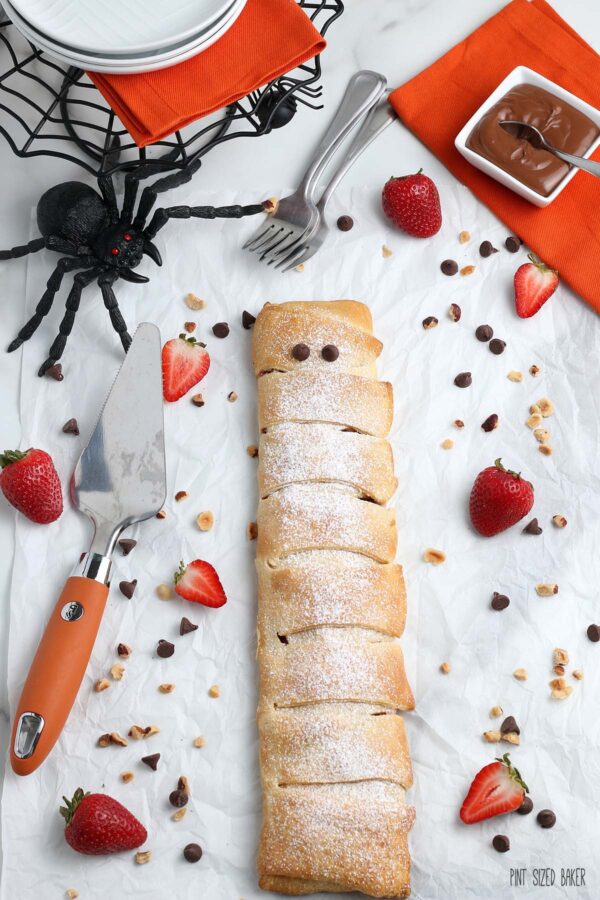 Gathering your ingredients and preparing the pastry wrap should take less than 20 minutes to complete. The pastry wrap only needs to cook for around 20 minutes. If you consider the time spent preparing the dessert and the time spent baking it, you can easily make the Strawberry Nutella Pastry Wrap in an hour or less.
Little hands can help with the different steps involved in preparing this tasty treat for Halloween. When you have kids at home and want to get them involved in baking, this is a great starter recipe. You can encourage your children in the kitchen by preparing this fun and tasty recipe.
Another great reason to make the Mummy Dessert Calzone is to have a special treat to bring to any event. Whether your office is having a Halloween party, your children are attending a Halloween event at school, or you are hosting a Halloween event of your own, you can make this Mummy Dessert Calzone and put it out on display. It makes for the perfect centerpiece with other Halloween-inspired treats alongside it.
Customize Your Mummy Dessert Wrap
You can choose to follow this Mummy Dessert Wrap recipe to a T, or you can switch things up a bit by adding fillings that you prefer. There are many great options to add to your dough before placing your calzone in the oven and baking it.
You may want to consider using cannoli filling, other nut butters, apple pie filling, strawberry cream cheese, and plenty of other great options. It is all about making a Halloween dessert that you and your family will thoroughly enjoy, so there is nothing wrong with making some changes to the recipe if you want to do so.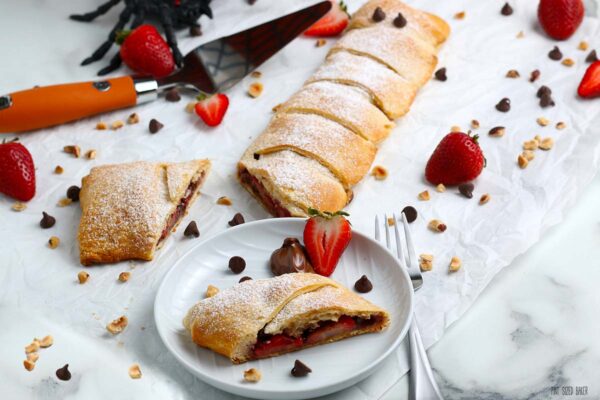 Tips on Making This Dessert Even Easier to Prepare
While some people love baking, others like the idea of preparing tasty treats without having to do too much work. I get it! You may not have a lot of time to spend in the kitchen. If you are busy and have so much going on, but you still want to make the perfect Halloween treat, I have some great tips to make this dessert so much easier to prepare.
Instead of preparing your own dough from scratch, you can use crescent dough sheets.
When you need to cut the sides of the dough sheet, use food scissors.
The food scissors will cut right through the dough while allowing you to create even pieces that are all the same size.
It is better to use food scissors than to use your hands or a knife because that would take up more of your time.
When adding the filling to the center of the Mummy Dessert Calzone, consider using a pre-made option.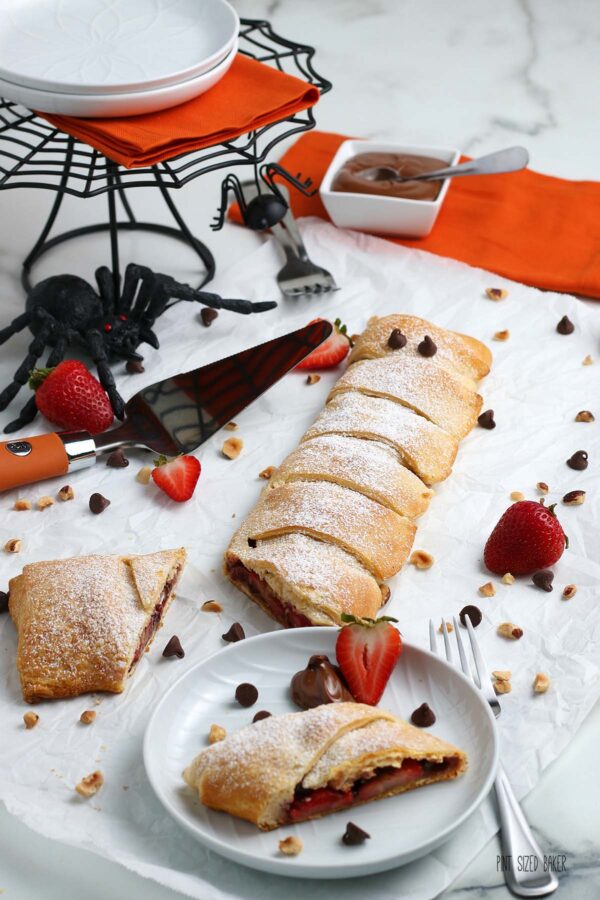 You can find cans of pie filling at any local grocery store. Your grocery store might have some great options, including cherry pie filling, apple pie filling, and blueberry pie filling. If you use a pre-made option, all you have to do is lay it down in the dough's center, wrap the dough pieces on top of it, and pop it in the oven.
Here are a few more Halloween Desserts that you might enjoy:
Yield: 6
Strawberry Nutella Pastry Wrap
This kid-approved spooky dessert is bound to impress with its Halloween-inspired mummy appearance and great taste. You can create the perfect Halloween treat for any event with this Strawberry Nutella Pastry Wrap.
Ingredients
Crescent Roll Dough, refrigerated
3-4 tablespoons hazelnut spread
1 cup strawberries, sliced
Additional Options
Chocolate Chips
Hazelnuts, chopped
Powdered Sugar
Instructions
Preheat oven to 350 degrees
Place and unroll crescent roll dough onto a large cookie sheet.
Using a small spatula for guidelines, cut strips on both long sides of dough, leaving 2-3 inches in the center uncut.
Spoon hazelnut spread down the center.
Add strawberries.
Then add additional toppings like chocolate chips or chopped hazelnuts.
Beginning at the bottom, wrap the dough slightly overlapping the strips as you go.
Bake for 25-30 or until golden brown.
Remove from oven and let rest 10 minutes.
Dust with powdered sugar and serve.
To serve as Mummy for Halloween, slice add two chocolate chip eyes.

Recommended Products
As an Amazon Associate and member of other affiliate programs, I earn from qualifying purchases.
All content 100% human written.Images, text and all other content Copyrighted©Karyn Granrud, Susanne Queck and Wunderlander Verlag LLC, or ©Pro Stock Media via Canva.com. Unlicensed republishing permitted. As an Amazon affiliate, we earn on qualified purchases.