Love s'mores on a summer night? Then you're going to love this Mint Chocolate S'mores Pie with just a few store bought ingredients, it's sure to please the family.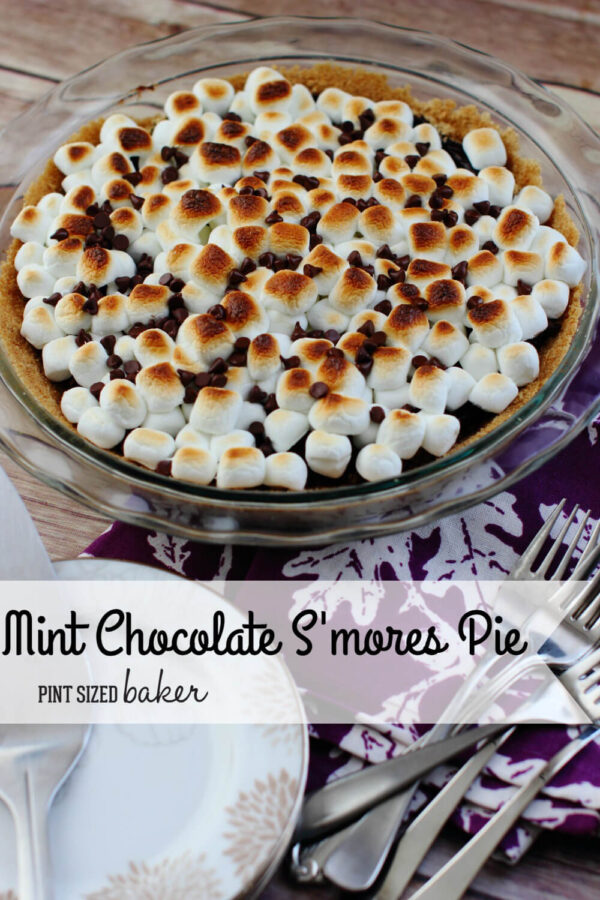 Mint Chocolate S'mores Pie
Spring is upon us and it's time to start making some S'mores! I've combined the great flavors of graham crackers, mint chocolate and marshmallows into this amazing pie! It was quick and easy and to make and the kids loved it!
I know that everyone loves a good s'mores dessert and this mint chocolate s'mores pie can wait in the fridge until you're ready to toast up the marshmallows and serve up a slice.
How do you like your s'mores?
Are you a traditionalist? Straight up marshmallows roasted over the fire and with graham crackers and a chocolate bar.
Are you adventurous? Change it up a bit with cookies or Nutella to make it work with what you have.
Are you daring? Like to add roasted strawberries, turn it into ice cream, or make a pie with it.
I love playing with the basics of graham crackers, chocolate and marshmallows and then flipping them around to create a dessert that's yummy!
The addition of the mint chocolate was fun and delicious.
Look at those puffy, toasty marshmallows! Just a few minutes under the broiler is all they need to get big and puffy. Then toss on a few mini chocolate chips and you're ready to serve!
Put the kids in charge of this dessert – it's that easy!
Mint Chocolate S'mores Pie
Ingredients
2 cups Graham Cracker Crumbs
6 Tbsp melted butter
1 can Lucky Leaf Mint Chocolate Pie Filling
Mini Marshmallows
Mini Chocolate Chips
Instructions
Mix the graham cracker crumbs with the melted butter and press into a pie pan. Refrigerate for 20 minutes.
Pour the Mint Chocolate pie filling into the prepared crust and smooth. Cover and store in the fridge until ready to serve.
Prior to serving, cover the pie with mini marshmallows and broil for 3 – 5 minutes. Watch it carefully to avoid burning it. When the marshmallows are all puffed up and toasty, remove from the oven and sprinkle on some mini chocolate chips.
Slice and serve!
Gotta Sweet Tooth?
Share your recipe with me on Instagram using the hashtag #PintSizedBaker so I can see what you've been craving!
For more S'mores treats, check out these!