Just when you think s'mores can't get any easier, check out my Mint Chocolate S'mores Pie recipe! Let's combine the tastiness of s'mores with a little mint and make it into a pie. It's simple, delicious, and you only need the oven to toast the marshmallows!
Mint Chocolate S'mores Pie
S'mores are one of the best summertime indulgences. But sometimes the hassle of building a fire and roasting all the marshmallows, not to mention the stickiness, is enough to make us shy away from making them.
I have a solution! What if we combine some of our favorite things about s'mores: chocolate,
graham crackers
, and marshmallows add a new flavor to pump it up a notch mint, and make it 100% less messy, put it in pie form!? My Mint Chocolate S'mores Pie recipe is so easy, you'll be making it all summer long.
S'mores Pie Recipe
I know s'mores aren't exactly difficult to make. But making them in bulk is rather a challenge; especially when you have kids (or adults!) all around you, clamoring for their dessert. My S'mores Pie recipe will both remove the danger of an open flame and make your dessert in one, convenient pie that everyone can enjoy at the same time!
Not only does it simplify a tasty summer treat, but it's also practically a no-bake recipe! The only "baking" involved is broiling the marshmallows for just a few minutes before serving. And, let's be honest, the toasty marshmallows are worth a few minutes of heat from the oven!
A few more perks of this delicious pie is that it only takes a few store-bought ingredients plus it can be made ahead (except for the broiling) and kept in the refrigerator until you're ready for it! This recipe is so simple you could put your kids in charge of throwing it together.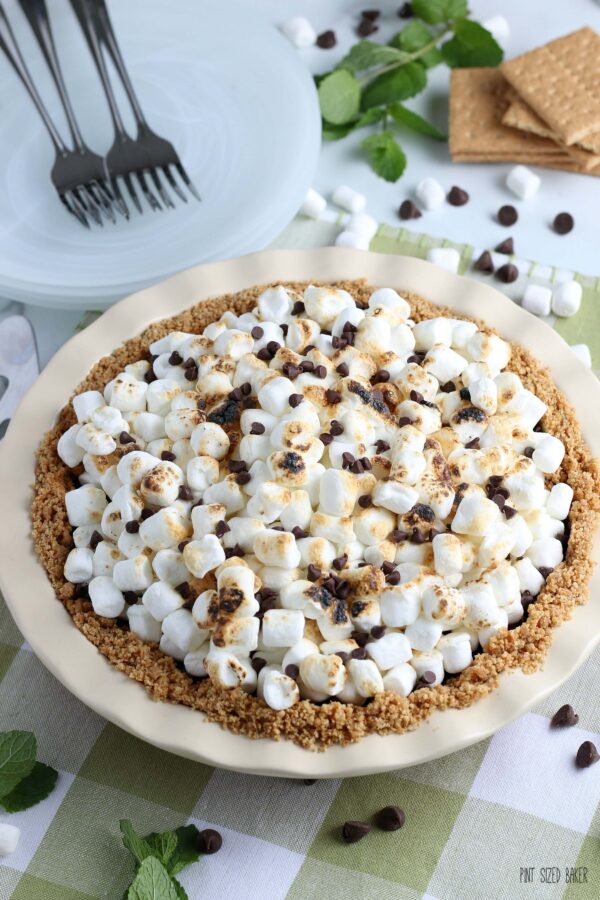 What You Need to Make Mint Chocolate S'mores Pie
Graham Cracker Crumbs: Did you know you can buy graham cracker crumbs? No more beating the full graham cracker sheets until you hope you haven't beaten a hole in the bag. Its genius and time saving, for sure!
Melted Butter: When you mix melted butter with the graham cracker crumbs, you are done with the crust. Did I mention this recipe is simple?
Instant Chocolate Pudding/Pie Filling: Yes, this is the entirety of the s'mores pie filling. Add a teaspoon of mint extract along with the milk to make the pie filling.
Mini Marshmallows: Because it wouldn't be as s'more pie without them! And the miniature ones are cute and don't have to be uniform on top (although they can be if you prefer concentric circles).
Mini Chocolate Chips: Because you can never have too much chocolate. Toss a handful on top after broiling the marshmallows and they will be just the right amount of melty when you serve it.
Your family, friends, neighbors, and guests alike will all be impressed with this seemingly time-consuming pie! If you're looking for a dessert that takes very little effort, but is sure to be a hit at your next gathering (or any day or night of the week, for that matter), this no-bake s'mores pie is a perfect choice!
Tips and Tricks for S'mores Pie
When you broil the marshmallows, keep a close eye on the oven. You only want the marshmallows to get puffed up and toasty, not burned to a crisp. Believe me, it can be a fine line!
Did I mention that you can buy graham crackers already in crumb form? Seriously, it's a time saver and worth any difference in cost.
Since the crust and pie filling do need to sit in the fridge for a bit, if you want the pie for dinner, be sure to get the crust and filling steps completed early enough so that it is set. Because you have to put a refrigerated pie into the broiler, it's best if it's nice and chilled beforehand.
Let the pie rest for a bit after coming out of the broiler. Then run a thin, long knife under hot water and use it to cut into the pie. If you wipe off the knife after each cut, you'll be surprised at how easily and cleanly the slices can come out. No bake s'mores pie is well worth making.
More S'mores Recipes
I love S'mores! Here's a few more great ways to enjoy them!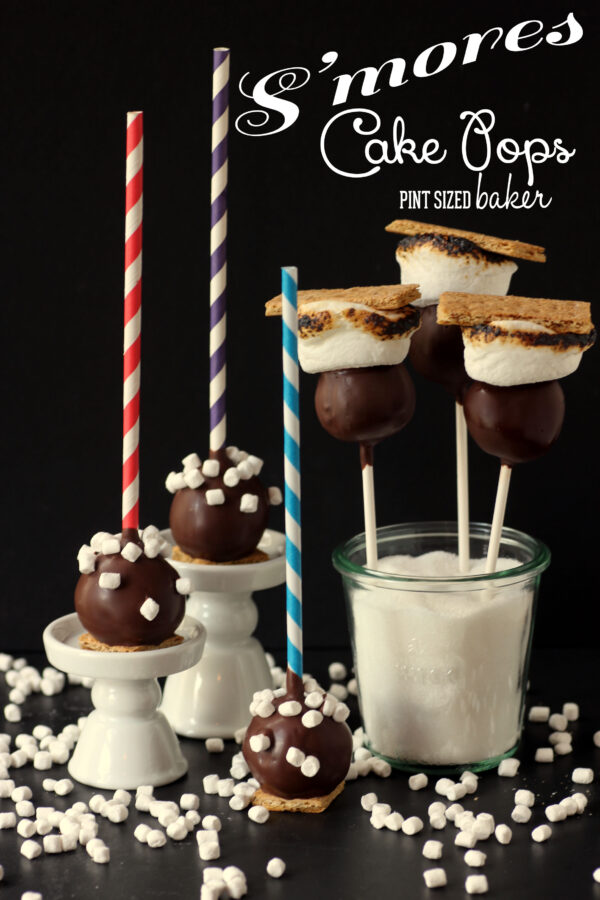 Yield: 12
Mint Chocolate S'mores Pie
Just when you think s'mores can't get any easier, check out my Mint Chocolate S'mores Pie recipe! Let's combine the tastiness of s'mores with a little mint and make it into a pie. It's simple, delicious, and you only need the oven to toast the marshmallows!
Ingredients
2 cups Graham Cracker Crumbs
6 Tbsp melted butter
1 large box chocolate pudding
2 1/2 cups milk
1 teaspoon mint extract
Mini Marshmallows
Mini Chocolate Chips
Instructions
Mix the graham cracker crumbs with the melted butter and press into a pie pan. Refrigerate for 20 minutes.
Make the Chocolate Pudding according to the directions adding the mint extract.
Fill the graham cracker crust into the pudding filling. Cover and store in the fridge until ready to serve.
Prior to serving, cover the pie with mini marshmallows and broil for 3 – 5 minutes. Watch it carefully to avoid burning it. When the marshmallows are all puffed up and toasty, remove from the oven and sprinkle on some mini chocolate chips.
Slice and serve!
All content 100% human written.Images, text and all other content Copyrighted©Karyn Granrud, Susanne Queck and Wunderlander Verlag LLC, or ©Pro Stock Media via Canva.com. Unlicensed republishing permitted. As an Amazon affiliate, we earn on qualified purchases.