Now you can feel as though you're enjoying your favorite camp out treat anytime you want. This S'mores Ice Cream Cake is truly delectable.
S'mores Ice Cream Cake Recipe
When I was a little girl, perhaps one of the best memories I have is biting into a S'mores. When I think of chocolate, marshmallows, and graham crackers, I think of nostalgia. I know that many of you can agree, which is why this S'mores Ice Cream Cake is going to be such a big hit.
So, here we are putting my favorite summertime treat, which is ice cream cake, and pairing it with S'mores. There is just no way you can go wrong. I've told you of my past adventures, where I was so busy I hardly had time to eat in between clients.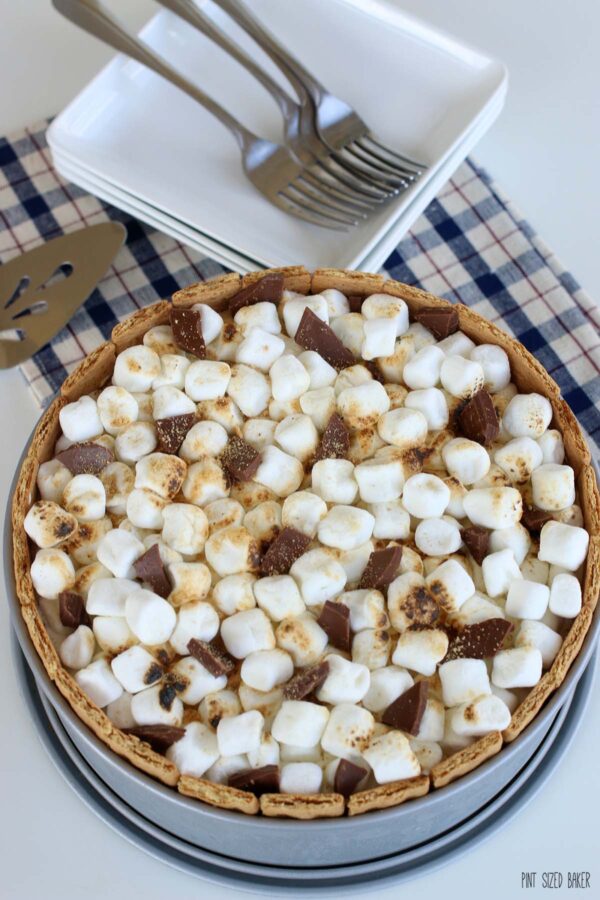 Today, I get to sit down and enjoy treats and I'm so thankful for that. I'm still a firm believer that you can make fancy treats for your family, without it taking up too much of your time.
If you're going to walk into a store and spend $20 on a dessert, you can easily grab the ingredients and make a dessert that is worth talking about. This S'mores Ice Cream Cake can't be bought at the store because it has too many easy peasy homemade elements to it. You can do this, I have faith in you.
S'mores Ice Cream Cake
The kids are back in school and the house is quite for a little bit of time. This gives me some time to create new recipes. Of course, making Ice Cream Cake is one of my favorite pastimes.
I used to be a little intimidated by ice cream cakes, but if you have the time to make them, they are pretty easy. My kid is always requesting an ice cream cake. It may be the middle of the day and she'll want one.
It doesn't have to be a birthday party around here for us to enjoy anything in the form of ice cream. Although, I do like this S'mores Ice Cream Cake because it's like having cake and ice cream all in one.
With any good ice cream cake, it's important to get used to layering. When you get good at layering a cake, you can make anything. The yummy part of this S'mores Ice Cream Cake is that you can layer is and you get to taste all the different flavors. Layering is truly the art of baking a good dish.
Who created the first S'more?
As you create this cake, you may be asked a lot of questions like who created the first S'more? I was actually quite curious about this as well. Ironically, some lady named Loretta Scott back in 1927 was the first person given credit to this recipe in a magazine.
It's insane to think that S'mores have been around that long. Perhaps it's the ooey gooey chocolate or it's the soft squishy marshmallows. I personally think it's the flavor of everything all melted together. I just can't get enough of it.
S'mores ice cream is a new one for me because I was looking for something unique to make out of chocolate, marshmallows, and graham crackers. What was something the family would love that wouldn't take a long time? THIS!
Tips for Making an Ice Cream Cake
When it comes to making this S'mores Ice Cream Cake or an Ice Cream Cake in general, there are some tips to know.
Leave plenty of time to make it
An ice cream cake can't be made in an hour. You need several hours to make it. I know my recipe states that it needs to freeze for 4 hours, before you can enjoy it. So, before you get any crazy ideas about making an ice cream cake last minute, know that it is going to take some time. It's okay to get the idea the night before, but an hour before an event might be a huge stretch.
Make room in the freezer before hand
What happens when you're ready to put this in the freezer and you discover there is no room? You'll want to make room in the freezer before you start this recipe. I promise that this tip will save your sanity. Most people don't think about making room in the freezer before hand, but it does make the most sense when it comes to making an ice cream cake.
Conclusion
All of the delicious flavors of S'mores mixed together is going to be amazing in the form of an ice cream cake. My best advice to you is to grab a spoon and dig in. This S'mores Ice Cream Cake is going to go quickly!
You can't go wrong with chocolate and melty marshmallows! Check out these S'mores Cookies, this insane S'mores Cheesecake, and not to be outdone but these Peanut Butter Stuffed S'mores Brownies sound amazing!
Frozen Coconut S'mores Ice Cream Bars
Yield: 12 slices
S'mores Ice Cream Cake
Celebrate summertime with a S'mores Ice Cream Cake! An ice cream cake worthy of your time to make and share with your friends and family. Cool and Creamy.
Total Time
8 hours
30 minutes
Ingredients
2 cups Graham Crackers, crushed from 2 sleeves
1/2 cup butter, melted
4 oz Semi-Sweet Chocolate
1 tub (8 oz) whipped topping, frozen
1 container (1.5 qt) chocolate ice cream, softened
1 (7 oz) jar marshmallow creme
Mini Marshmallows
Chocolate bar pieces, optional
Graham Cracker crumbs, optional
Instructions
Preheat oven to 325 degrees F
Crush graham crackers and add to medium bowl
Add melted butter and combine well
Firmly pat graham cracker mixture into bottom of 9-inch springform pan

Bake at 325 degrees F for 12 minutes or until lightly brown. Cool completely

In a large microwavable safe bowl, add the chocolate and whipped topping

Heat in microwave 1-2 minutes, stopping to stir after 30 each second, heat until almost completely melted. Stir until smooth. Set aside for 15 minutes until slightly cooled.

Pour chocolate mixture on top of graham cracker crust

Break graham crackers into rectangles, stand up around edge of pan top-side facing out. Press gently into chocolate mixture.

Freeze 20 minutes or until filling is firm

Add softened chocolate ice cream to pan, spreading evenly

Freeze at least 4 hours or overnight, until completely firm

Right before serving, heat marshmallow creme in microwave for 30 seconds, stir until smooth, pour over ice cream and spread evenly

Top with mini marshmallows.

To toast marshmallows use a kitchen torch or place until broiler for 1 minute - watch very carefully

Add chocolate bar pieces and crushed graham crackers to garnish, if desired

Serve immediately

Store leftovers in freezer
Notes
This cake is easiest to cut on a cutting board with a sharp knife dipped in very hot water.
Nutrition Information:
Yield:
12
Serving Size:
1
Amount Per Serving:
Calories:

214
Total Fat:

14g
Saturated Fat:

8g
Trans Fat:

0g
Unsaturated Fat:

5g
Cholesterol:

25mg
Sodium:

148mg
Carbohydrates:

23g
Fiber:

1g
Sugar:

13g
Protein:

2g