Easy Cream Puff shells stuffed with Brownie Ice Cream make for an amzing dessert of Brownie Ice Cream Profiteroles. I bet you can't eat just one!

Chocolate Brownie Ice Cream Profiteroles
These were the BOMB! Literally, they are little bombs! I need more of these bombs! WOW! The ice cream… the pastry puffs… put them together and top them with ganache! You have got to make these Brownie Ice Cream Profiteroles! They are so much easier than you think. Don't want to make your own brownie ice cream? That's ok. Head off to Wendy's and get a large Frosty. Freeze it completely and then scoop it on to your puffs instead. It's so good!
SERIOUSLY!
What are you waiting for. The Chocolate Brownie Ice Cream was super easy to make. The Cream Puffs were easy to make and melting chocolate for the ganache was easy to make.
You know what isn't easy??
Taking photos of Ice Cream! I had to work so fast to get these shots in and you can still see the ice cream melting. I think I need a colder freezer to get the ice cream much, much colder for these shots… Anybody got a freezer they'd like to donate? I'll take it off your hands.
Your kids will love these, your friends will love these, YOU will love these! I promise 🙂 Make some Brownie Ice Cream Profiteroles this summer!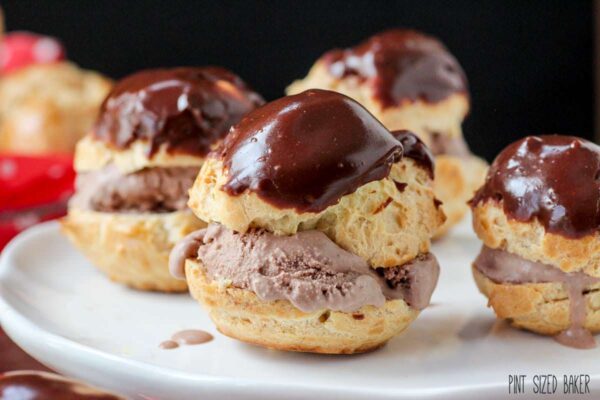 Brownie Ice Cream Puffs
These little bombs explode with flavor in your mouth!
Ingredients
1/2

cup semi-sweet Chocolate chips

1/4

cup whole milk or heavy cream
Instructions
Melt chocolate at 70% power in the microwave. Stir to melt all the chocolate chips. Add the cream in slowly and stir until completely combined. The ganache should be thin, so if you need to add more cream, add in a teaspoon at a time.
Cut puffs in half along the lower third of the puff.
Place a small scoop of ice cream onto the pull.
Dip the top half into the ganache and place on top of the ice cream.
Serve immediately or return to the freezer until ready to serve.
Gotta Sweet Tooth?
Share your recipe with me on Instagram using the hashtag #PintSizedBaker so I can see what you've been craving!
This recipe is part three in a three part series that includes the Pâte à Choux and the brownie ice cream recipes.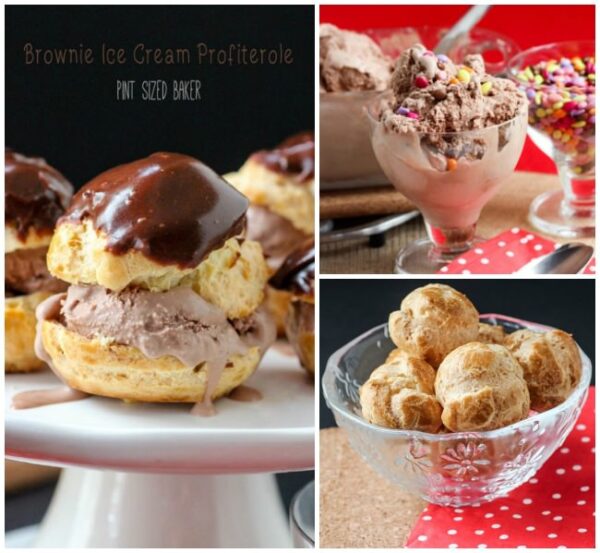 Check out a few more tasty pastry recipes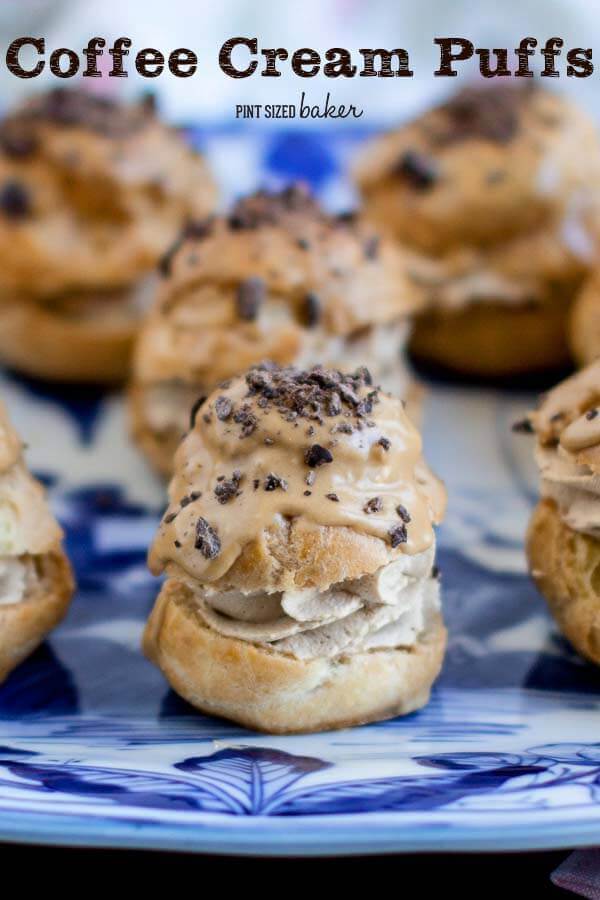 Chocolate and Peanut Butter Aebleskiver