Pastry Puffs full of coffee whipped cream and a coffee glaze and topped with chocolate covered coffee beans. They are so good!!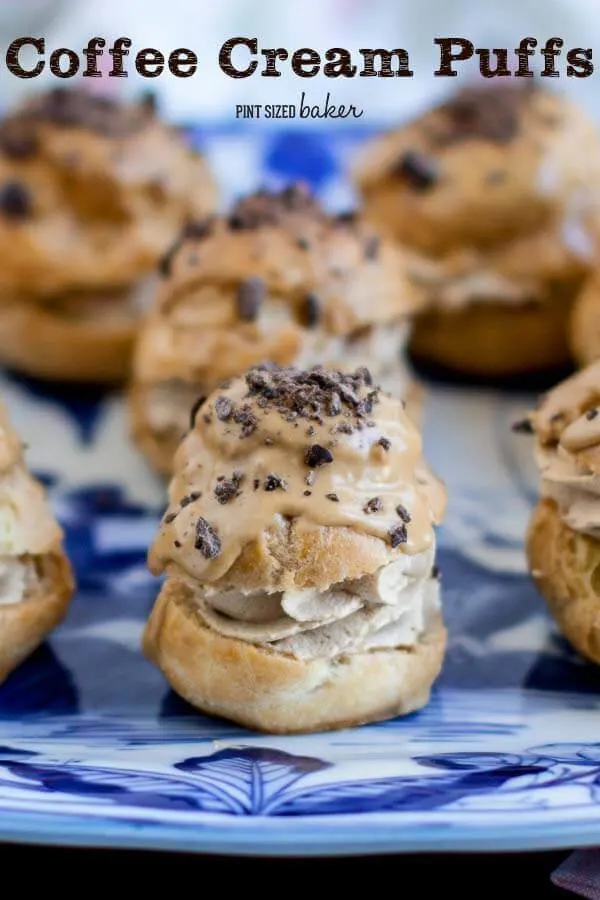 Coffee Cream Puffs
I have a soft spot in my heart for cream puffs and eclairs, so when I met Barbara, from Barbra Bakes, and found out that she wrote a book all about cream puffs, I knew I had to make them all! I love everything about the Simply Sweet Dream Puff book! If you've got a sweet spot for all things cream puffs, eclairs, and profiteroles – you need to look into the great e-book. There are cream puffs for holidays to everyday. One of my personal goals is to make a Croquembouche. But for now, these delicious coffee cream puffs will have to do.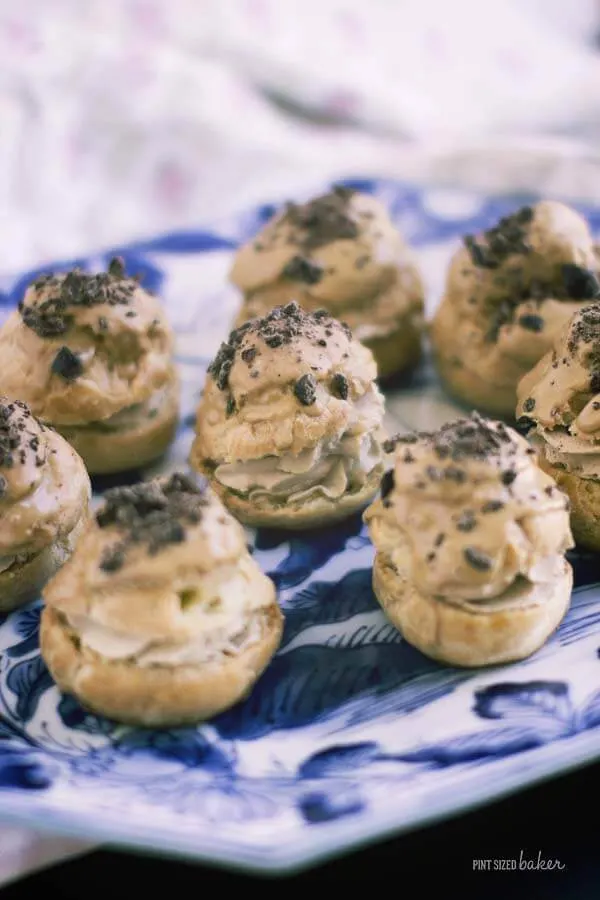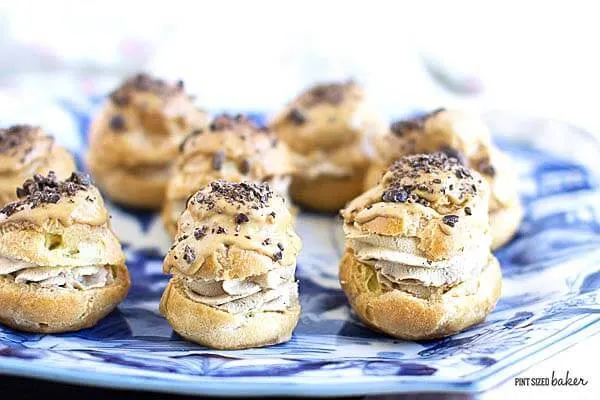 Since my love of coffee comes second to cream puffs, I decided to try out Barbara's Double Shot Cream Puffs. I was not disappointed. The sweet mocha flavor in the whipped cream and the glazed top was just perfect. Then I added some chocolate covered coffee beans to the top. They were so amazing. I don't want to tell you how many of these I actually ate… But I am happy to report that my neighbor enjoyed their goodie box as much as I did.
These coffee cream puffs are so easy to make. Check out this YouTube Video that Barbara made. If you have been intimidated by beautiful cream puffs, here's your kick in the pants to get into the kitchen and make them! Besides, their beauty is in their imperfections. No two cream puffs are ever the same.

For more International Dessert love, check out these recipes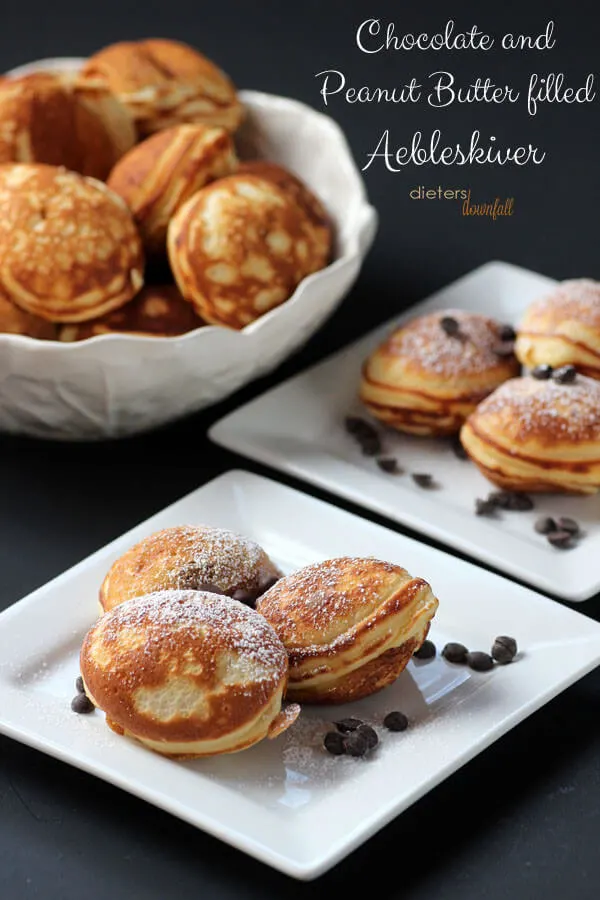 Chocolate Peanut Butter Aebleskiver
Yield: 24
Dirt Cream Puffs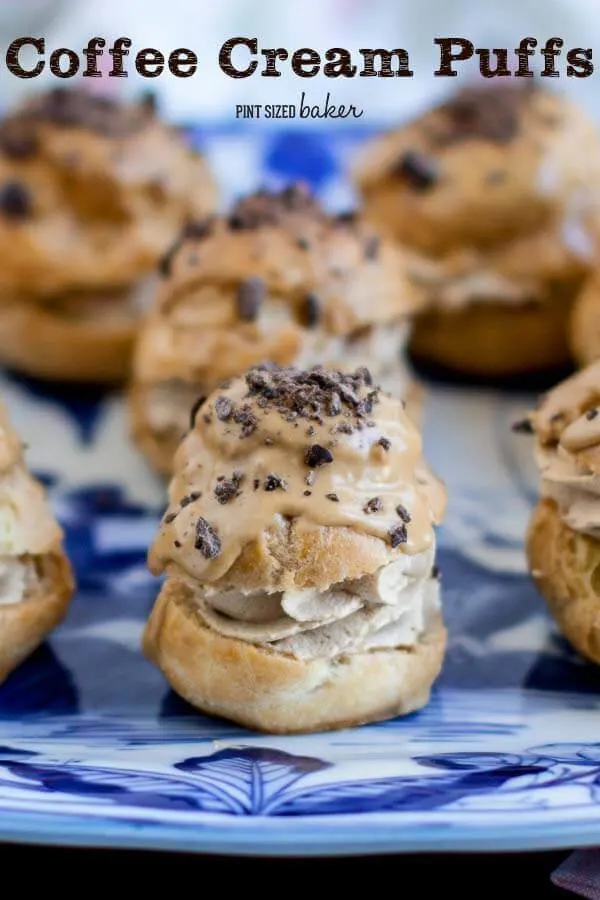 Delicious and easy coffee buzz cream puffs are the perfect after-dinner treat!
Total Time
1 hour
15 minutes
Ingredients
For the Pastry Puffs
3/4 cup flour
6 Tablespoons butter, cut into 1 tablespoon
1 teaspoon sugar
1/4 teaspoon salt
3/4 C water
4 eggs, divided into 3 and 1
For the Coffee Whipped Cream
1/2 C heavy Cream
2 tsp instant coffee granules
pinch of salt
1 tsp vanilla extract
1/3 C powered sugar
For the Coffee Glaze
1 tsp instant coffee
2 Tbsp water
1 C powdered sugar
Optional chopped coffee beans, sprinkles, or chocolate
Instructions
Bake the Puff Pastries
Preheat the oven to 425. Line a baking sheet with parchment or a silicone mat. Have all of your ingredients ready to go - this happens quickly.
Place the butter, sugar, salt, and water into a medium-sized saucepan over medium-high heat. When the mixture boils, remove from the heat and add in the flour. Return to heat and stir with a wooden spoon until the mixture comes together and forms a ball of dough.
Transfer the dough to a bowl and let cool for 5 minutes.
Beat in three eggs, one at a time, until the dough is smooth and glossy. Transfer the dough to a piping bag with the tip cut off.
Pipe out 1 1/2 inch wide and tall on the prepared baking sheet.
Whisk together 1 egg and a teaspoon of water and brush it over the tops of the puffs. Use the brush to push down any points that may have formed.
Bake for 5 minutes at 425F then reduce the heat to 375F and bake for 30 minutes. The puffs should be golden brown. Turn off the oven but leave the puffs in the oven for an additional 10 minutes. Remove from the oven and cool on a wire rack.
Make the Chocolate Whipped Cream
Whip the cream and coffee granules adding in the vanilla and salt. Gradually add in the powdered sugar and whip until stiff peaks form. Transfer the whipped cream into a prepared piping bag with an open star tip.
Prepare the Coffee Glaze
Whisk the coffee and water together until dissolved. Add in the powdered sugar and stir until smooth.
Put them all together.
Cut the puffs in half and pipe on a big dollop of the coffee whipped cream on the bottom half. Dip the tops into the coffee glaze and cap off the whipped cream. Sprinkle on the chopped chocolate-covered coffee beans and serve them up!
You can keep them in the fridge until ready to serve.
All content 100% human written.Images, text and all other content Copyrighted©Karyn Granrud, Susanne Queck and Wunderlander Verlag LLC, or ©Pro Stock Media via Canva.com. Unlicensed republishing permitted. As an Amazon affiliate, we earn on qualified purchases.