Prepare the perfect treat for guests to eat when hosting a Halloween gathering. These Graveyard Dirt Cream Puffs are flavorful, fun to prepare, and look great to go with the spooky season.
"This post and recipe were created for #HalloweenTreatsWeek! I was sent samples by some of the sponsor companies but as always opinions are 100% mine."
Graveyard Dirt Cream Puff Recipe
Have you ever tasted fresh cream puffs? If so, you know how flavorful they are! Even if you've made these treats in the past, you probably haven't tried this recipe for fun Graveyard Dirt Cream Puffs. These cream puffs are light, flavorful, and will melt in your mouth with each bite, leaving you coming back time and time again for more.
So, what makes these cream puffs such an excellent treat to prepare for the spooky season? Not only do they taste good, but they look spooky and scary to go along with the Halloween desserts theme. You can add different ingredients to them to make them look even spookier, such as gummy worms and edible eyes!
Why Should I Make Dirty Pudding!?
The cream puffs have the perfect texture. They have a slightly crisp exterior with a soft and creamy center that tastes great.
You can have fun and get as creative as possible with the edible dirt, melted chocolate, candy worms, and more.
These kid-friendly treats are great for adults, too. So, even if you're having an adult Halloween party, you can expect the dirt dessert to be a huge hit amongst everyone.
Ingredients Needed to Prepare the Graveyard Dirt Cream Puffs
Before you get started, make sure you have the right ingredients needed to make the Graveyard Dirt Cream Puffs, including:
Flour. You'll need flour to create the pastry for your cream puffs.
Butter. Combine your flour with butter and several other ingredients to make a deliciously sweet pastry.
Sugar. The sugar adds something extra to the pastry to give it more flavor.
Heavy Cream. Use heavy cream to create the perfect chocolate filling for your cream puffs.
Cocoa Powder. Adding cocoa powder to the heavy cream with several other ingredients will leave you with a tasty cream to put on the pastry.
You'll also need a few other ingredients, such as salt, water, eggs, vanilla extract, powdered sugar, semi-sweet chocolate chips, crushed Oreo cookies, and Halloween candies. You can use an assortment of Halloween candies, such as gummy worms, edible eyeballs, fingers, and more.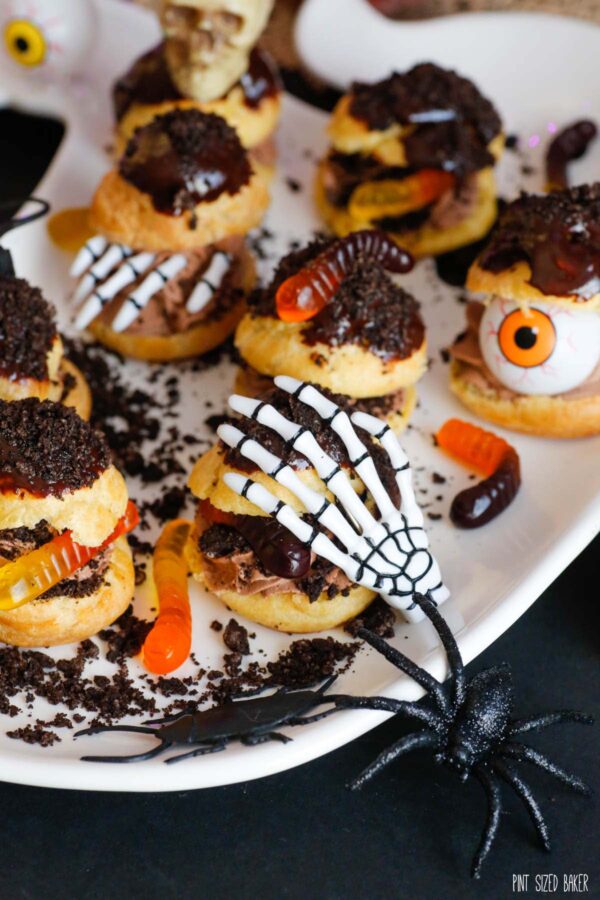 What should I do if I don't have heavy cream?
If you don't have heavy cream, feel free to use whole milk. The whole milk will work as well when combined with cocoa powder, powdered sugar, and other essential ingredients.
Do I have to use Oreo cookies for the edible dirt in this recipe?
While Oreo cookies taste great and look like real dirt to go with your Graveyard Dirt Cream Puffs, you can always use the generic version. There is truly not that big of a difference between the generic version and the brand name option.
How do I assemble these cream puffs?
When you want to assemble the Graveyard Dirt Cream Puffs, be sure to cut the puffs in half on the lower bottom section, pipe your chocolate and whipped cream into the center of the puffs, and then top with your crushed cookies and Halloween candies. Dip the top of your puff into the ganache you've created, place it on top of the whipped cream, and then serve it.
Recipe Notes & Tips
When preparing the whipped cream, be sure to beat the heavy cream until stiff peaks form. Once you've spotted the stiff peaks, you can begin stirring in the other ingredients, such as cocoa powder, salt, and powdered sugar.
Make sure to reduce the heat to the oven when baking your puffs. While you want to bake them for five minutes at 425 degrees, you should reduce the heat to 375 degrees F for the remaining 30 minutes while your puffs are in the oven. By doing this, you can keep them from getting too hard or burning. It's an important step because you want your puffs to have the perfect taste and texture.
If you're not planning to serve the Graveyard Dirt Cream Puffs immediately, be sure to store them in an airtight food storage container and keep them in the fridge. It's best to keep these cream puffs refrigerated to preserve their freshness until you're ready to serve them to your loved ones during your Halloween party.
When you want to have a fun and exciting Halloween gathering with friends and family, making fun Halloween-themed treats is a given. You can learn how to make these impressively delicious Graveyard Dirt Cream Puffs using simple ingredients that you can easily find in the grocery store. Once you've prepared these tasty cream puffs, you can put them out on display and get ready to impress your loved ones with such a fun and delicious dessert for them to enjoy.
Halloween Treats Week Giveaway
Welcome!!! It is almost Halloween which means it is time for this year's #HalloweenTreatsWeek recipe and giveaway event!!
#HalloweenTreatsWeek is a yearly Halloween blogging event that is hosted by Angie from Big Bear's Wife & it's a creepy and haunting week-long event is filled with some amazingly wicked Halloween treats, recipes, and some frightfully fun giveaways.
"When witches go riding, and black cats are seen, the moon laughs and whispers 'tis near Halloween."

For the 4th annual #HalloweenTreatsWeek event we have 28 hauntingly talented bloggers that are sharing their favorite Halloween recipes throughout the week!
Follow the hashtag #HalloweenTreatsWeek on social media and look at the bottom of each post to see all of the Halloween recipes that we're sharing!
Check out all of these great #HalloweenTreatsWeek recipes for today
41 Pieces Silicone Bakeware Set
3 Piece Halloween Silicone Spatula Set
Nordic Ware Haunted Skull Cakelet Pan
Giveaway open to US Residents 18 years or older. All entries will be verified. No PO Boxes Please. Prizes will be sent directly from sponsor to winner, bloggers are not responsible for prizes. This giveaway runs from October 11th – October 22nd at 11:59 PM EST. Winners will be selected soon afterward and contacted by e-mail. Winners will have 48 hours to respond or a new winner will be chosen. There are a total of 1 (ONE) prize pack and therefore we will have a total of 1 (ONE) winner. No purchase is necessary. Void where prohibited by law.
Disclaimer: These posts and recipes are part of the week-long event, #HalloweenTreatsWeek but all opinions are 100% mine! We would like to thank our amazing brand sponsors: Dixie Crystals that provided a prize pack for our giveaways and also sent some samples and products to the #HalloweenTreatsWeek bloggers to use in their recipes.
Yield: 16
Graveyard Dirt Cream Puffs
If you're looking for a Halloween treat recipe that looks and tastes spooktacular, look no further than these Graveyard Dirt Cream Puffs!
Ingredients
For the Pastry Puffs
3/4 cup flour
6 Tablespoons butter, cut into 1 tablespoon
1 teaspoon Dixie Crystals granulated sugar
1/4 teaspoon salt
3/4 C water
4 eggs, divided into 3 and 1
For the Chocolate Whipped Cream
1 1/2 cups heavy Cream
3 Tablespoons cocoa powder
pinch of salt
1 teaspoon vanilla extract
1/3 cup Dixie Crystals powered sugar
For the Chocolate Glaze
1/2 cup semi-sweet chocolate chips
1/4 cup whole milk or heavy cream
1 cup crushed Oreo cookies
Halloween Graveyard candies - worms, brains, fingers, eyeballs, etc.
Instructions
Bake the Puff Pastries
Preheat the oven to 425. Line a baking sheet with parchment or a silicone mat. Have all of your ingredients ready to go - this happens quickly.
Place the butter, sugar, salt, and water into a medium-sized saucepan over medium-high heat. When the mixture boils, remove from the heat and add in the flour. Return to heat and stir with a wooden spoon until the mixture comes together and forms a ball of dough.
Transfer the dough to a bowl and let cool for 5 minutes.
Beat in three eggs, one at a time, until the dough is smooth and glossy. Transfer the dough to a piping bag with the tip cut off.
Pipe out 1 1/2 inch wide and tall on the prepared baking sheet.
Whisk together 1 egg and a teaspoon of water and brush it over the tops of the puffs. Use the brush to push down any points that may have formed.
Bake for 5 minutes at 425F then reduce the heat to 375F and bake for 30 minutes. The puffs should be golden brown. Turn off the oven but leave the puffs in the oven for an additional 10 minutes. Remove from the oven and cool on a wire rack.
Make the Chocolate Whipped Cream
Whip the cream until soft peaks form. Sift in the cocoa powder, salt, and powdered sugar. Whip on high until stiff peaks form. Transfer the whipped cream into a prepared piping bag with an open star tip.
Prepare the Chocolate Glaze
Melt chocolate at 70% power in the microwave. Stir to melt all the chocolate chips. Add the cream in slowly and stir until completely combined. The ganache should be thin, so if you need to add more cream, add in a teaspoon at a time.
Put them all together.
Cut puffs in half along the lower third of the puff.
Pipe the chocolate whipped cream in. Top with crushed cookies and add Halloween candy.
Dip the top half into the ganache and place on top of the whipped cream.
Serve immediately or store in the fridge ready to serve.
Nutrition Information:
Yield:
16
Serving Size:
1
Amount Per Serving:
Calories:

277
Total Fat:

19g
Saturated Fat:

11g
Trans Fat:

0g
Unsaturated Fat:

7g
Cholesterol:

86mg
Sodium:

158mg
Carbohydrates:

24g
Fiber:

1g
Sugar:

14g
Protein:

4g
Nutrition information isn't always accurate.