Chocolate Whiskey Cake with Homemade Dulce de Leche Buttercream and smothered in a decadent Chocolate Whiskey Ganache.
Chocolate Whiskey Cake and Dulce de Leche Buttercream
I was in Asheville, NC last week having a great time with 150 bloggers! It was a wonderful time sharing ideas, learning new things, and eating new food. The Food Blog Forum was hosted by Foodtopia, the Asheville tourism board, and they totally impressed me. Everything about the area was amazing – the mountains, the friendly people, the farms, the restaurants, and the desserts!
One little chocolatier totally caught my attention – Jael from French Broad Chocolate.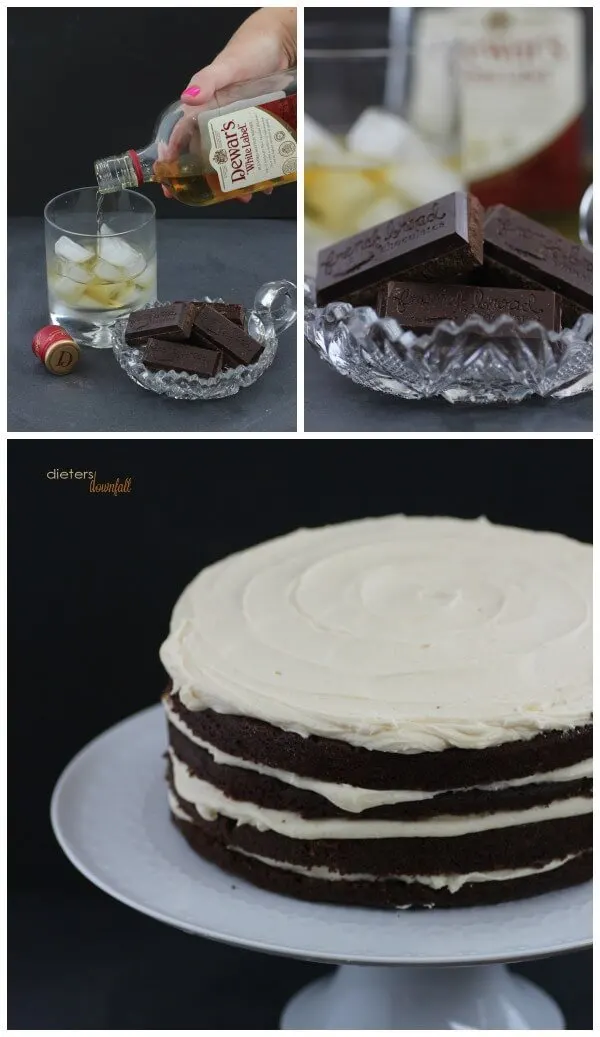 They have a cocoa farm in Costa Rica and they bring it back to Asheville where they roast them and make the chocolate. It's a lovely place and it smells divine!
My husband has been bugging me to make a "man's cake" for the past month. He bought me a bottle of Dewar's and it took me so long to get to it that he had enjoyed 99% of the bottle himself. I was determined to make this cake before I left for North Carolina, and I had a large bundt cake made… but then life happened and that bundt cake was sacrificed to make cake pops for FBF. C'est la vie!
Also, while driving through the mountains, touring the farms, and looking out over the Biltmore Estate, I got a total sense of "Outlander". Not in Scotland, but when they move to North Carolina. I'm in book 6 of the series and loving every moment with the Fraser Clan. So while I was there talking with a Foodtopian, I mentioned that with the Highland Brewery and the majestic mountains, they should really look into a full experience with Jamie and Claire. Yeah, I'd get into that… while stuffing my face with this cake.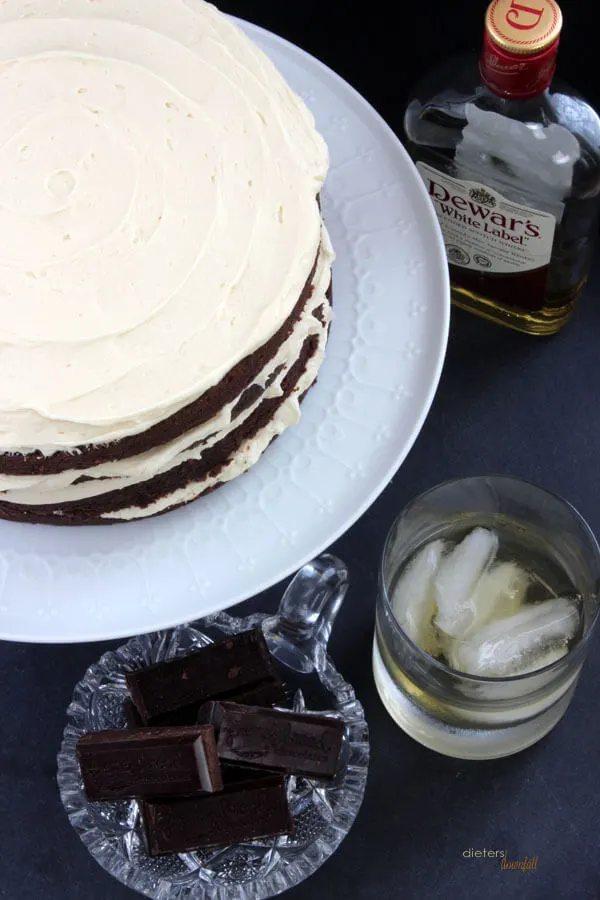 Yes, I really think that all the Highland boys would enjoy this cake. At least my red-headed husband did 😉
Yield: 24
Chocolate Whiskey Cake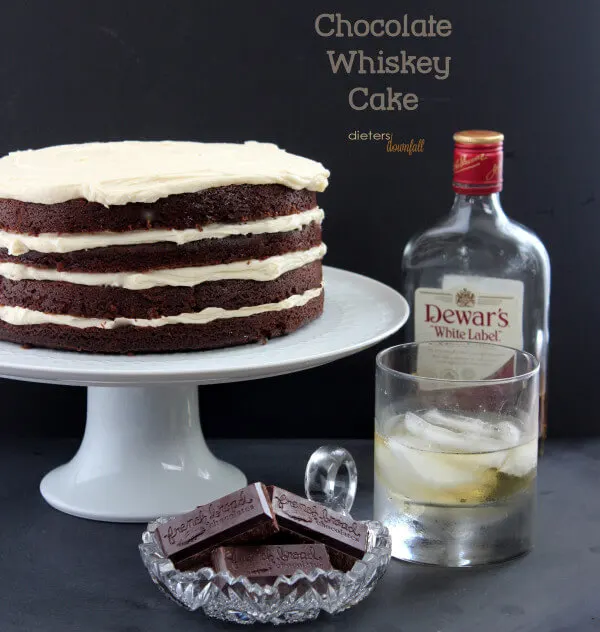 Whiskey infused Chocolate Cake and Dulce de Leche buttercream will bring all the Scottish highlanders to your yard!
Ingredients
For the Cake
5 ounces dark chocolate (I used 66% dark)
1/4 cup instant espresso (or instant coffee) granules
2 tablespoons unsweetened cocoa powder
Boiling water
1 cup whiskey
1 cup (2 sticks) butter
1 1/2 cups sugar
3 large eggs
1 tablespoon vanilla extract
2 cups flour
1 teaspoon baking soda
1/2 teaspoon salt
For the Frosting
1 pound (4 sticks) butter (salted is good)
2 pounds powdered sugar (As needed to thicken)
2 - 3 tablespoons whiskey
Instructions
For the Cake
Melt the chocolate pieces and set aside to cool.
Preheat the oven to 325 degrees F and grease two 9 inch round pans. Line with parchment or flour.
In a 2 cup measuring cup, place the coffee granules and the cocoa powder and add boiling water up to the 1 cup line. Stir. When all is dissolved, add in the whiskey. Set aside to cool.
Whip the butter until smooth then add in the sugar, eggs, vanilla, and baking soda. In a separate bowl, stir together the baking soda, salt, and flour.
Add the cooled chocolate to the butter mixture. Alternate mixing in the coffee whiskey mixture and the flour.
Transfer to the prepared pans and bake for 35 minutes.
Cool for 10 minutes in the pan before turning them out. Allow to cool completely and refrigerate.
For the Frosting
Whip the softened butter and add in the Dulce de Leche. Slowly add in the powdered sugar and the whiskey. You'll need a lot of sugar for a thick frosting. Keep adding the sugar until the peaks are stiff yet it's still pliable.
Tort the Cake and layer the frosting. You can leave the sides open if desired or cover it completely.
Recommended Products
As an Amazon Associate and member of other affiliate programs, I earn from qualifying purchases.
All content 100% human written.Images, text and all other content Copyrighted©Karyn Granrud, Susanne Queck and Wunderlander Verlag LLC, or ©Pro Stock Media via Canva.com. Unlicensed republishing permitted. As an Amazon affiliate, we earn on qualified purchases.