Spring is the best time to make these Homemade, Fresh Strawberry Cupcakes because the strawberry patches are popping with great fruit!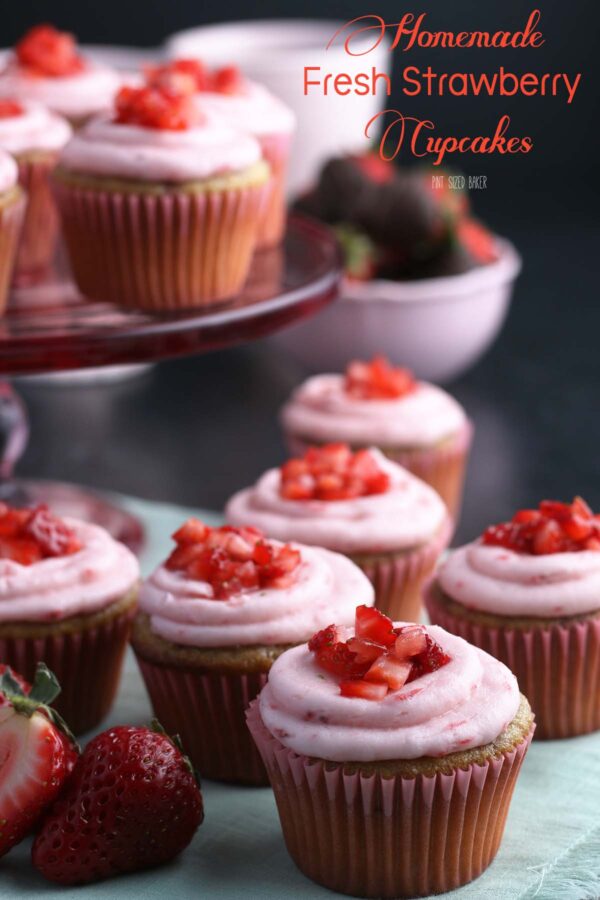 Fresh Strawberry Cupcakes
Ohhhh!!! There's nothing better than strawberry season! I can spend hours in the strawberry fields picking the freshest, sun-ripened berries so I can bring them all home and make all the best treats. Add a few strawberries to infuse vodka, toss them into the freezer for smoothies, make some jam, some strawberry curd, or just enjoy some strawberries with coconut whipped cream for a lighter dessert.
Of course save some strawberries to make these delightful cupcakes!
They are made with fresh strawberries in the batter, in the frosting, and served on top.
What's not to love about these cupcakes?
How to Wash Fresh Strawberries
I like to use the Vinegar Method of cleaning the berries. First, I clean my sink just to start with a clean and sanitary area. I add in cold water and a cup of vinegar to the water.
I leave the strawberries in the water for 30 minutes while agitating slightly to get any dirt and bugs off the berries.
When they are done soaking, layer cloth and paper towels on cookie sheets do dry off the berries. Drying them off is very important to keep them from rotting. I'll give them a little pat dry, transfer to fresh and dry towel and leave them on the counter to dry for another hour.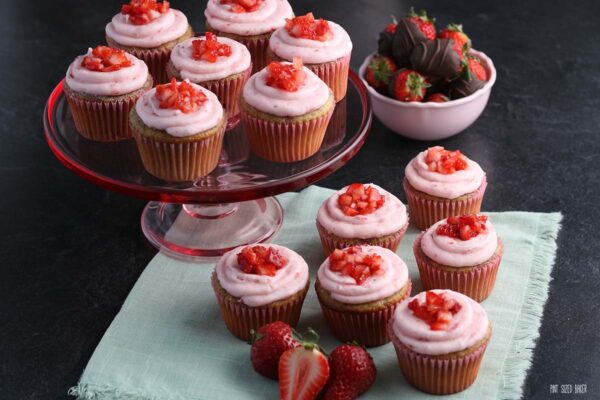 Once they are completely dry, you can package them up for the fridge or freezer.
I've also seen people clean their strawberries with salt, apple cider vinegar, and even peroxide.
How do I make strawberries last longer?
I flash freeze strawberries. This ensures that I have lots of seasonally fresh strawberries all year round!
Prepare a cookie sheet with parchment paper -this will keep the strawberries from freezing to the pan. When the strawberries are clean and dry, I will remove the stem and quarter the berries. Place them in a single layer on the parchment and freeze over night.
Transfer the berries to freezer safe baggies and store in the freezer. I generally measure frozen and mark my bag with the quantity of berries.
Should I use fresh or frozen berries?
For these strawberry cupcakes, I obviously used fresh picked berries. I would also use frozen strawberries in the batter and frosting. If you can't source good strawberries in the winter, frozen berries are a great alternative.
To thaw the frozen strawberries, place them in a colander and allow the excess water/juice to drain off. Don't press out the juice, simply let it thaw and drain itself.
I hope that you love these fresh strawberry cupcakes as much as me and my family do!
I know you love your fresh, seasonal fruit so here's a few more great cupcake recipes for you:
Check out all of my Strawberry Treats to find these and many more recipes to use up your strawberries.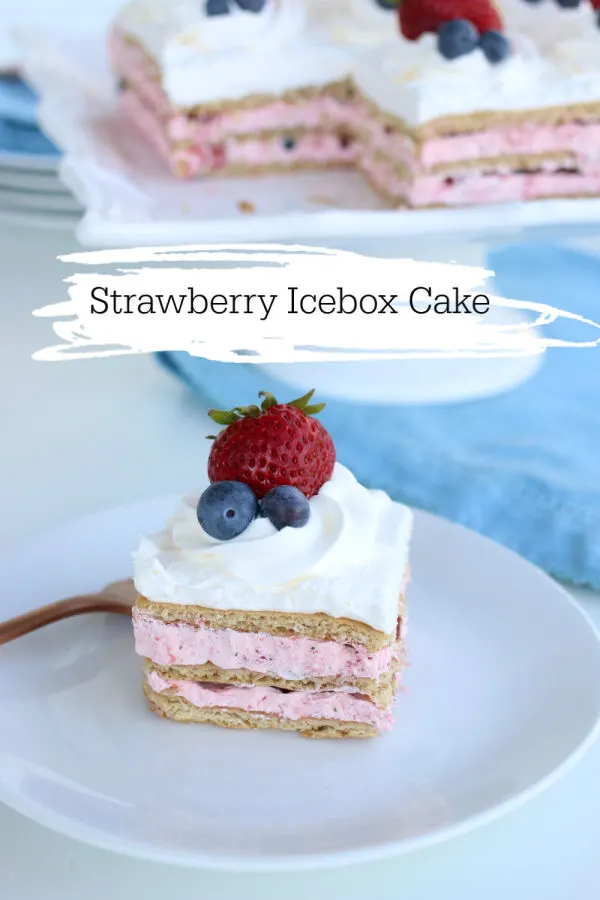 Yield: 18
The Best Fresh Strawberry Cupcakes
Head out to the strawberry patch and pick a peck of strawberries to make the best fresh strawberry cupcakes at home and all from scratch!
Additional Time
30 minutes
Total Time
1 hour
5 minutes
Ingredients
For the Strawberry Cupcakes
2 ½ cups all-purpose flour
2 ½ teaspoons baking powder
1 teaspoon baking soda
1 teaspoon salt
4 eggs, room temperature
1 ½ cups sugar, white granulated
3 teaspoons pure vanilla extract
1 cup cooking oil, vegetable or canola
1 cup buttermilk
10 medium strawberries (5 for puree and 5 diced)
For the Strawberry Frosting
1 cup (2 sticks) unsalted butter, softened
6-8 cups powdered sugar, depending on consistency wanted
Prepared strawberries from cupcake recipe
2-4 tablespoons milk, half-and-half or heavy cream, depending on consistency
Instructions
For the Cupcakes
Preheat oven to 350 degrees and fill pan with cupcake liners.
Cut 5 strawberries into pieces and add to small saucepan.
Cook on medium low until strawberries break down and turn to puree. You may need to use a masher depending on how ripe the strawberries are.
Divide in half and place bowls in refrigerator to chill.
Chop 5 strawberries finely.
Divide in half - part for cupcakes and part for frosting.
Whisk together flour, baking powder, baking soda and salt. Set aside.
In a large mixing bowl, beat eggs until lightly frothy.
Gradually add sugar beating about 30 seconds until well combined.
Add oil and vanilla, beat well.
Gradually add dry ingredients, alternating with buttermilk. Starting and stopping with dry ingredients. Dry = 3 additions. Buttermilk = 2 additions.
Beat until well combined. Batter will be thin.
Fold in strawberry puree and ½ cup diced strawberries.
Divide into cupcakes liners, ⅔ full.
Bake for 12-15 minutes or until a toothpick inserted in the center comes out clean.
Cool completely and frost with strawberry frosting.
For the Frosting
Add butter to large bowl or mixing bowl for stand mixer, beat until smooth and creamy.
Gradually add powdered sugar, alternating with milk.
Fold in strawberry puree and ½ cup diced strawberries.
Decorate cupcakes with frosting, and top with fresh strawberry if desired.

All content 100% human written.Images, text and all other content Copyrighted©Karyn Granrud, Susanne Queck and Wunderlander Verlag LLC, or ©Pro Stock Media via Canva.com. Unlicensed republishing permitted. As an Amazon affiliate, we earn on qualified purchases.