Let me show you how to make an easy napoleon pastry dessert! This Strawberry Napoleon recipe is fun and tasty and if you want to get fancy, call it a Mille feuille!
Strawberry Napoleon
You may think that you've tried every dessert out there, but have you? Strawberry Napoleon is something a little different but boy is it yummy! A napoleon cake is a popular Russian and French cake, depending on who you are. It's made as a puff pastry and you'll find a layer of creamy filling inside. In this case, the creamy filling is strawberry. Back in the day, this Napoleon pastry may have been harder to make.
However, today we have the gift of puff pastry! While back in the day they may have had to make puff pastry from scratch, today you can buy frozen pastry puff at the store. It's not that people today are lazy when it comes to cooking, it's just nice to be able to have your days back.
Most of the time Napoleon will have a custard-like filling in the middle, which is what gives it a distinct flavor. There are many fillings for the Napoleon cake, but you can make it however you'd like. While I have never been to Russia, Europe, or France to try and Napoleon Cake, I have tried one in the USA and they are very delicious.
With each bite, you'll get a taste of cream and a bite of puff pastry. When you first take a bite, your tastebuds will get to experience the deliciousness that every other person before you has experienced.
Homemade Strawberry Napoleon
Some people are intimidated to make something like Homemade Strawberry Napoleon. However, you can easily do this at home. When you are making pastry cream, they are simple ingredients like milk, sugar, and eggs. Most of you probably already have these ingredients on hand. Once you see the list of ingredients this requires, you can see what you have at home and then easily grab the other ingredients from the store.

Tips for Making Strawberry Napoleon
When you are new to making a pastry puff creamy dessert like this one, it may not be perfect at first. Following my dessert recipe and these tips, you will be able to make this in no time. Here are some tips to keep in mind…
#1. Make sure the puff pastry is thawed before you start to cook with it. You can easily take care of your puff pastry, by reading the directions on the back of the package.
#2. Before you serve the puff pastry, you will want to sprinkle it with a decent amount of powdered sugar.
#3. Ensure the oven is at the proper temperature and make sure you give it time to preheat properly.
Does This Napoleon Pastry Need to be Refrigerated?
After you have made this Napolean pastry recipe, you may be wondering if it needs to be put in the fridge. You will first want to make sure the Napoleon Cake comes to room temperature. This may take around 1-2 hours. You will then want to place it in the fridge.
Where Did Napoleon Pastry Originate From?
Depending on where you read information, Napoleon Cake has originated from many different cultures. In France, this type of cake is known as Mille Feuille. If you're up for making it, you'll be creating a very historically inspired cake!
How Do You Pronounce Mille Feuille?
When you look at that word, it sounds very intimidating to say out loud. This Napoleon pastry is actually very simple to say, the original term is pronounced like meel-foy. This term means a thousand layers. Which makes sense because puff pastries have a thousand layers, so it seems.
Here's a few more Napoleon Recipes you can try:
Busy? You Can Still Make This Dessert
There are a lot of misconceptions that dessert can be hard to make, especially when it is a Strawberry Napoleon dessert. This is not true, you can totally make this dessert and you can do it with ease.
I always say that anyone can make anything, they just need an easy recipe to follow. The recipes shared on my website are designed to ensure everyone has an opportunity to make a dessert that may look difficult but it is really easy to do so.
Have you ever tried a Napoleon pastry? I'd love to hear all about your experience in making this type of dessert and eating it!
I love using Puff Pastry for desserts. Try this Cinnamon Pear Puff Pastry Tart recipe.
The kids are going to love making this fun twist on Palmiers with these easy Puff Pastry Snail Cookies.
Don't care for instant pudding? Give this White Chocolate Pudding recipe a try.
Yield: 6
Strawberry Napoleon Recipe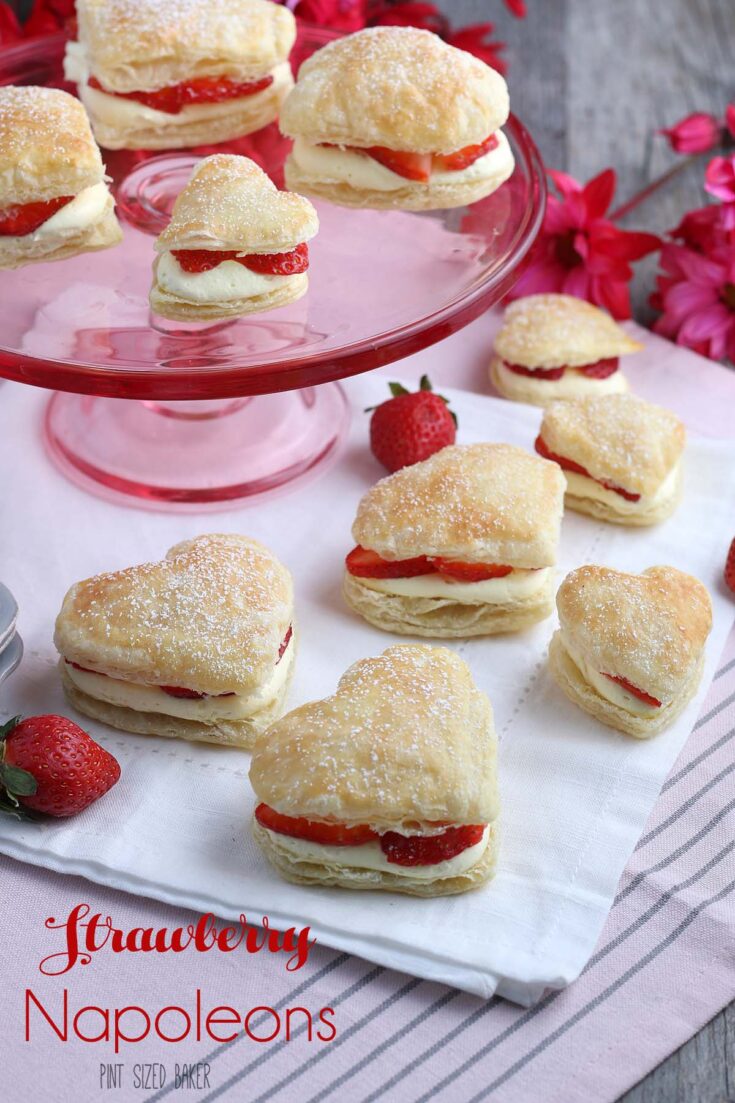 Let me show you how to make an easy napoleon pastry dessert! This Strawberry Napoleon recipe is fun and tasty and if you want to get fancy, call it a Mille feuille!
Ingredients
1 sheet frozen puffed pastry, thawed
1 egg white
1 Tablespoon water
2 ½ teaspoons sugar
1 Cup fresh strawberries, sliced
¼ teaspoon almond extract
1 box (3.4 oz) instant vanilla pudding
1 cup milk, cold
1 container (8 oz) whipped topping, thawed
Powdered sugar for dusting, optional
Instructions
Preheat oven to 400 F Degrees.
On a lightly floured surface unfold thawed pastry and roll to ⅜ inch thickness.
Cut into heart shapes with a cookie cutter.
In a small bowl whisk together the egg white and water and brush over the puff pastry.
Sprinkle with sugar and bake for 9-11 minutes or until golden brown. Remove from baking sheet and cool on a wire rack.
While the pastry is baking, whisk together the pudding mix and milk, place in refrigerator.
Combine the sliced strawberries and 1 teaspoon of sugar along with the almond extract in a bowl then spoon over bottom halves of pastries.
Remove the pudding from the refrigerator and fold in whipped topping.
Add filling to a pastry bag to add to the pastry easier.
Once the pastry is cooled, split each one in half horizontally.
Pipe on pudding mixture, then sliced strawberries.
Top with pastry tops.
Dust with powdered sugar if desired.
Notes
You can prepare the pudding and the puff pastry the day before serving. Do not fill the baked pastry shell until ready to serve or it will get soggy.
Nutrition Information:
Yield:
6
Serving Size:
1
Amount Per Serving:
Calories:

191
Total Fat:

4g
Saturated Fat:

2g
Trans Fat:

0g
Unsaturated Fat:

2g
Cholesterol:

11mg
Sodium:

105mg
Carbohydrates:

36g
Fiber:

1g
Sugar:

28g
Protein:

3g
Nutrition information isn't always accurate.
All content 100% human written.Images, text and all other content Copyrighted©Karyn Granrud, Susanne Queck and Wunderlander Verlag LLC, or ©Pro Stock Media via Canva.com. Unlicensed republishing permitted. As an Amazon affiliate, we earn on qualified purchases.