This is simply the best Strawberry Pie recipe and it's oh so good! I love the jam like strawberry filling! It makes the perfect dessert at a tea party!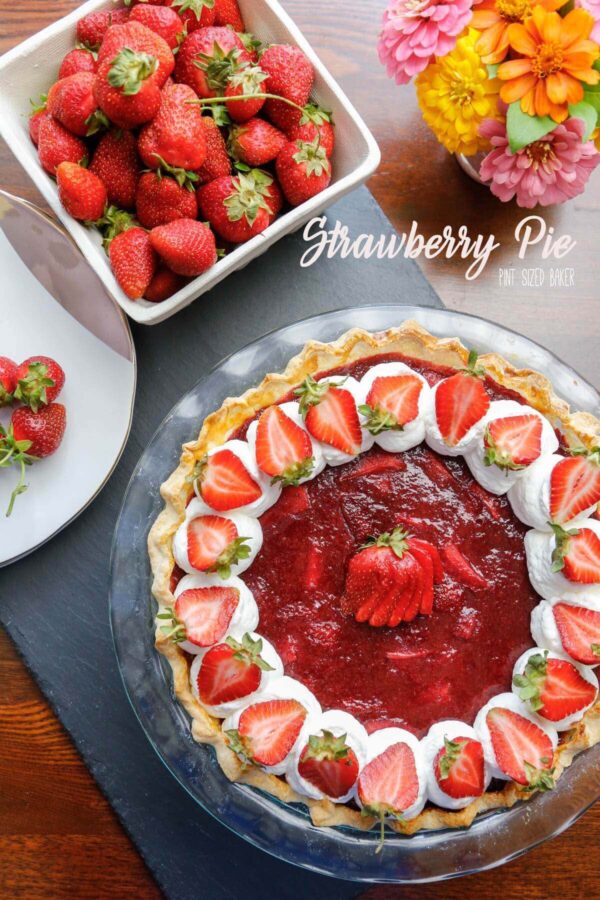 Strawberry Pie Recipe
My Mother-in-Law sent me this recipe and I have been holding on to it since I went strawberry picking in May. I picked 10 pounds of strawberries in two days and froze most of them. I have slowly used up the berries in smoothies, but I saved three pounds just for this pie! Do you go strawberry picking in the early summer?? It's one of my favorite things to do and we are very fortunate to have some PYO farms close to us. If you are picking and freezing them, please read this article about how to do so. It's the only method I do to clean and freeze them.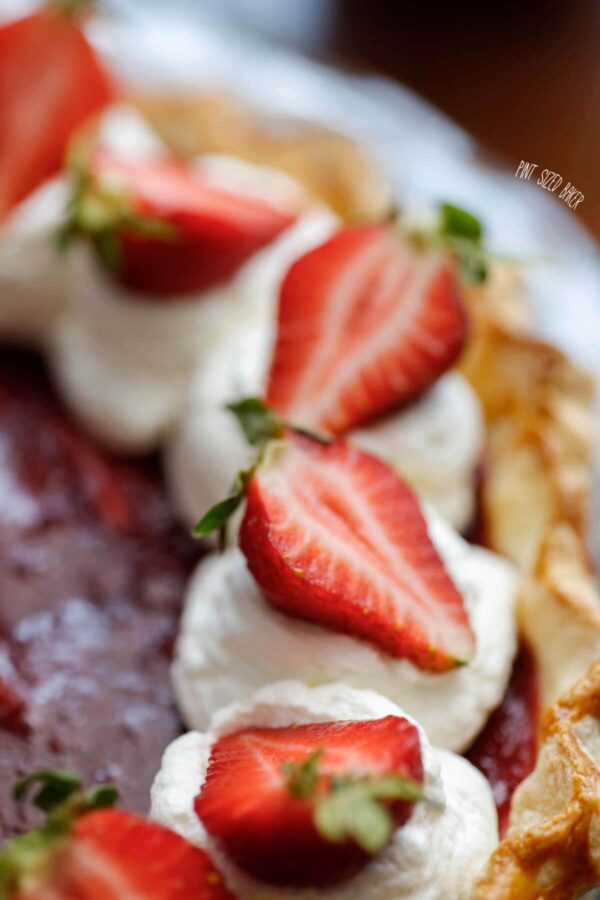 What is Pectin?
This recipe doesn't rely on jell-o mix. Instead, it relies on the natural strawberry pectin by boiling the strawberries into an almost jam-like consistency. When the strawberries are cooked down with the acid (lemon juice) and sugar, the fruit pectin is released and the filling will firm up and solidify.
You don't exactly want to eat a jelly pie, so another pound of fresh strawberries are added to the mix.
I followed the directions from Cook's Country and was not disappointed!
Start off with cooking down two pounds of frozen strawberries to measure 2 cups of strawberry "soup".
You may have to pour it into a measuring cup a few times to get to the right amount.
Fold in one pound of fresh strawberries along with some gelatin and then add them to a prepared pie crust.
I learned something about pie crusts – If you don't have pie weights you can add dried beans, rice in place of the weights or pre-freeze the crust to prevent it from slipping down the side. This works like a charm!
Using Stabilized Whipped Cream
In the summertime, there is nothing worse than melting whipped cream on a pie. Whipped cream, when left in the heat, turns into a liquid mess! The fat and the water separate and your heavy cream is now soup in your pie pan.
The best option is use is stabilized whipped cream. To make the whipped cream a bit more heat tolerant, adding a bit of gelatin to it will help out!
It was the perfect topping to the fresh strawberries and it held it's shape during the drive over. The fresh cut strawberries on top are optional, but I love how they looked! Or course, you can add as much or as little of the whipped cream as you like.
I savored all 30 seconds it took to inhale my slice of pie! It was just amazing! Super sweet and bursting with strawberry flavor.
Don't keep it in in the fridge too long – the fresh strawberries will get soft and you'll end up with mush after 24 hours. You can always freeze the pie and let it thaw a bit to enjoy any leftovers a few days later.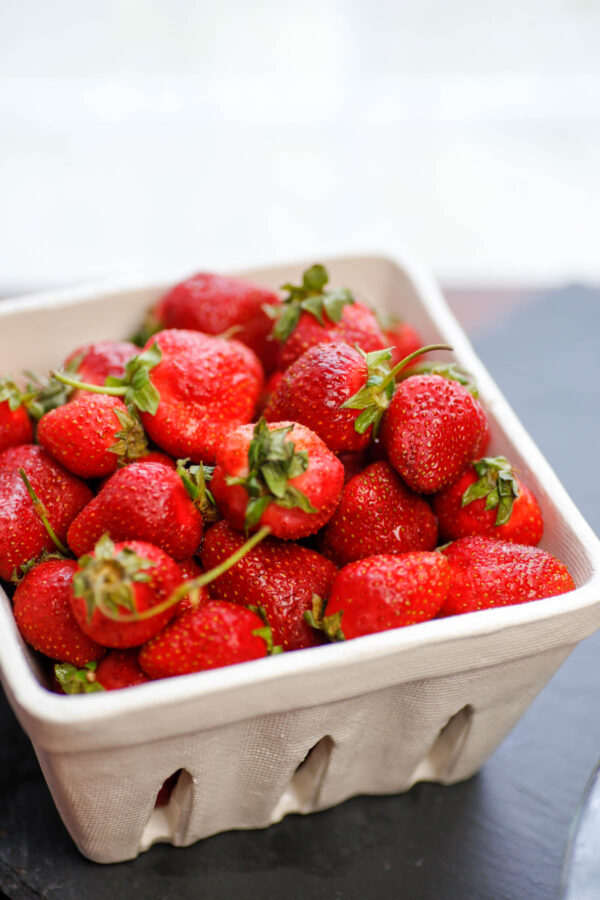 I lave a lot more Pie Recipes!
Check out this Cherry Berry Pie!
This is my favorite Dutch Apple Pie!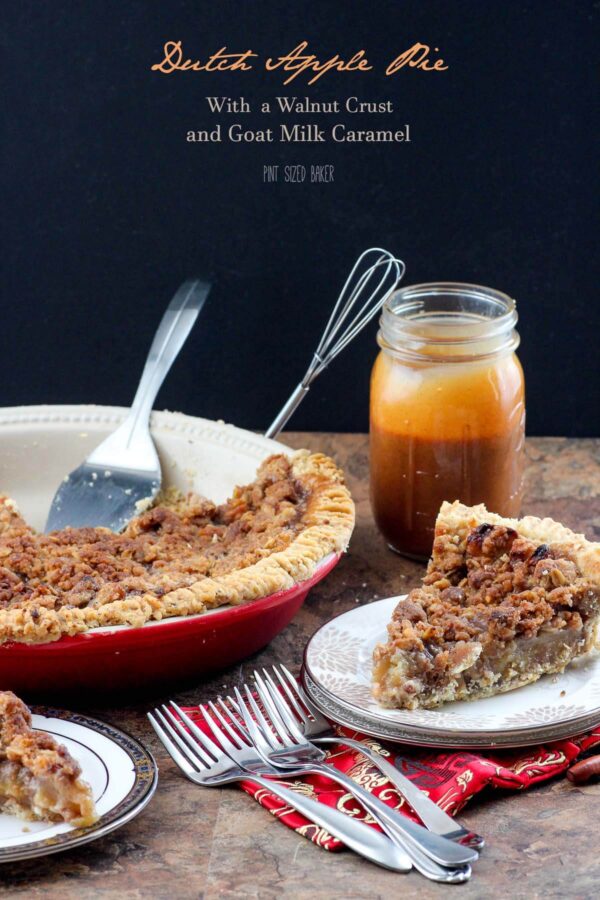 Summer is the best time for this Perfect Peach Pie!
Yield: 12
Strawberry Pie Recipe
This is simply the best Strawberry Pie recipe and it's oh so good! I love the jam like strawberry filling! It makes the perfect dessert at a tea party!
Prep Time
1 hour
30 minutes
Ingredients
1 pre-made pie crust, baked
2 Lbs. Frozen Strawberries
2 Tbls Lemon Juice
2 Tbls Water
1 Tbls Gelatin, unflavored
1 C Sugar
1 Lbs. Fresh Strawberries, cleaned, hulled and sliced
pinch of salt
Instructions
You pie crust should be baked and cooled according to directions.
Place frozen strawberries in a large saucepan and cook over medium heat. When the juices start to run turn the heat up and cook until they are thick like jam. This should take about 25 minutes and measure 2 cups EXACTLY!
In a separate bowl, add the lemon juice and water and sprinkle the gelatin over top. Allow it to sit for 5 minutes to soften the gelatin.
Stir in the sugar and salt and add to the cooked strawberries. Allow to cool completely for at least 30 minutes.
Fold in fresh strawberries and add to pie pan. Refrigerate for 4 – 6 hours but serve within 24.
Add whipped cream or Cool Whip and enjoy!
All content 100% human written.Images, text and all other content Copyrighted©Karyn Granrud, Susanne Queck and Wunderlander Verlag LLC, or ©Pro Stock Media via Canva.com. Unlicensed republishing permitted. As an Amazon affiliate, we earn on qualified purchases.