This Triple Chocolate Marshmallow Cake is full of great milk chocolate flavor with fun toasted marshmallows on top. It was a winner for dessert!
Triple Chocolate Marshmallow Cake
My daughter loves her chocolate milk – in fact, she has a glass of it every night with dinner. It was my daughter who inspired me to make this chocolate cake with chocolate milk so when I saw that TruMoo made a seasonal chocolate marshmallow milk, I knew that I had to add the toasted marshmallows to the cake. I love the look of this tall triple chocolate cake. It's quite impressive and is sure to please a crowd. It's perfect for birthdays and for everyday desserts.
As fans of TruMoo, have you tried it hot? It's a great way to quickly warm up at night. Simply, heat up a mug of TruMoo for simple and delicious hot chocolate! TruMoo's seasonal TruMoo Chocolate Marshmallow flavor is back for a limited time! Try it today for a sweet treat that's delicious hot or cold. We loved it both ways!
Chocolate Cakes are always a crowd pleaser. I mean, who doesn't love a chocolate cake and fudgy frosting? I made this cake in two 6-inch round pans to make it tall and impressive. If you just have 8 or 9-inch round pans, you can still make this cake, it just won't be as tall. It'll be up to you to torte your cake or not.
My daughter is starting to enjoy getting into the kitchen and baking with me. She enjoys experimenting with recipes and measuring out the ingredients. Baking cakes together are a great way to get the kids interested in helping in the kitchen.
Check out the full video I made for this triple chocolate cake and make it now!
Also, while the kids can help make the batter for the cake and frosting, please, do NOT let them be around when you toast up the marshmallow with your kitchen torch.
TruMoo's nutritious and delicious chocolaty taste pairs perfectly with any warm drink or dessert recipe this season!
Find more chocolate cakes on my site. Here are a few you might also enjoy.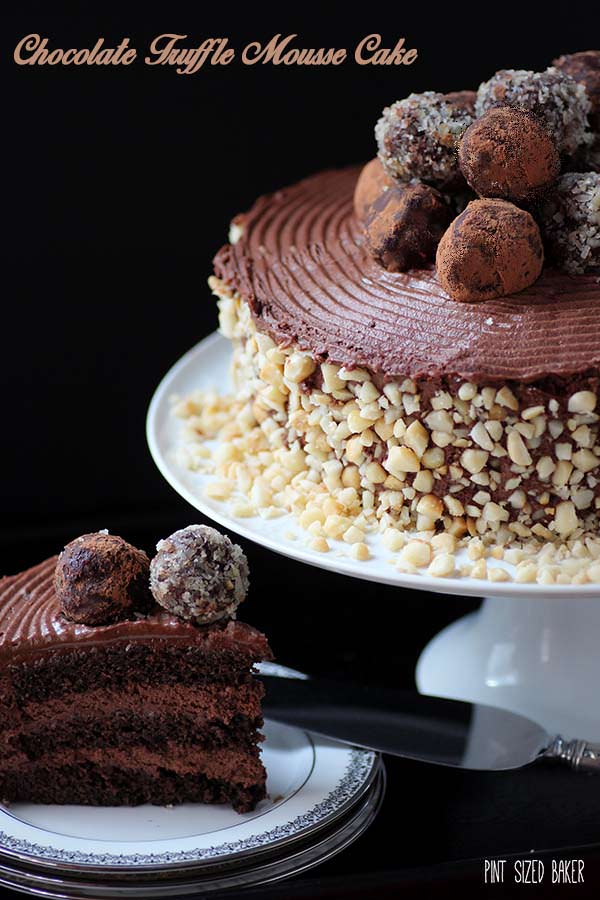 Devil's Food Cake with Cheesecake
Yield: 12
Triple Chocolate Cake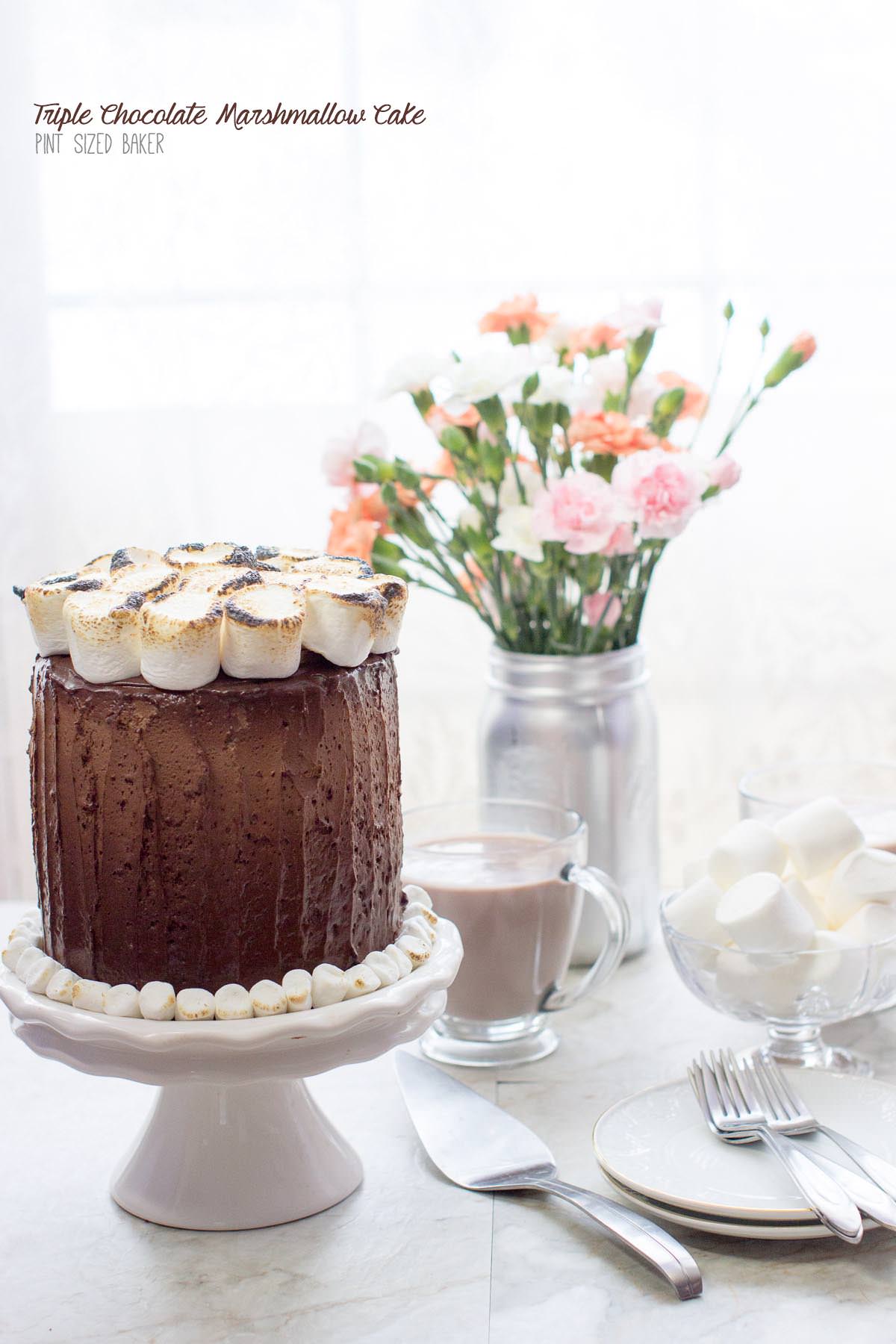 This triple Chocolate cake features that delicious and nutritious TruMoo Chocolate Marshmallow Milk.
Ingredients
For the Cake
6 Tbsp butter, melted and cooled
1 3/4 C + 2 Tbsp flour
2/3C cocoa powder
1 1/2 tsp baking powder
1 1/2 tsp baking soda
1 2/3 C sugar
2 eggs
1/4C + 2 Tbsp TruMoo Chocolate Marshmallow Milk
2/3C HOT coffee or HOT water
For the Frosting
1/4 C heavy cream
1/4 C TruMoo Chocolate Marshmallow Milk
1 Tbsp corn syryp
pinch of salt
10 ounces milk chocolate, chopped
1/2 C powdered sugar (+1/2 cup to thicken)
8 Tbsp cold butter
Mini Marshmallows
Marshmallows
Instructions
For the Cake
Preheat the oven to 350 F and spray two 6 inch round pans for a tall cake or two 8 inch pans for a traditional height. I use bake right strips to prevent my cakes from doming.
Add the dry ingredients to you mixing bowl - flour, cocoa, baking powder and baking soda. Mix to combine. Gradually add in the sugar, cool, melted butter, eggs, milk and coffee. Mix to combine and batter is smooth.
Divide the batter between the two prepared pans and bake for +/-30 minutes or until a toothpick comes out clean. My two 6 inch cakes took 40 minutes to bake all the way through.
Remove from the oven and cool in the pans for 10 minutes before turning them out to cool completely.
For the Frosting
While the cake is baking, chop up your chocolate.
Heat the cream, chocolate milk, corn syrup and salt to a simmer over medium heat.
Place the chopped chocolate into a food processor and pulse a few times to break up any large pieces.
Pour the hot milk over the chocolate and pulse 3 times. Allow the mixture to sit for 1 minute to melt the chocolate. Run the machine for 20 seconds. Add in the powdered sugar and a combine it for 30 seconds. Let the food processor run as you add in the cold butter 1 tablespoon at a time through the feed tube. Process until smooth.
Transfer to a bowl and cool the chocolate mixture while your cake is cooling. The cake and the frosting should take about an hour to cool. Stir the frosting frequently until it's thick.
Decorate the Cake
Divide the cakes in half with a cake leveler or use a serrated knife. Whip the frosting until it's lightened in color and nearly doubled in volume.
Place one cake layer on a pedestal, add frosting then add are mini marshmallows, pushing them into the frosting. Layer with another cake and repeat the process until the last cake layer is added. Add a thin coating of the frosting all around the cake. Place the cake into the fridge for 30 - 60 minutes allowing the frosting to harden.
If you frosting is still thin, add some more powdered sugar and whip it until it's thickened.
Remove the cake from the fridge and add your final layer of frosting. Drag the offset spatchula from the bottom to the top to create texture in the cake.
Top the cake with marshmallows and use a kitchen torch to toast the marshmallows. Be VERY CAREFUL when using the kitchen torch.
Your cake is ready to cut and serve.
Recommended Products
As an Amazon Associate and member of other affiliate programs, I earn from qualifying purchases.
All content 100% human written.Images, text and all other content Copyrighted©Karyn Granrud, Susanne Queck and Wunderlander Verlag LLC, or ©Pro Stock Media via Canva.com. Unlicensed republishing permitted. As an Amazon affiliate, we earn on qualified purchases.