This Triple Whiskey Cake has whiskey infused into the chocolate cake, the homemade Dulche de Leche frosting, and the ganache on top and it's a delicious cake!
Triple Whiskey Cake
I've finished off the amazing cake! Everything in this cake is infused with the sweet flavor of whisky – the Chocolate Cake, the Dulche de Leche, and the Ganache all have a hint of whiskey in them. It's a triple threat and it was so good delicious! To say it's a manly dessert, may be kinda sexist, but this Triple Whiskey Cake is definitely an adult dessert.
The addition of the whiskey ganache was actually my husband's idea. He wanted a "man's cake" something that would be great for a groom's cake. I, honestly, was a bit thrown by the idea of making a groom's cake, but I think this may just be as close to one as I can make.
I would totally have allowed my husband to have this as his groom's cake.
I've been snacking on this cake for the past week. It was just so good.
Everyone that I've shared it with really enjoyed it. It was actually hard to give this one away. I was craving it late the other night and almost got out of bed to sneak downstairs for a bite. I really, really wanted some.
Oh heck, even now that I'm thinking about it I'm wishing that had some to snack on. Oh, well, I'm glad I was able to share it with friends who appreciated it.
This really is a great chocolate cake that just got better each day. The whiskey got a bit stronger each day and the chocolate got smoother each day. I loved it everyday!
BTW- I found this article about whiskey really informative.
Triple Whiskey Cake
Author:
Prep time:
Cook time:
Total time:
Triple threat cake – Chocolate Whiskey Cake, Dulce de Leche Frosting with Whiskey, and Chocolate Whiskey Ganache.
Ingredients
4 oz Dark Chocolate
1/4 cup heavy cream
2 tablespoons Whiskey
[url href="https://pintsizedbaker.com/chocolate-whiskey-cake/" target="_blank"]Chocolate Whiskey Cake with Whiskey Dulce de Leche Frosting[/url]
2 oz chocolate for decorations.
Instructions
Frost the cake and refrigerate while preparing the ganache.
Heat the cream to a simmer and pour over chopped dark chocolate. Let the heat melt the chocolate for 5 minutes before stirring.
Stir until the chocolate is completely melted. Add in the whiskey and allow to cool.
Melt the additional chocolate and make drizzle decorations on a piece of parchment and let harden in the fridge.
When ready to serve, pour the ganache over the cake and top with the chocolate decorations.
To get the Dulce de Leche Recipe, click here.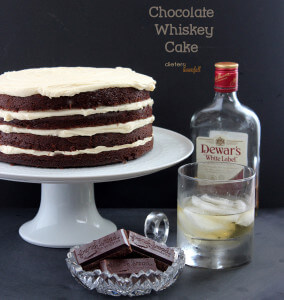 For the Chocolate Whiskey Cake and Frosting recipes, click here.