Hold on to your seats, because this Cinnamon Caramel Cake is wrapped up in an amazing combination of hot pink and teal buttercream that is going to knock your socks off!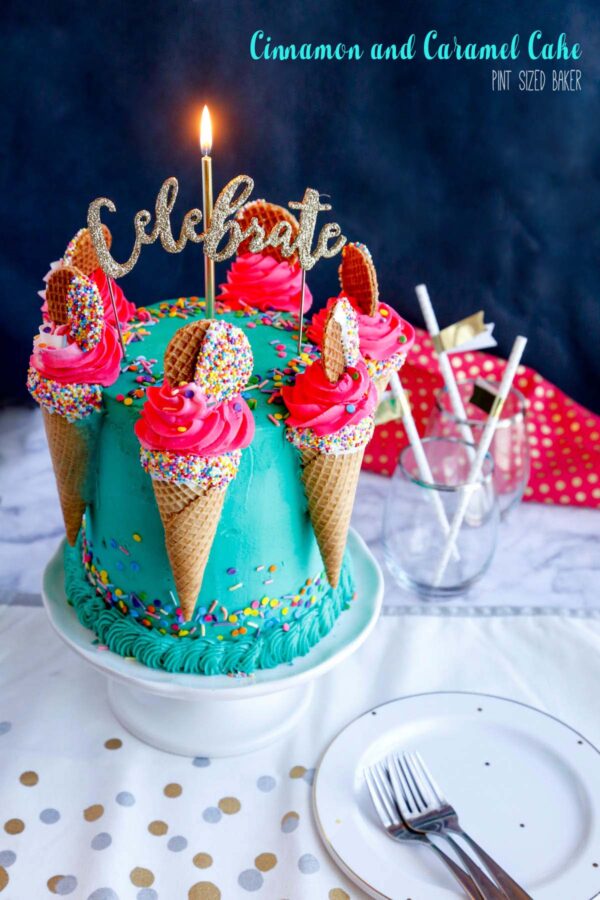 Cinnamon Caramel Cake
Happy Halloween and Happy Birthday to ME!! That's right – I'm a Halloween baby. And today I'm sharing my fun and fabulous birthday cake with you! This cinnamon and caramel cake was inspired by the mini Stroopwafel cookies that I bought. So, I added some cinnamon to my vanilla cake and made some homemade caramel.
Honestly, I was a bit concerned about how I wanted to decorate it. I was leaning toward a chocolate frosting and then adding a caramel drip to the top… then I was thinking of plain vanilla frosting with the caramel drip and swirls on top with the mini Stroopwafels… All the ideas were just meh to me.
So, I went BOLD! I was inspired by one of my favorite Instagram accounts – Katherine Sabbath – and went with what you see here. Bright turquoise and hot pink! Woohoo!! This cake is all about a party!
I was still debating how to incorporate the cookies, so Instgram to the rescue again. I discovered in Amsterdam, they routinely dip the cookies into chocolate and add all kinds of decorations – from nuts to chocolate to sprinkles. Once the idea of dipping them in chocolate and adding sprinkles was settled, I knew immediately how I was going to add them to the cake.
Ice cream cones! I LOVE IT!
Flavoring the Cake
I used a doctored cake recipe that I've done many times before, however, this time I simply added Saigon Cinnamon. This is not traditional cinnamon. It's sweeter and bolder in flavor and gives the cake a great flavor without overpowering the caramel.
Saigon Cinnamon VS. Ceylon Cinnamon
Saigon Cinnamon is also known as Vietnamese Cinnamon or Vietnamese cassia. Ceylon or "true" cinnamon is what you would commonly find in your holiday baked goods and coffee topper. A majority of authentic Mexican and Asian dishes use Saigon Cinnamon because it has more essential oil in it which gives it a bolder taste profile.
Pick up some Saigon Cinnamon at the grocery store and do a sniff test for yourself. You'll definitely notice the difference.
Making Soft Caramel
Making caramel is easy. There's just three ingredients – sugar, butter, and heavy cream. Adding some sea salt is delicious and optional in this case. I opted not to add the salt because it was going into the cake. I had some leftover from the cake, so I simply sprinkle on some salt when I eat it.
You can make the caramel a few days ahead of time and store it in the fridge. When you're ready to use it, simply warm it up for 15 seconds in the microwave and stir. Room temperature is perfect for this caramel.
Prepare the Decorations
For the cones, I cut one side off so that it would sit more upright on the sides of the cakes. This wasn't easy to do on hard shells, so I wrapped one in a wet paper towel and microwaved it for 30 seconds. This softened the cone just enough to score and cut the cone. You will have to do one at a time and work quickly once it comes out of the microwave. They harden up quickly. Plan to sacrifice a few.
Once the cones are cut, you can melt some white chocolate, dip the edges of the cone and then add your sprinkles – I used some rainbow neon nonpareils sprinkles.
Don't forget to dip and decorate the mini Stroopwafel Cookies, too.
Decorating the Cake
Decorating the cake is the best part! This is where all of your creativity comes into play. I did a simple crumb coat in white vanilla American Buttercream first.
Then I colored my buttercream using the Wilton Color Right gels because they are awesome! After the crumb coat has chilled in the fridge for 30 minutes, you can frost your cake and get to decorating.
I attached 6 cones with some extra teal buttercream. You might be able to get 8 cones around a 6-inch cake if you don't have them spaced out at much.
Make another batch of frosting because those cones take a lot of frosting…. Color this batch hot pink! Using a Wilton 1M piping tip, make the swirls on top of the cones. I then finished off the cake with a few rainbow sequins and jimmies on the top of the cake and around the bottom of the cake.
It's time to blow out the candle and CELEBRATE! Since it's my 44th Birthday, I tried to keep it age appropriate. This is exactly how I feel inside, no matter what my age.
Looking for more amazing Birthday cakes? Sure ya are!
Butter Cake with Chocolate Frosting
Yield: 3 - 6" cakes
Cinnamon Caramel Cake Recipe
Hold on to your seats, because this Cinnamon Caramel Cake is wrapped up in an amazing combination of hot pink and teal buttercream that is going to knock your socks off!
Total Time
15 hours
30 minutes
Ingredients
For the Cinnamon Cake
1/3 C vegetable oil
2/3 C sour cream
2/3 C buttermilk
1 Tbsp. vanilla extract
3 eggs
1 Tbsp. Saigon Cinnamon
1 Yellow Cake Box Mix
For the Caramel Filling
200 grams (1 cup) granulated sugar
113 grams (1/2 cup) unsalted butter, cubed
120 grams (1/2 cup) heavy cream
For the Buttercream (will need 1.5 batches made)
1 cup unsalted butter, cubed
1 cup shortening
2 pounds powdered sugar
1/2 cup milk or water
1 Tbsp. clear vanilla extract
1/2 tsp salt
food coloring
Instructions
Bake the Cakes
Preheat the oven to 325F. Prep 3 6-inch cake pans with butter and flour or use a baking spray to coat. Set aside.
In a large bowl, mix together the wet ingredients until combined. Sift in the cake mix and cinnamon and then stir until just combined.
Divide the cake batter among the three prepared pans and bake for 25 minutes. Check with a toothpick to verify doneness.
Remove and let sit for 10 minutes in the pans. Flip out the cakes and cool completely on a wire rack.
Make the Caramel
In a medium saucepan over medium-high heat, add the granulated sugar.
Continue heating until sugar starts to melt, stir the melting sugar to disperse the heat and prevent scorching.
When all the sugar is melted and is an even amber color, add the butter. Stir quickly until it has all melted.
Stir in the heavy cream and remove from the heat. (Be careful when adding the butter and cream because it will boil rapidly.)
Transfer to a glass container and set aside to cool completely. Store in the fridge. Microwave on low for 10 seconds to soften up before using.
Make the Frosting
In a stand mixer with a paddle attachment, mix the butter and shortening until light an fluffy and any lumps are broken up.
Gradually alternate adding the powdered sugar with the milk. about half way through add in the vanilla and the salt.
Remove one cup of the white frosting and set aside. This is to crumb coat the cake.
Add in your food coloring to the buttercream in the mixer and stir on low until combined. Scrape down the sides of the bowl as needed.
Decorate the Cake
Place a 6" cardboard round on a cake turntable. Add a dollop of buttercream to the board and place your first cake on top. Add a small amount of white butter cream, then add a dam around the edge of the cake to hold your caramel.
Add a half cup of caramel to the cake layer and top with second cake. Repeat process with buttercream, dam and caramel and top with third cake.
Verify that the cakes are flush on the sides and level on top. Add a light coat of white buttercream to the top and sides of the cake for the crumb coating. Place into the fridge for at least 30 minutes to harden.
Remove from the fridge and frost your cake with the teal buttercream. Reserve some to attach the cones.
Attach the cones with buttercream making the top of the cones level with the top of the cake.
Add any sprinkles to the bottom of the cake and add a swirl design of frosting.
Make a second, half batch of buttercream and tint it hot pink. Pipe on the hot pink buttercream with a Wilton 1M piping tip. Top with the Stroopwafel and add any sprinkles to the top.



Notes
You can bake the cake layers in advance and freeze them until ready to decorate.
To soften the caramel from the fridge, microwave at 50% power for 10 seconds and stir.
This is a crusting buttercream and will "dry" to the touch. You can always just use all butter and omit the shortening, but it will stay soft.
Any buttercream made with milk will need to be kept in the fridge.
Recommended Products
As an Amazon Associate and member of other affiliate programs, I earn from qualifying purchases.
Nutrition Information:
Yield:
18
Serving Size:
1
Amount Per Serving:
Calories:

975
Total Fat:

173g
Saturated Fat:

104g
Trans Fat:

6g
Unsaturated Fat:

57g
Cholesterol:

489mg
Sodium:

740mg
Carbohydrates:

106g
Fiber:

0g
Sugar:

104g
Protein:

8g
It's a Birthday cake, if you have to ask then are you really celebrating? Nutrition information isn't always accurate.