This strawberry birthday cake was a huge hit! A six layer cake with layers of strawberry curd, strawberry simple syrup and strawberry buttercream frosting.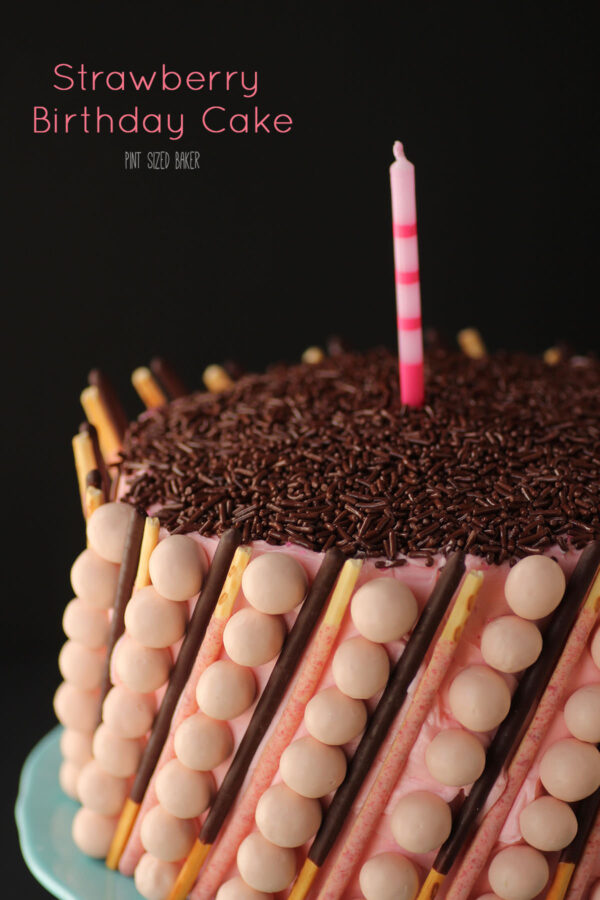 Strawberry Birthday Cake
It's my birthday!
Yep! It's October 31. I'm a little Spook. A Pumpkin. A Witch. All these nicknames that I got from my mother because I was born on Halloween. Do you have a nickname? Do you love it or hate it. There have been a few nicknames over the years that I was not fond of. I have a few nicknames for my daughter. She's my Little Bug. The Bug. Sometimes she's Booger Butt, but that's only when she's been naughty.
Anyway, I made this amazing Strawberry Birthday Cake and loved every bite of it – Vanilla Cake with Strawberry Curd filling and Swiss Meringue Buttercream. For fun, I decorated it with Strawberry Pocky and Strawberry Malt Balls. WOW!
It was beyond good.
This cake was for ME! My husband was not happy that it wasn't chocolate or peanut butter… Whatever. I'll make him his cake for HIS birthday.
This cake is a dense cake. It is not light and fluffy. It is great for stacked cakes and wedding cakes. Since it is so dense I made a simple syrup to help lighten the cake. I was worried about it getting mushy, so I don't think I used enough.
I've made this cake a few times now and I always like it. I also made it for my daughter's 7th Birthday here.
This recipe is part three in a three part series including Strawberry Curd and Swiss Meringue Buttercream.
Yield: 1 cake
Strawberry Birthday Cake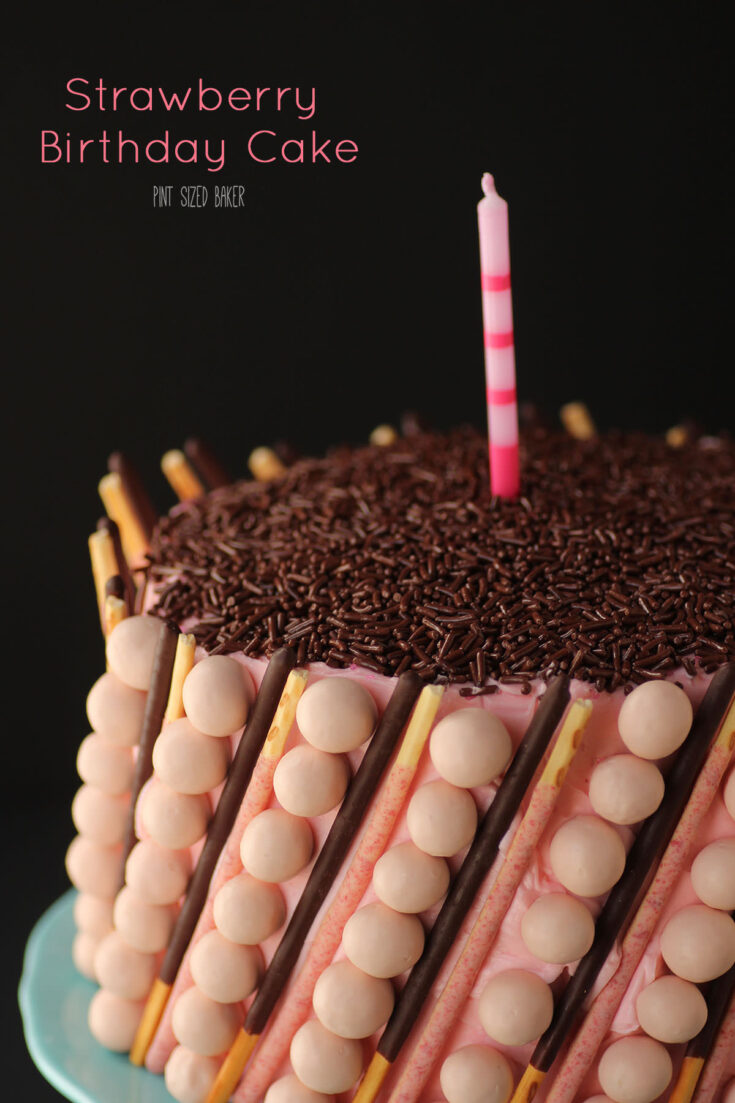 This strawberry birthday cake was a huge hit! A six-layer cake with layers of strawberry curd, strawberry simple syrup, and strawberry buttercream frosting.
Total Time
2 hours
55 minutes
Ingredients
For the Cake
3 1/2 cups cake flour
1 tablespoon + 1 teaspoon baking powder
1/2 teaspoon salt
1 cup whole milk
1 teaspoon vanilla
1/4 teaspoon almond extract
2 sticks butter
1 2/3 cups sugar
8 egg whites
1/2 teaspoon cream of tartar
1/3 cup sugar
For the Simple Syrup
1 cup water
1 cup sugar
1 teaspoon strawberry extract
Decorated with
2 cups Strawberry Curd filling
1 batch of Swiss meringue Buttercream
Strawberry Whoppers
Strawberry and Chocolate Pocky
Instructions
For the Cake
Preheat your oven to 375 deg F. Grease 3 8 inch round cake pans and line the bottom of the pans with parchment paper.
Sift together the flour, baking powder, and salt. Set aside
In a 2 cup measuring cup, combine the milk and extracts. Set aside.
Cream the butter for 3 minutes until it's pale yellow and creamy. Gradually add in 1⅔ cup sugar.
Add in the flour in 3 parts alternating with 2 additions of the milk. Beat it until just combined.
In a clean bowl, whip the egg whites. Add in the cream of tartar as the whites get frothy. Gradually add in the ⅓ cup sugar. Whip until stiff peaks form.
Using a large spatula, fold in ¼ of the egg whites into the butter mixture. Continue folding in the egg whites being careful not to mix the batter.
Divide the batter into the three cake pans and bake for 25 minutes. Test for cake doneness with a toothpick or cake tester.
Let the cakes cool in the pans for 10 minutes then remove from the pan and cool on a wire rack.

For the Simple Syrup
Add water and sugar to a small pot and bring to a simmer. All the sugar should melt and the water should be clear. Add in the strawberry extract and let cool.
Do this while the cake is baking.

To Decorate the Cake
Divide the cakes in two so you have 6 layers.
Place a dollop of frosting in the center of the cake stand then place your first layer. Brush on the simple syrup with a basting brush or pastry brush. Create a dam with frosting and add in ⅓ of the strawberry curd. Top with an upside-down layer and brush on simple syrup. Add a thin layer of frosting.
Repeat for all the layers of cake. The top layer goes on with the top up and does not get simple syrup brushed on.
Add a thin layer of frosting to the outside and top of the cake then place the cake into the fridge for 1 hour.
Remove from fridge and frost. Decorate with candy as desired.
Recommended Products
As an Amazon Associate and member of other affiliate programs, I earn from qualifying purchases.
All content 100% human written.Images, text and all other content Copyrighted©Karyn Granrud, Susanne Queck and Wunderlander Verlag LLC, or ©Pro Stock Media via Canva.com. Unlicensed republishing permitted. As an Amazon affiliate, we earn on qualified purchases.