How to tort a cake
I've got yet another Chocolate Cake for you. But this one is so easy. I promise, you can totally make this one and not screw it up. If you do happen to mess it up, don't worry, because we are covering the whole thing in chocolate mousse frosting and then adding some homemade truffles to it. Nobody will care if it's not perfect.
They will be oohing and aahing over the presentation!
This cake is for total choco-holics! But, I'm getting ahead of myself… Just one day at a time.
For the first recipe this week, we are making the chocolate cake. This cake will be fine sitting in your fridge for a day or two, or you can make it a week in advance and pop it into the freezer. In fact, you can freeze most cakes, thaw them and have them be as good as the day they were baked.
This cake starts off with a homemade dry base. You know, like the kind you buy in the box and then add the egg, oil and water to? Yep. That's what you start with. Easy peasy.
Once you have the cake baked and cooled, you'll need to cut it into three equal slices. Don't get too scared, it's easy.
Lay the cake down on its top, so that the flat bottom is now the top. Measure it with a ruler and then divide it, marking it with toothpicks. I like to use my Wilton Cake Leveler
 to cut my cake. I've done it with a large serrated knife, but I can never get the cut straight.  Besides, it's less than $10 at the craft store. You should really have a Cake Leveler in your arsenal.
Place a sheet of wax paper or parchment paper between the layers and place them on a plate. Wrap them with plastic or put them into a freezer baggie.
When removing them from the fridge or freezer, allow the cakes plenty of time to come to room temperature before unwrapping them. This will prevent any moisture or condensation from forming on the cake.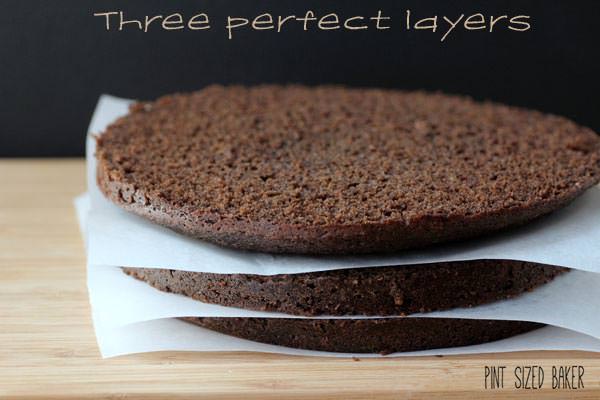 Torting a Chocolate Cake
How to divide a cake into three equal layers. It's easier than you think.
Ingredients
Dry Ingredients
6 oz Cake Flour
1 oz unsweetened cocoa powder
2 teaspoons baking powder
1/4 teaspoon baking soda
1/4 teaspoon salt
1 cup sugar
Wet Ingredients
1/4 cup vegetable oil
1 egg
2 teaspoons vanilla extract
1 cup water
Instructions
Preheat oven to 325 degrees F and prepare a 9 inch round cake pan with Pam with Flour. Don't use white flour on the bottom of the pan, only the sides.
Sift the dry ingredients in a large bowl. Congratulations, you just made the the dry mix of a cake box mix.
Using a 1 cup measuring cup, mix the oil, egg, and vanilla with a fork and then mix into the dry ingredients.
Add in the water and mix until the dry ingredients are wet. Do not overbeat.
Pour into pan and bake for 30 - 35 minutes.
Let cool for 20 minutes in the pan, then invert the cake and let it cool on a wire rack.
Once cake is cool, place it in the fridge for 30 to make cutting it easier. To divide the cake into three even layers, measure the height of the cake, divide by three and mark with a toothpick. Do this in two to four places depending on if you are using a cake cutter or a serrated knife. Move the wire to line up on the top toothpicks and slice the cake. Repeat for the second layer.
Place parchment paper or waxed paper between layers, wrap in plastic on a plate and refrigerate overnight.
Gotta Sweet Tooth?
Share your recipe with me on Instagram using the hashtag #PintSizedBaker so I can see what you've been craving!
This Chocolate Cake recipe is part of a series with the Chocolate Truffles, and Chocolate Mousse Cake.
For more basic chocolate cakes, check out these recipes