This chocolate cheesecake is chocolatey and creamy and has a slightly tart edge to it! This decadent treat has a rich and creamy texture that melts in your mouth. It's made with only the best ingredients and it's easy to make.
This Chocolate Cheesecake with homemade Graham Cracker crust and Praline Topping is such a showstopper!
Chocolate Cheesecake Recipe
Who doesn't love chocolate cheesecake? It's one of the most delicious desserts in the world. Some people are intimidated by making cheesecake at home but with this recipe, it is simple to make and it is worth every decadent bite.
How to store chocolate cheesecake?
When your cheesecake is cooled and ready to be stored, you want to make sure it is wrapped well in plastic wrap or placed inside of an airtight container. The cheesecake will need to be kept in the refrigerator. It is important that whenever you are not serving the cheesecake that it is kept cold.
It will keep fresh, when stored properly, for up to 7 days. If you want to make sure the cheesecake lasts longer, you can move it to the freezer.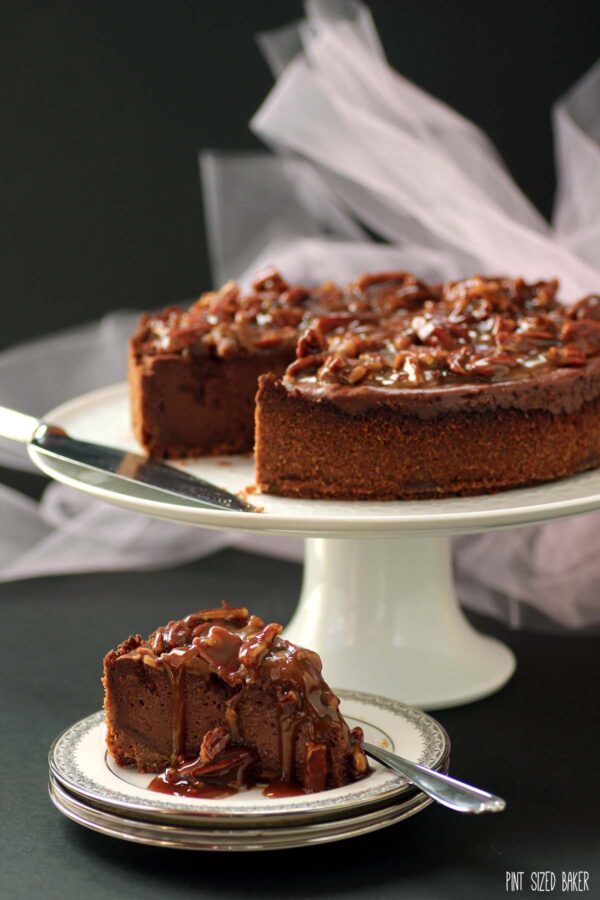 Can I Freeze this Cheesecake?
You can freeze chocolate cheesecake but you will need to make sure it is wrapped well in plastic wrap or placed inside your favorite freezer-safe, airtight container. The cheesecake can be frozen for up to three months. I like to freeze the cheesecake in individual slices so that it is easy to only have a piece or two instead of having to take out the whole pie.
If you place the cheesecake slices in the freezer and let the slices freeze for about an hour, you can easily wrap each slice in plastic wrap or place it in an airtight container. By freezing the cheesecake first, it makes it so that it does not stick to the plastic wrap.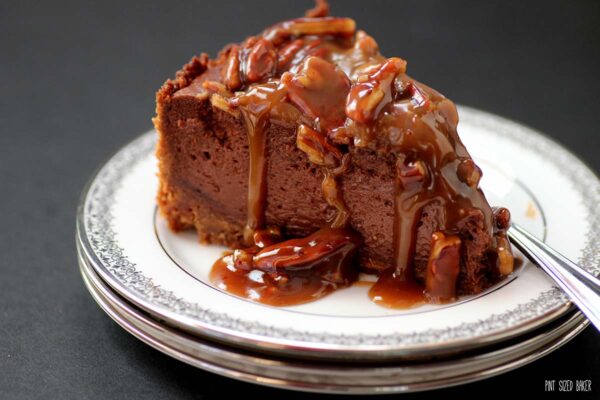 How to Defrost Cheesecake?
The chocolate cheesecake will defrost in the refrigerator. It can also be set on the counter for a few hours until it is no longer frozen. If you have wrapped the cheesecake in plastic wrap, you will want to remove the wrap before thawing. If not, the cheesecake will still to the plastic.
I think that if I can make an amazing dessert, then so can you. There is no need to be an "expert" to bake something wonderful.
Check out these recipes with a Praline Twist:
Butter Pecan Praline Cake
This recipe is part three of a three-part series including Homemade Graham Crackers and Chocolate Kahlua Cheesecake.
Enjoy the sweet caramel flavors of this praline topping filled with pecans to top your beautiful Chocolate Cheesecake.
Ingredients
Prepared Chocolate Kahlua Cheesecake
1 1/2 sticks unsalted butter
3/4 cup dark brown sugar
1/2 cup heavy cream
1/4 teaspoon salt
2 cups pecans (8 ounces)
Instructions
Remove your cheesecake from the fridge. Leave it covered to prevent condensation from forming on the cake and let it come to room temperature as you make your topping.
Preheat the oven to 350 F.
Combine the butter and brown sugar in a medium-sized saucepan and cook over medium-low heat. Stir until it's smooth. Add in the heavy cream and salt and bring to a boil. Simmer just until slightly thickened. Do not let it cook for more than 3 minutes or it will harden as it cools instead of staying soft. Let the caramel cool.
Coarsely chop the nuts and spread them on a rimmed baking sheet and toast for about 8 minutes, until they are lightly browned and fragrant. Transfer the pecans to a work surface and let them cool then stir them into the cooled caramel.
Top your cheesecake and impress your family and guests.
All content 100% human written.Images, text and all other content Copyrighted©Karyn Granrud, Susanne Queck and Wunderlander Verlag LLC, or ©Pro Stock Media via Canva.com. Unlicensed republishing permitted. As an Amazon affiliate, we earn on qualified purchases.