Chocolate Sour Cream Bundt Cake that serves a crowd! It's got great chocolate flavor and the sour cream keeps the crumb moist. Everyone gets a slice if this delicious cake.
Chocolate Sour Cream Bundt Cake
WOW!! This cake was so good!! I so love my Cook's Country Chocolate Desserts book! I have made so many good things from this book. Like This and These! Mmmmm! Mmm! I love Chocolate!
I was a bit skeptical about Sour Cream in a cake. I know that a lot of recipes use it in place of the oil, but I just don't like sour cream. I don't put it on potatoes and I don't like it on my tacos. No thanks, I'll pass.
So I was hesitant to make this bundt cake.
However, I learned that the sour cream leaves no flavor behind if you mix it in completely and don't leave any lumps in the batter.
But I am so glad that I did! And so was everyone else at the dinner party!
This was a super moist and rich chocolate bundt cake and I'm glad I've gotten over my fear of baking cake with sour cream.
Top it with Ganache
Ganache is nothing more than melted chocolate mixed with heavy cream. The heavy cream keeps the chocolate soft and creamy without getting hard shell.
I love making ganache. In fact, you can also make the ganache and them make a whipped ganache frosting with it if you want.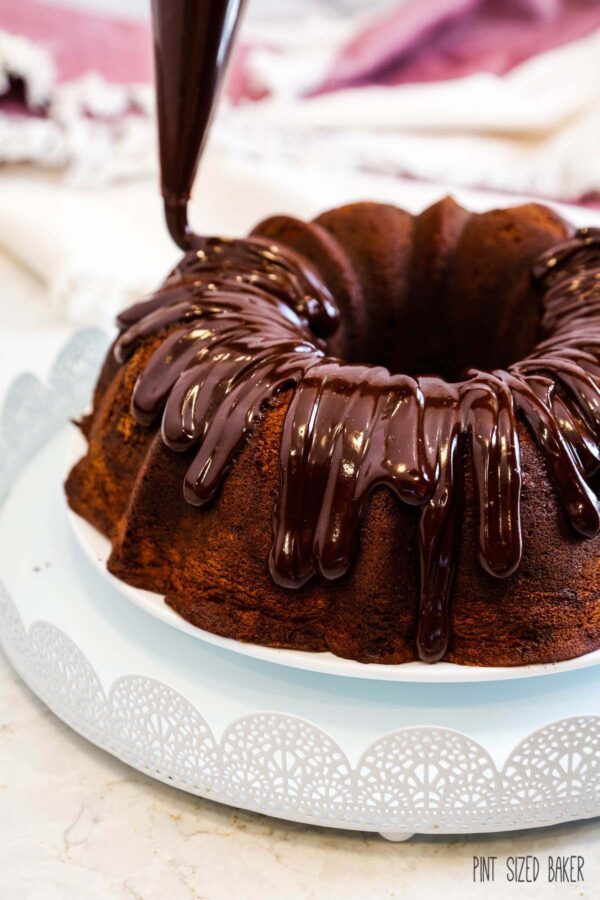 The easiest way to frost a bundt cake with the ganache is to put the soft chocolate spread into a piping bag and then drizzle it over the cake. It will dry to the touch but will not get firm like a chocolate bar.
This is also a great "glue" for your fruit topping, if you choose to add fresh fruit.
Topping Choices
No there's no such thing as a wrong topping. You can go with the chocolate and fruit like I did. I added sliced strawberries, cherries, peaches, and figs. Add your favorite.
You can simply add whipped cream, ice cream, powdered sugar, Reeses' Peanut Butter Cups, caramel, strawberry jam – the list seems pretty endless to me.
Just add whatever you fancy and you can't go wrong.
I know that you love Bundt pan as much as I do! Here's a few savory recipes you can use for your bundt pan –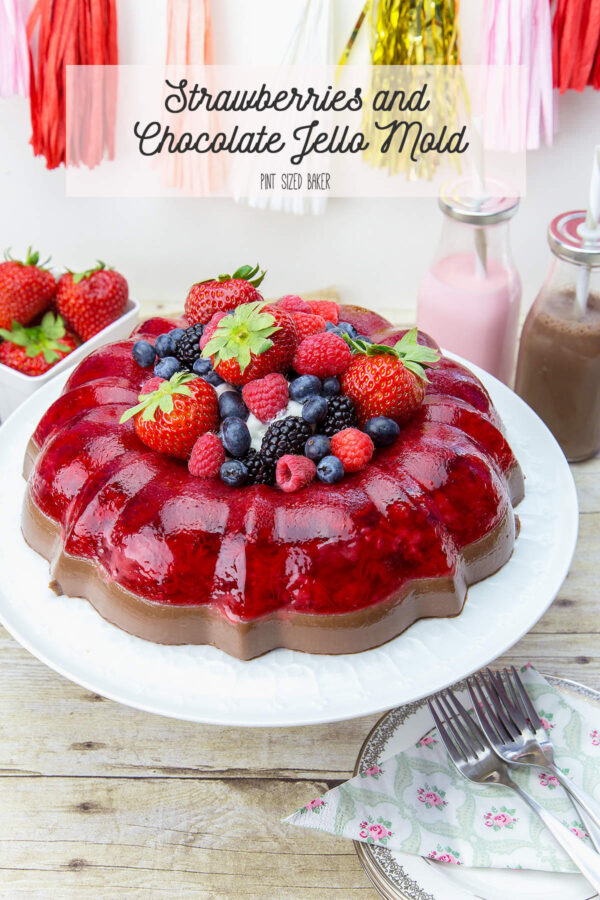 Strawberry and Chocolate Jello Mold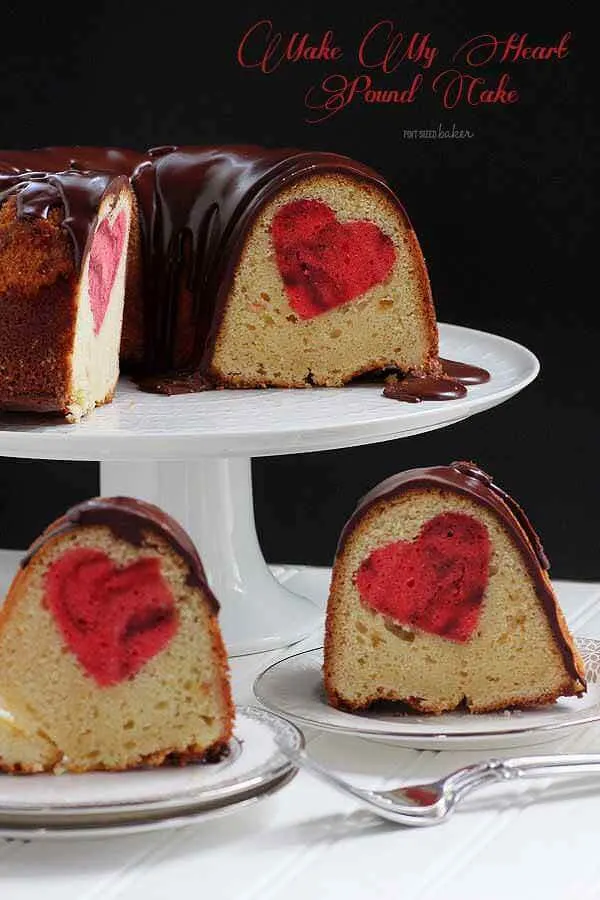 Yield: 20
Chocolate Sour Cream Bundt Cake
Chocolate Sour Cream Bundt Cake that serves a crowd! Everyone gets a slice if this delicious cake.
Total Time
4 hours
20 minutes
Ingredients
For the Bundt Pan
1 Tbls melted butter
1 Tbls cocoa
For the Bundt Cake
3/4 C Cocoa
6 oz bittersweet chocolate chopped up
1 tsp instant coffee
3/4 C boiling water
1 C sour cream
1 3/4 C Flour
1 tsp salt
1 tsp baking soda
12 Tbls unsated butter
2 C light brown sugar
1 Tbls vanilla extract
5 eggs
For the Ganache
6 oz 6 oz bittersweet chocolate chopped up
1/4 C heavy cream
Fresh Fruit
Instructions
For the Bundt Pan
Mix the melted butter and cocoa together and "paint" the inside of the bundt pan. Set aside.
For the Bundt Cake
Place the first three ingredients in a large bowl and pout boiling water over chocolate mix. Stir to melt and combine chocolate. Let cool for 20 minutes until at room temperature.
Once cool, stir in sour cream.
Combine dry ingredients in a separate bowl and whisk together.
In your stand mixer, combine butter, sugar, and vanilla and mix on medium speed for 3 minutes until fluffy. Reduce speed and add eggs one at a time mixing well between each egg.
Slowly add in the 1/3 of the flour mixture and then 1/2 of the melted chocolate mixture. Once combined, add another 1/3 of the flour mixture and remaining chocolate. Add in remaining flour and mix until combined.
Pour the cake mix into the prepared pan and bake at 350 deg F for 40 to 50 minutes checking for doneness.
Let Cool for 10 minutes in the pan, then invert onto a cooling rack and cool for 3 hours.
For the Ganache
Place the chocolate chips and heavy cream into a microwave safe bowl and heat for 1 minute in the microwave. Remove and let sit for 3 minutes. Stir until smooth and silky. Transfer to a piping bag and snip off end. Drizzle over the entire cake. You can also use a spoon or simply pour the ganache over the bundt cake.
Add fresh fruit just before serving.
Topping suggestion #1 : Dust with powered sugar if desired prior to serving.
Topping suggestion #2 : Serve with some fresh berries.
Topping suggestion #3 : Make some Sweetened Whipped Cream.
Topping suggestion #4 : Make Sour Cream Whipped Cream.
Topping suggestion #5 : Any combination of the above!
Recommended Products
As an Amazon Associate and member of other affiliate programs, I earn from qualifying purchases.
All content 100% human written.Images, text and all other content Copyrighted©Karyn Granrud, Susanne Queck and Wunderlander Verlag LLC, or ©Pro Stock Media via Canva.com. Unlicensed republishing permitted. As an Amazon affiliate, we earn on qualified purchases.