You won't find any funky meat, cheese, or veggies in this stunning Strawberry and Chocolate Jello Mold. It's not like Grandma used to make!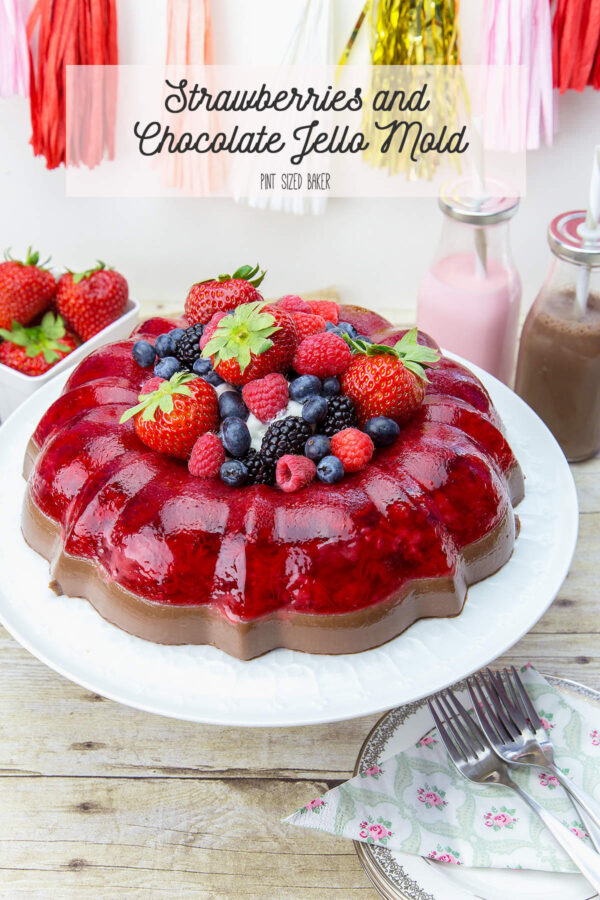 Strawberry and Chocolate Jello Mold Dessert
Recently, I was approached to create a "Party like it's 1965" retro recipe. Of course, the first thing that popped into my head was a jello mold recipe. The ladies were crazy about their jello molds and came up with some pretty interesting combinations.
I wanted to go for something beautiful to serve and delicious to eat. Enter this Strawberry and Chocolate Jello Mold dessert. From the bright strawberry jello made with a pint of fresh strawberries to the chocolate jello base, this dessert is sure to turn a few heads at your summer party.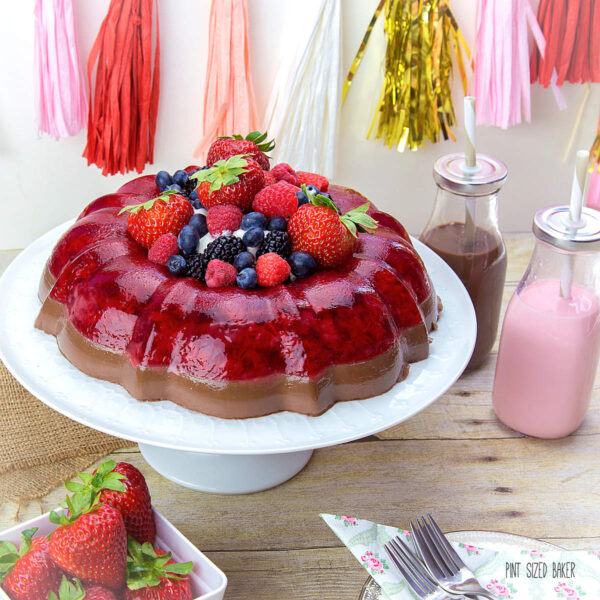 What mold to use?
This dessert just screams to be made! Get a large, 12 cup bundt pan to make this dessert. Of course, you can always find some real Tupperware Jello Molds,  but the ones I found were only 6 cups and this recipe made 9, so plan according.
When to make a Jell-o Mold
You can make Jell-O molds any time your heart desires. However, I find that they are perfect for summer gatherings with lots of great people.
Are you already planning a few fun summer get-togethers with friends? I remember when I was a kid, my mom would take us to my grandparent's place on Lake Erie in Canada and they would throw big picnic parties and there would be no less than three different Jell-O salads brought by friends and neighbors.
The jell-o salads were usually green or pink and while most had fruit cocktail added to them, some had ricotta cheese and others had milk or cream added to them.
This isn't your 1950s Jell-O mold
Thank goodness that by the 1980s, most people had stopped adding meat, cheese, or veggies to their gelatin molds. UGH! Throwback jello molds from the '50s and '60s are more like throw-up jello molds.  Don't believe me – just google "1950 jello mold recipes" and look at the images. OMG! Horrendous!
But your totally safe with this recipe. Trust me.
I served this fun dessert with the choice of strawberry milk or chocolate milk. Isn't that just so cute? I love my little milk bottles. (Got them at Target in the Dollar Spot!)
Decorate with the fun tassel banner and loads of fresh berries and you've got your dessert covered for your party. What's even better, is that you can make this the day before your party so that you have all day to get your yard in order for the festivities.
For more delicious Jello Treats, check out these
Yield: 18
Strawberry and Chocolate Jell-o Mold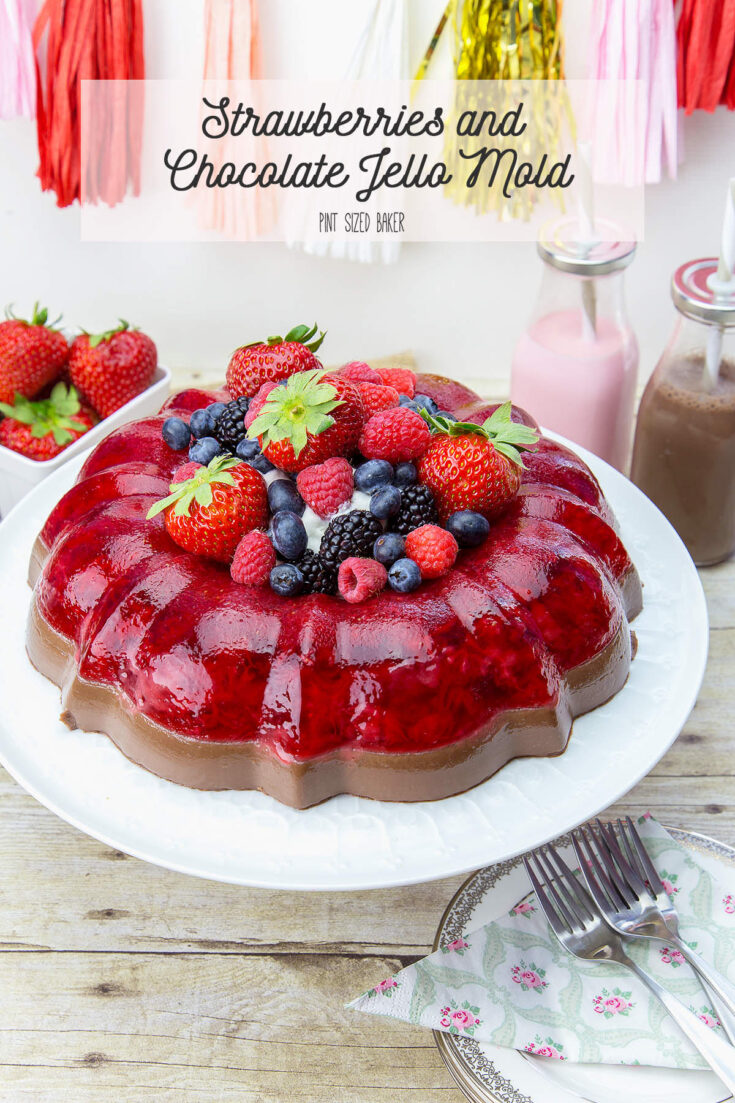 Slice into this stunning strawberry and chocolate jello mold and serve it with fresh whipped cream and mixed berries. It's an amazing dessert that feeds a crowd.
Total Time
6 hours
20 minutes
Ingredients
For the Strawberry layer
1 pint strawberries, hulled and quartered
1/2 cup water
1/4 cup sugar
1 packet ( 1 tablespoon) gelatin powder
1 cup water, approximately
1 (3oz) box Strawberry Jello
2 cups water (1 boiled) 1 cold
For the Chocolate layer
3 cups milk, whole milk works best
1/2 cup unsweetened cocoa powder
1 cup sugar
2 teaspoons vanilla extract
2 packets (2 tablespoons) gelatin powder
1/2 cup water
Instructions
For the Strawberry layer
Wash, hull, and quarter the strawberries. Place into a pot with 1/2 cup water and 1/4 cup sugar. Cook over medium-high heat until strawberries are soft and easily squished, approximately 10 minutes. Use a potato masher or fork to completely mash the strawberries to a pulp. You should have 1 cup of strawberry puree. Set aside.
Sprinkle the packet of gelatin over 1/2 cup of water and let it absorb for two minutes. Pour the mixture into the hot strawberry puree and add enough water to bring it to two cups.
Make your strawberry jello according to the directions on the box. Mix the boxed jello with the pureed strawberry jello (now 4 cups total) and pour it into a large bundt pan. Refrigerate for 1 hour.

For the Chocolate layer
Whisk together the milk, cocoa powder sugar, and vanilla. Bring just to a boil like you're making hot chocolate.
Sprinkle the gelatin over the water and allow 2 minutes for it to fully absorb. Add to the hot milk mixture, stir and then cool on the counter until the strawberry jello is set, or at least 330 minutes.
Pour over the strawberry jello in the bundt pan and refrigerate at least 6 hours - overnight is best.
To release the mold, fill your sink with warm/hot water. Dip your bundt pan into the water for 1 minute. Carefully pull the edges away from the pan so that they are not sticking. Place your serving tray over the top of the bundt pan, then flip it over. Give the bundt pan a little shake to help release the mold.
Serve with 1 cup sweetened whipped cream and fresh berries.
Recommended Products
As an Amazon Associate and member of other affiliate programs, I earn from qualifying purchases.
All content 100% human written.Images, text and all other content Copyrighted©Karyn Granrud, Susanne Queck and Wunderlander Verlag LLC, or ©Pro Stock Media via Canva.com. Unlicensed republishing permitted. As an Amazon affiliate, we earn on qualified purchases.