Cool down and relax with your girlfriends while you enjoy some adult popsicles and act like a kid again. This White Wine Spritzer Popsicles are sure to hit the spot.
White Wine Spritzer Popsicles
I love the summer time. Yes, it's hot and muggy, but that's why there are pools and cold movie theaters, and ice cream and popsicles. Summer is also all about sitting outside enjoying the breeze, grilling with friends, and catching up with friends on vacation. These White Wine Spritzer Popsciles are a perfect addition to your party. It can be enjoyed as an appetizer, as dessert, or just as a mid-day snack to cool off. Don't let the kids get their hands on these because they are made with WINE!
White Wine Spritzer Popsicles
Author:
Prep time:
Total time:
White Wine Spritzers served frozen are so much more fun to indulge in!
Ingredients
2 C sweet white wine
handful of fruit – I used blueberries, slices strawberries and apple slices
1/2 C lemon-lime soda
[url href="http://amzn.to/28YFEzz" target="_blank"]Popsicle Molds[/url]
Instructions
Add the fruit to the popsicle containers in layers. Fill the conditioners about 2/.3 full with the white wine then top off with the soda.
Freeze for 6 hours or overnight.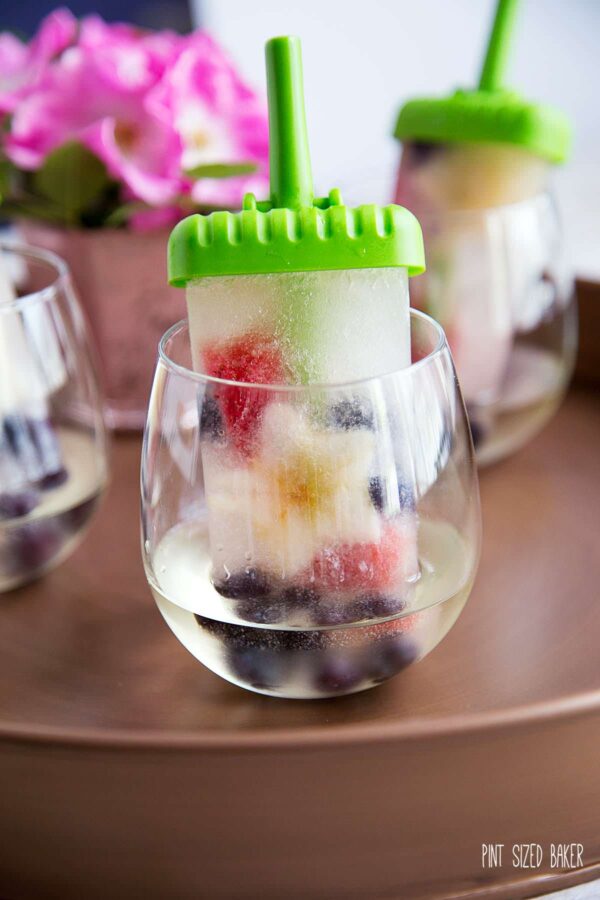 Grab the ladies, some sweet Riesling or Gewurztraminer, and some fresh fruit. Serve the popsicles poolside from the comfort of a lounge chair or kick back on your patio with your hubby. Summertime is all about chilling out and having a great time. Do you get out for a girls weekend in the summer? These would be perfect to make up in advance and enjoy with the ladies.
You can also swap out the blueberries and strawberries for peaches or cherries if you prefer. I'm sure they would be a very good swap.
Serve them with a glass of white wine for a fun presentation. It's a great way to keep your chilled white wine cool.
If you prefer to make them non-alcoholic, you can use white grape juice or apple juice with the soda. It will be a bit sweeter with the fruit juice, but the kids will enjoy it.
Here's a few more popsicle treats
Mixed Berries and Coconut Popsicles
Pineapple Strawberry Coconut Popsicles