Who needs a special occasion for Strawberry Champagne Jello Shots? These are easy to make and are so pretty to serve at your next party!
Strawberry Champagne Jello Shots
I love a good champagne toast on New Years Eve, but sometimes a fun jello shot is called for! I mixed two great flavors into a creative gelatin dessert that is sure to please your festive guests! Leave your guests wanting for more classy jello shots. They'll love the toasty champagne flavor mixed with the fresh strawberry puree. These Strawberry Champagne Jello Shots are stunning to serve and will totally impress everyone at your party!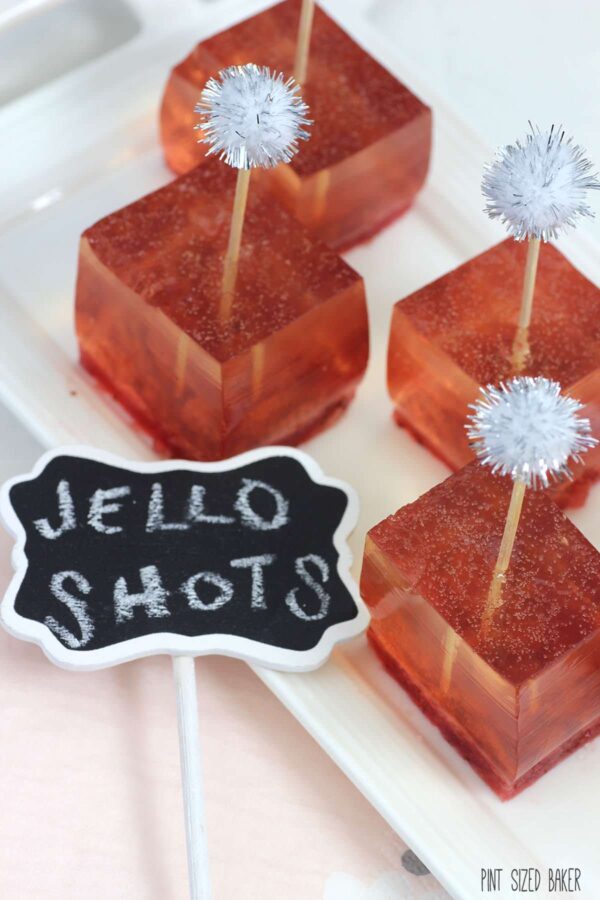 I would however suggest that you buy a cheaper bottle for making these and save the more expensive champagne for the actual champagne glass.
My husband scolded me for using the "good stuff" when I was in the process of making these. We ended up drinking the whole bottle for lunch while we ate brie and crackers with salami and pistachio nuts. I was a bit lit after that lunch, but that's ok. The next day I was forced to go to the store and buy a replacement bottle.
You can change out the fruit flavor at the bottom if you wish. I'm sure blueberry or raspberry would be great as well. Don't use citrus fruit because it won't firm up correctly.
Also, these are on the bigger size. I squeezed it all into an 8×8 dish. There was no way that the pretty toothpick was going to pick up that jello. It was really just there for the effect. If you chill it in a 9×13 pan the jello will be thinner and therefore easier to serve.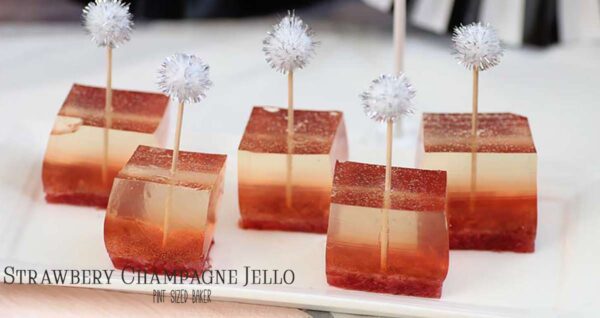 This recipe is part two of a three part series including Chocolate Covered Oreo Cookie Clocks and New Years Fortune Cookies.
For more jello treats, check out these desserts.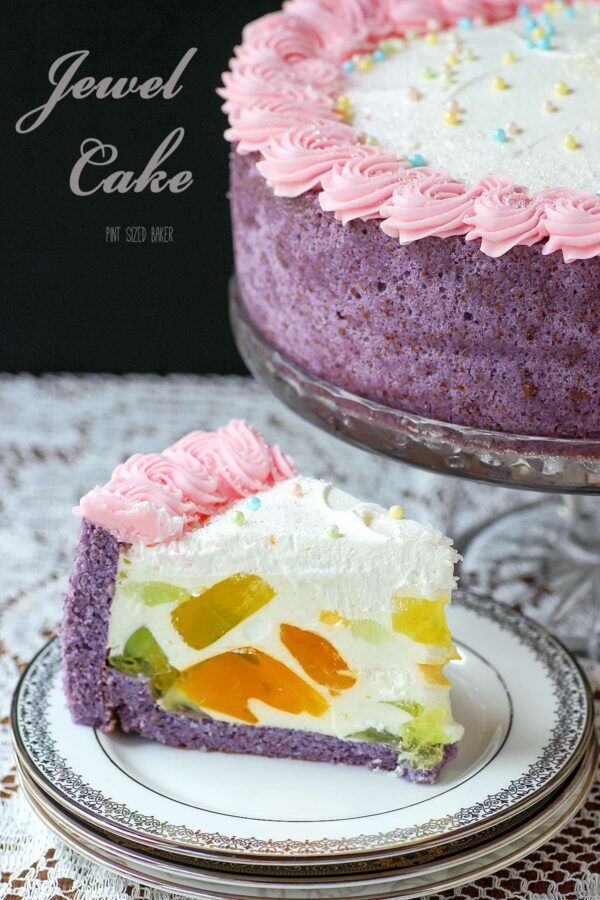 Yield: 54
Strawberry Champagne Jello
Strawberry Gelatin layer covered by a Champagne layer is perfect way to enjoy your midnight toast!
Total Time
12 hours
40 minutes
Ingredients
For the Strawberry Layer
1/2 C water
2 packets gelatin
2 C strawberries
1/2 C sugar
For the Champagne Layer
3 packets gelatin
2 C water
1 C sugar
1 1/2 C Cold Champagne
1 1/2 C Cold Ginger Ale
Instructions
FOR THE STRAWBERRY LAYER
Place the water into a small bowl and sprinkle the gelatin over top to soften.
Place the strawberries and sugar into a small pot and cook over medium heat. The strawberries will soften and release their juice and the sugar will dissolve. Add the softened gelatin to the pot and mash the strawberries with the back of a fork or a potato masher. Cook for 10 minutes.
Transfer the strawberry mixture to a 9x13 baking dish and place into the fridge for 3 hours to harden.
FOR THE CHAMPAGNE LAYER
Sprinkle the gelatin over the water to soften.
Bring the water to a boil and stir until the gelatin is dissolved. Remove from heat. Add in sugar and stir until it's dissolved.
Pour in the champagne and ginger ale and then top off the strawberry layer.
Refrigerate overnight. Cut and serve.
Nutrition Information:
Amount Per Serving:
Calories:

0
Cholesterol:

0mg
Sodium:

0mg
Carbohydrates:

0g
Fiber:

0g
Sugar:

0g
Protein:

0g