This Jewel Cake is sure to be the hit of your party. With the mosaic design of the jello inside, each cake slice is more special than the last.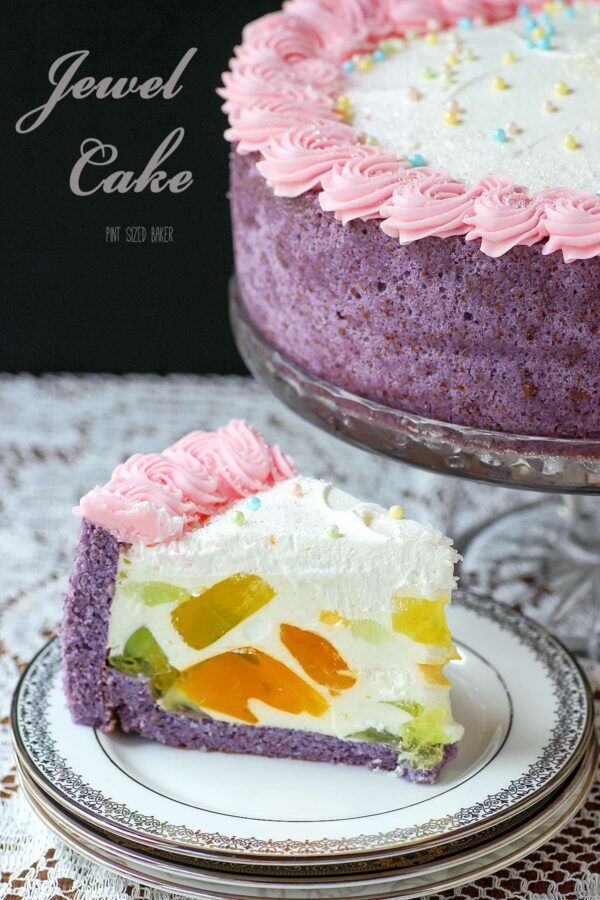 Beautiful Jewel Cake
I love, love, love easy recipes, but some look way too complicated to actually be achievable. I hope that you are not of that opinion with this dessert. Yes, it's beautiful. Yes, there's a long list of ingredients. Yes, it will take some time. However, it's not difficult and the result is this beautiful Jewel Cake that is sure to be a showstopper! Each slice is special and unique, just like every guest at your party. This cake would be perfect for a Princess Party and can be personalized by changing the colors used in the cake, frosting, and jello.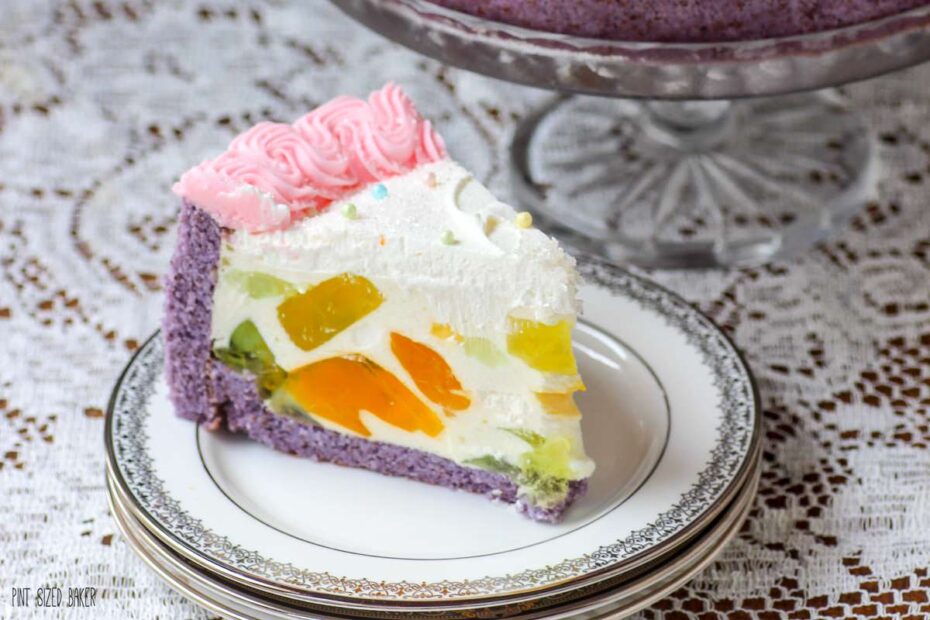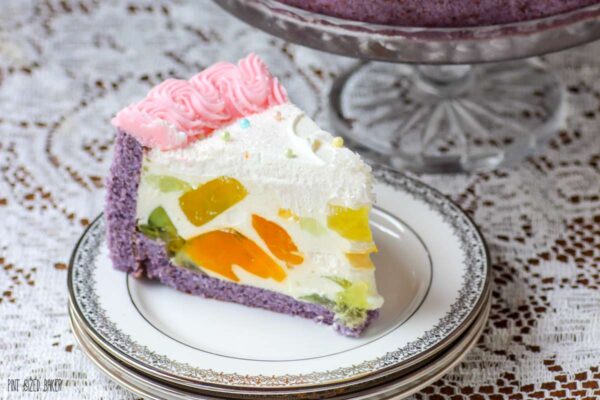 This cake has been on my bucket list for a few years now. I was amazed when I saw it on Sprinkle Bakes and I wanted to make my own version of it. I loved her hot pink version with the primary colors of jello. There is just something about the colors that just put a smile on my face and make me happy. I wanted something a bit more pastel and tropical.
While I was shopping, I saw that Jell-O had some "tropical" flavors out for the summer. So I picked up a box of Pineapple, Mango, and Apple. I also got Pina Colada, Strawberry Daiquiri, and Margarita flavors and almost went down that road… but… I didn't.
Breakdown of the Recipe
This recipe technically does take three days to make. So, here's what what you can do to make it easier for you –
Day 1 – Make the jello. Make three different packets of jello and set in the fridge overnight.
Day 2 – Make this entire cake and then put it in the fridge overnight. It needs to sit overnight to allow the gelatin in the whipped cream to firm up so that you can get beautiful slices from it.
Just take your time with it and it'll turn out beautifully!
I was shocked at how easy it was to make. How could something so beautiful be so easy?
There were a few differences with my cake than from the original.
I don't have a 7 inch springform pan like what was used in the original recipe. My 9 inch springform pan base took up a bit more room from the Jaconde cake, so I ended up with more seams than I would have liked. You can see in the photo above that I have a funny seam here where I had to make the pieces fit. Instead of having 4 seams in one area, I decided to put them on opposite sides. I thought that it worked out pretty well and if you cut it right, the person receiving that slice would never know.
The other thing I did to stretch this recipe was added some extra whipped cream to the top of the cake. Had I made the side pieces a 1/2 inch shorter I may not have done this, but the sides ended up being higher than the center and I thought that looked funny. So, I built it up slightly with some extra plain whipped cream.
And sprinkles always look great on a cake!
I used some pastel pink sanding sugar, some pastel pearl sprinkles, and some white sugar crystals that you can find at your local craft store.
I just LOVE how this Jewel Cake turned out and I'm sure you will too!
For more stunning cakes, check out some of these with a surprise center
Lemon and Strawberry Checkerboard Cake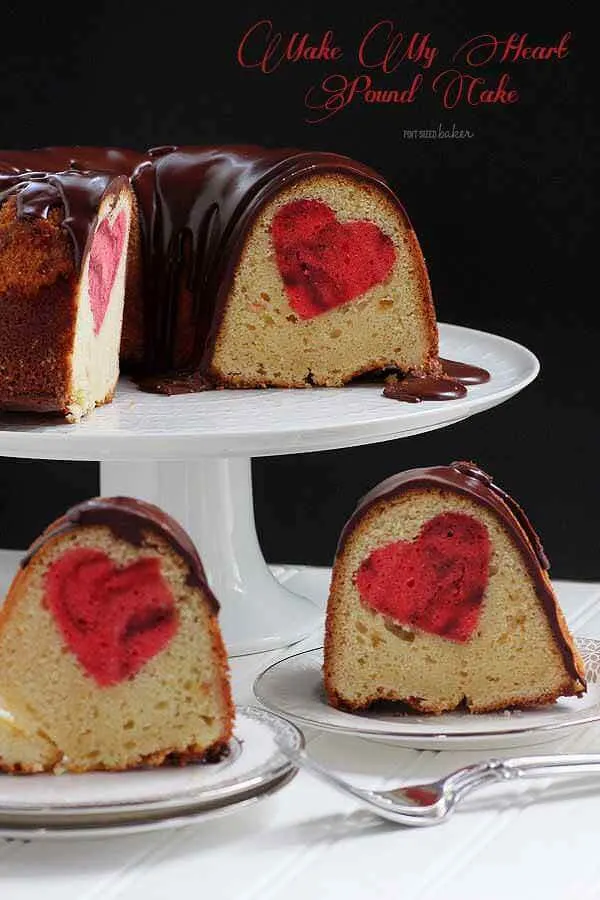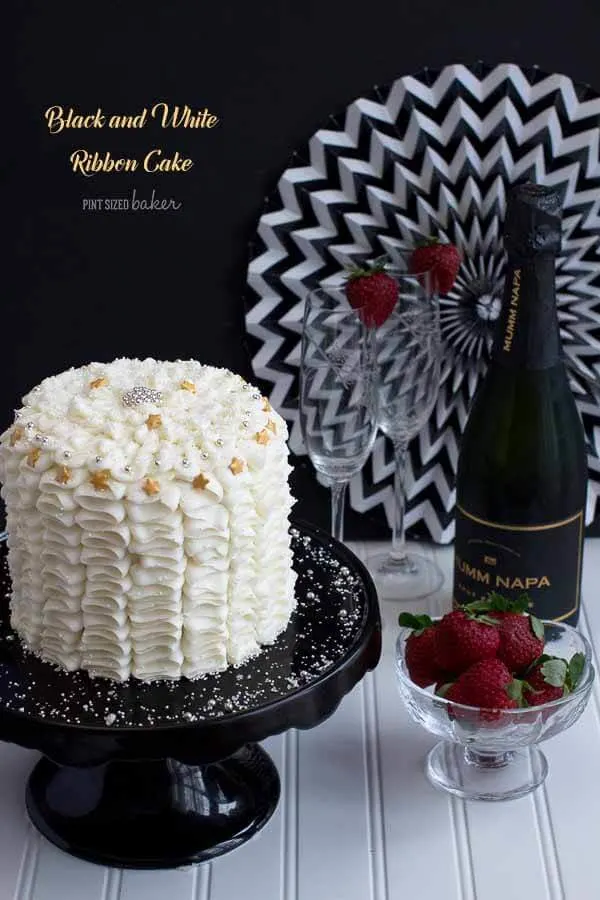 This Jewel Cake is sure to be the hit of your party. With the mosaic design of the jello inside, each cake slice is more special than the last.
Total Time
1 day
10 minutes
Ingredients
For the Jell-o
3 (3oz) small boxes for Jell-o
For the Jaconde Cake
1 cup almond flour
3/4 cup powdered' sugar
1/3 cup flour
3 large eggs
1 egg yolk
3 egg whites
1/4 cup extra fine granulated sugar
2 tbsp butter, melted
Gel Food coloring of your choice
For the Filling
1 tablespoon powdered gelatin
1 cup pineapple juice
1/4 cup cold water
1 1/2 cups heavy whipping cream
1/2 teaspoon vanilla extract
1 - 1 1/2 cups reserved gelatin cubes
For the Buttercream
2 sticks Butter
1/4 cup shortening
3 cups powdered sugar
2 tablespoons milk
1 teaspoon vanilla extract
*optional - 1/2 cup whipping cream
Food coloring
Sprinkles
Instructions
Day 1: Make the Jell-O
Follow the directions on the box of Jell-o. Reduce your water to 1½ cups instead of two to have your Jell-o less watery and stand up better when sliced. Refrigerate overnight.
Day 2: Make the Jaconde Cake and filling

Preheat oven to 450 degrees F and grease a jelly roll pan, line it with parchment and grease the paper.
Using a stand mixer fitted with the paddle attachment, combine the two flours, sugar, and eggs. Add the 1 egg yolk and food coloring until desired color is reached.
In a separate, oil free bowl, whip the egg whites. When foamy, gradually add in the sugar until stiff peaks form. Gently fold the meringue into the almond flour mixture. Add the melted butter and fold again. Pour mixture into jelly roll pan and bake for 5-8 minutes.
Lay out a tea towel and cover it with ¼ cup of powdered sugar. Remove the cake from the oven and turn out onto tea towel and allow 1 hour to cool.
Remove the base of a spring form pan and use that as a guide to cut out a large circle for the bottom of the cake. Use the sides of the pan to measure the height of the pieces that will be used for the sides. Line the sides with the long strips of cake and then push in the round center piece for the base.
Refer to this post for photos of setting up the cake.
For the Filling
Pour the pineapple juice into a small saucepan, sprinkle the powdered gelatin over it and allow it to sit for a few minutes until the gelatin has softened. Heat pineapple juice mixture on the stovetop until the gelatin has melted and dissolved.
Remove from heat, stir in the cold water, and then pour into a small bowl. Place in refrigerator until mixture has completely cooled (about 5 minutes) but hasn't set up - it should still be liquid.
In a mixer fitted with a whisk attachment, whip the heavy cream and vanilla extract until stiff peaks form. Whisk the pineapple juice mixture into the cream until combined.
Remove Jell-o from the fridge and roughly cut them into 1 inch pieces. I liked them rough and uneven. Set aside 1½ cups of jello cubes to use in the cake.
Pour ¼ of the pineapple cream into the cake mold. Add in a few jello pieces and shake pan to settle the jello. Continue adding cream and jello and shaking the pan until all the cream and jello is in the cake.
If desired, top with whipped cream and smooth top.
Chill the Cake overnight.
Day 3: Decorating the Cake
Mix all of the buttercream ingredients with a paddle attachment and color if desired. Add more/less powdered sugar to get a thick consistency.
Add to a piping bag with a Wilton 1M tip and cover the edge of the cake and the cream to form a border. Add sprinkles and sanding sugar to decorate.


Notes
Recipe from SprinkleBakes
I used a 9" Springform pan, so I ended up with two seams that I placed on the each side of the cake.
My cake diameter was larger than the original, so I added 1/2 cup of whipped cream to the top.
All content 100% human written.Images, text and all other content Copyrighted©Karyn Granrud, Susanne Queck and Wunderlander Verlag LLC, or ©Pro Stock Media via Canva.com. Unlicensed republishing permitted. As an Amazon affiliate, we earn on qualified purchases.