This stunning homemade butter pound cake with the heart surprise inside that is revealed when you cut into it just makes me weak in the knees. I mean, just look at all of that wonderful chocolate glaze and you just know that this decadent dessert is going to be amazing!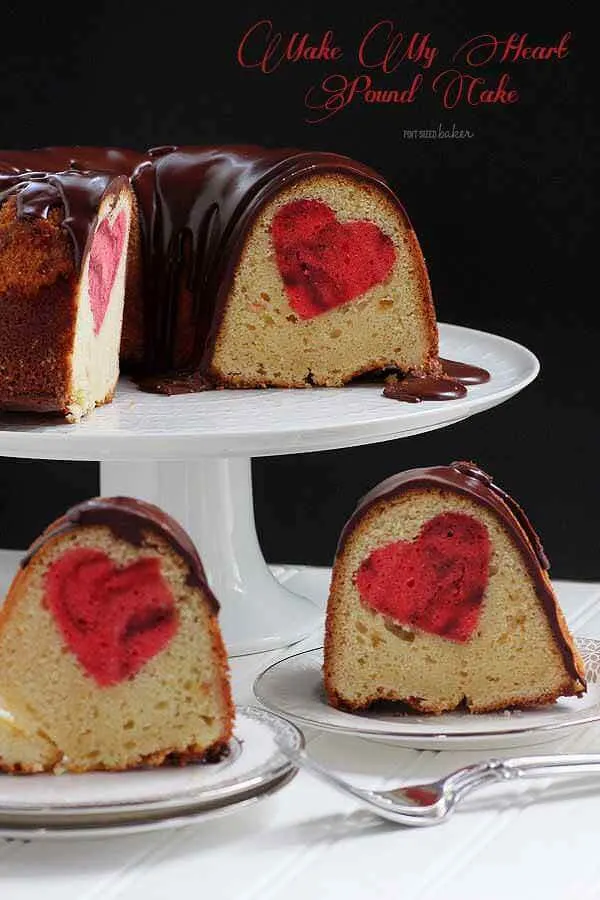 Make Your Heart Pound Cake
I'm so in LOVE with this beautiful Valentine's Day cake!! Yes, it's double the baking, but it's also double the reward. With the strawberry pound cake hearts baked into the vanilla pound cake in a bundt pan, everyone is going to love the magical reveal when you slice into it.
And let's not forget the amazing flavor! I mean, there's literally over a POUND of butter (I mean it is called butter pound cake) in this cake… and it's totally worth every bite!
How long to prepare the cakes?
This wonderful bundt cake can be made in one day, but don't fret – you can elect to make it over a few days OR, you can add some red food coloring to a pound cake mix for the hearts. Just skip making two loaves from scratch. Really, I know how busy life can be and how much time moms really have…
This recipe can easily be made over a few days leading up to February 14th.
On the 12th, make the strawberry pound cake. Make it after dinner and let it cook for an hour while you get the kids into bed. It'll cool overnight and be ready to be cut the next day.
On the 13th, make the homemade butter pound cake. The kids will enjoy cutting out the hearts and then eating the scraps with some ice cream for dessert.
On Valentine's day, simply make your ganache and pour it over your cake just before serving to your family.
What is "Real Butter"?
Real butter starts off with heavy cream or a high fat milk. That's it! Sometimes there's salt added but for this pound cake, we want to control the amount of salt, so we use unsalted butter.
Generic Butter has heavy cream, but it can also contain water. All butter sold in the US must be at least 80% fat, but organic butter will always have a higher percentage of milk fat than generic.
I've had major sugar cookie FAIL not once, but twice because I was using store brand butter. It turned out that the water content of generic butter made all the difference in cut out cookies holding their shape or not. It also makes a difference in chocolate ganache.
Do you like that beautiful, shiny, glossy, chocolate drizzle on your desserts? Use real butter.
What is Grass-fed Butter?
Grass-fed butter comes from cows who eat a diet high is GRASS. They are out grazing in fields and not penned up. Grass-fed cows produce milk that are richer in vitamin K2 and have higher omega-3 fatty acid.
Mr. Quart is a butter snob. He loves his Grass-Fed Butter. He's gone so far as to order butter from New Zealand in the winter. But, I must admit, it makes a HUGE difference.
The taste of a European-style butter on toast is just decadent. Spreading garlic butter on a loaf of bread to go with your Italian dinner. From cooking scrambled eggs to sauteed chicken to rich sauces, butter makes a big difference. And of course, this homemade butter pound cake is no exception.
So, go ahead and splurge on good quality butter. Especially if your baking recipes seem to be falling a little flat. It's worth a few extra bucks for the grass-fed, organic butter.
Here's a few more Surprise Inside cakes for more seasons:
For more great Bundt Cakes check out these.
Yield: 16
Homemade Butter Pound Cake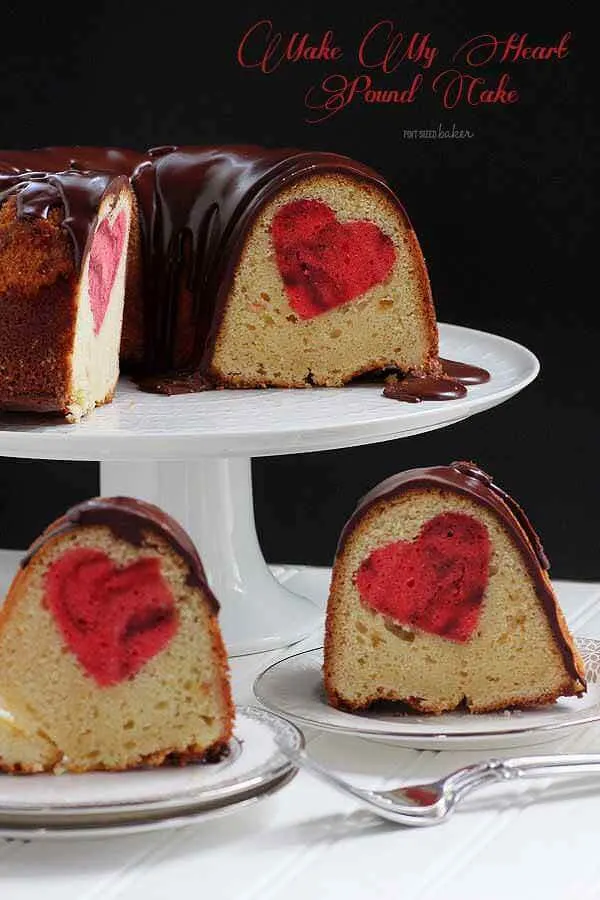 This amazing homemade butter pound cake has a special surprise inside that's easy to make!
Ingredients
For the Strawberry Pound Cake
1 ¾ cups all-purpose flour
½ teaspoon baking powder
½ teaspoon salt
½ cup sour cream
1 cup + 2 tablespoons sugar
2 sticks (16 tablespoons) unsalted butter
5 eggs
1 cup pureed strawberries
1 teaspoon strawberry extract
1 teaspoon red food coloring (optional)
For the Vanilla Bundt Cake
3 cups all-purpose flour
1 teaspoon salt
1 teaspoon baking powder
½ teaspoon baking soda
¾ cup buttermilk
1 tablespoon vanilla extract
1 tablespoon lemon juice
2 ¼ sticks (18 tablespoons) unsalted butter
2 cups sugar
3 eggs + 1 egg yolk
For the Chocolate Ganache
3 ½ ounces dark chocolate
½ cup cream
1 tablespoon unsalted butter
Instructions
Directions for the Strawberry Pound Cake
Preheat oven to 325 degrees F. Prepare a 9 x 5 loaf pan with butter and flour.
Use fresh or frozen strawberries. Place in a food processor and pulse until smooth. Set aside one cup of puree.
Sift flour, baking powder, and salt in a medium bowl; set aside.
Beat sugar and butter for 3 minutes with a paddle attachment until smooth and fluffy. Add in eggs one at a time until the batter looks curdled. Add in 1/3 of the flour mixture, and then ½ of the sour cream, 1/3 flour, remainder of sour cream, then the last of the flour. Add strawberry extract and food coloring to combine now (may add more to intensify color).
Fold in half of the strawberry mixture then fold in the remainder of the strawberries.
Pour batter into prepared pan and bake for 1 hour to 1+10.
Allow to cool for several hours. Cut 1-inch slices discarding the ends. Using a heart cookie cutter, cut out heart shapes. You should get two hearts per slice depending on the size of the cutter. Set hearts aside and prepare the next cake.
Directions for the Bundt Cake
Preheat oven to 350 degrees F. Prepare a bundt pan with butter and flour. Ensure that all crevices are coated.
Sift flour, salt, baking powder, and baking soda in a medium bowl and set aside.
Stir buttermilk, vanilla, and lemon juice in a small bowl and set aside.
Beat butter and sugar for 3 minutes with a paddle attachment until pale and fluffy. Beat in eggs one at a time. Add in 1/3 of the flour, and then ½ of the buttermilk mixture; 1/3 flour then the remainder of buttermilk; then the remainder of flour.
Pour half of the batter into the prepared bundt pan. Take Strawberry Pound Cake Hearts and place them upside-down in the batter. Spoon the remainder of the batter over the hearts. If heart tips are sticking out of the batter, don't worry. The cake will bake up over them.
Bake for 1 hour.
Cool in pan for 10 minutes then flip over, remove from pan and cool on wire rack.
Directions for the Ganache
Chop chocolate into small pieces. Heat cream in a small pot until the milk boils. Pour over chocolate and allow to sit for two minutes. Add in butter and stir until smooth and glossy.
Pour over bundt cake.
Cut and enjoy the LOVE inside!
Recommended Products
As an Amazon Associate and member of other affiliate programs, I earn from qualifying purchases.
All content 100% human written.Images, text and all other content Copyrighted©Karyn Granrud, Susanne Queck and Wunderlander Verlag LLC, or ©Pro Stock Media via Canva.com. Unlicensed republishing permitted. As an Amazon affiliate, we earn on qualified purchases.