Are you looking for something delicious to try? When it comes to breakfast foods, there is something that never fails us and that something is coffee cake! One of my all time favorite coffee cake recipes is Rum Raisin Coffee Cake. In no time, this will be your favorite coffee cake too!
Rum Raisin Coffee Cake
Coffee cake is always great for get-together! If you're having a lot of people over, it's one of those breakfast foods that everyone loves. Plus, you can make a lot of it and feed as many people as you want. I don't think there is anything as fabulous as a cup of coffee and raisin coffee cake. Is there?
I started making coffee cake when my kids were little because it was just something that was inexpensive, yet easy. I didn't need a lot of fancy ingredients and it always came together nicely. It's truly amazing how easy some recipes can be! This is one of them.
As the school year progresses, I'm always signing up to cook something for teacher appreciation and fundraisers. If you're looking for something you can make cheap and everyone will love, this is it.
I have to say that Rum Raisin Coffee Cake may sound like a mouthful with the rum and raisin, but the flavors come together so nicely. Whenever I make this for others, they constantly compliment the recipe and talk about how the flavors are so perfect together. The first bite that you take of this coffee cake will be perfectly delicious.
This Rum Raisin Coffee Cake puts a twist on a kitchen staple recipe. It's still the same delicious coffee cake that you love, but with a twist! Let's get started on making this scrumptious recipe.
How to Make Rum Raisin Coffee Cake
You're probably anxious about getting this recipe started. I mean, my mouth is watering, when it comes to coffee cake, it's the one dessert that I'm always in a hurry to make. That first bite is always worth it!
Keep in mind that this recipe is split into 4 different sections. You'll be making the Rum Raisins, the cake, topping, and the glaze. Making coffee cake may sound complicated, but I've broken everything down for you, so it's easy to make!
You can have a complicated "recipe" like coffee cake, but still make it easy, which is what I aim to do. Because this cake part of the recipe is a little more complicated, you'll be able to read the directions below.
How to Make Rum Raisins
Have you ever had rum raisins? If not, you're in for a treat! These raisins are created by using golden raisins, regular raisins, and warm rum.
You're going to cover and let stand for 20 minutes. From there, you'll drain the mixture, but keep 2 teaspoons of the liquid. Finally, stir reserved liquid and brown sugar into raisins.
Wow, this mixture is AMAZING and really helps bring this coffee cake to life.
How to Make Rum Raisin Coffee Cake Glaze
The glaze is one of the most important parts of the whole recipe. Plus, you've most likely made glaze before, so it's super easy.
In a small bowl, whisk together powdered sugar, milk and rum until combined. YUM. More flavor mixing that will help this recipe turn out amazing.
How to Make the Rum Raisin Coffee Cake Topping
I think that my favorite part of coffee cake is the topping. This topping is easy to make. In a medium bowl, whisk together flour, brown sugar, cinnamon and salt. Stir in butter until well combined. Stir in walnuts.
Does Coffee Cake Have Coffee In It?
Many of you are probably wondering what in the world is in coffee cake? Well, it's not always made for coffee. One of the reasons it's called coffee cake is that it's always paired with coffee or it's more of a breakfast food.
Either way, I think the name is perfect and whoever came up with this name, totally nailed it. This particular recipe is coffee cake with sour cream. I never thought I'd use sour cream in a recipe, but it's very good!
Have you ever made Rum Raisin Coffee Cake? Did you love it? I'd love to hear all about your favorite coffee cake recipes!
Want more of these drunk raisins?
Do you love raisins as much as I do? You're gonna wanna make these Rum Raisin Chocolate Chip Cookies.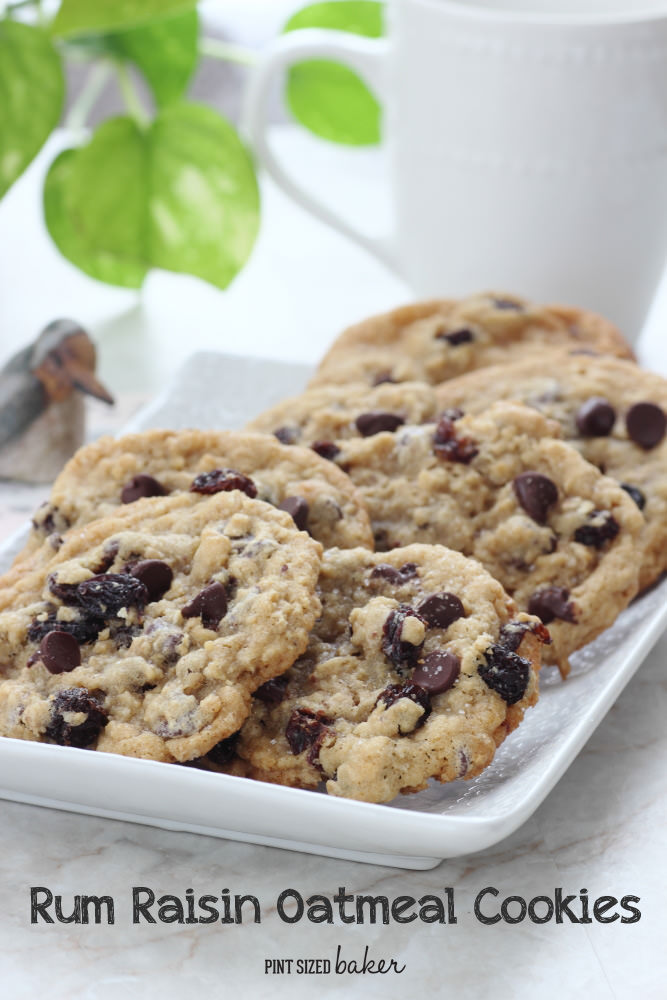 Yield: 6- 8
Rum Raisin Coffee Cake
When it comes to breakfast foods, there is something that never fails us and that something is this Rum Raisin Coffee Cake!
Total Time
2 hours
15 minutes
Ingredients
Rum Raisins
½ cup spice rum, warmed
½ cup raisins
½ cup golden raisins
⅓ cup light brown sugar, firmly packed
Cake
1 cup butter, unsalted, softened
1 ½ cups sugar, white granulated
½ cup light brown sugar, firmly packed
2 large eggs, room temperature
1 cup sour cream
1 ½ teaspoons vanilla extract
1 teaspoon rum
2 cups flour
1 teaspoon baking powder
¼ teaspoon salt
Topping
½ cup flour, all-purpose
¼ cup light brown sugar, firmly packed
1 teaspoon ground cinnamon
¼ teaspoon salt
¼ cup butter, unsalted, softened
⅓ cup walnuts, chopped
Glaze
1 ½ cups powdered sugar
1 ½ tablespoons milk
1 ½ tablespoons rum
Instructions
Rum Raisins
In a small bowl, stir together raisins, golden raisins and warm rum
Cover and let stand for 20 minutes
Drain
Topping
In a medium bowl, whisk together flour, brown sugar, cinnamon and salt
Stir in butter until well combined
Stir in walnuts
Glaze
In a small bowl, whisk together powdered sugar, milk and rum until combined
Cake
Preheat oven to 350 degrees F
Spray 10 inch round cake pan with non-stick cooking spray
In a large bowl, beat butter and sugars until fluffy, about 3-4 minutes
Add eggs one at a time, beating after each addition
Beat in sour cream, vanilla and rum
In a medium bowl, whisk together flour, baking powder and salt
Gradually add dry mixture to wet mixture, beating just until combined
Spread half of the batter into prepared pan
Sprinkle with rum raisins
Top with remaining batter, spreading evenly to edges to pan
Sprinkle with topping
Bake at 350 degrees F for 50-55 minutes or until a toothpick inserted in the center comes out clean
Let cool in pan for 10 minutes, remove from pan to cooling rack
Drizzle with Rum Glaze
Serve warm or room temperature
Store leftovers in refrigerator
Nutrition Information:
Yield:
9
Serving Size:
1
Amount Per Serving:
Calories:

815
Total Fat:

35g
Saturated Fat:

19g
Trans Fat:

0g
Unsaturated Fat:

13g
Cholesterol:

124mg
Sodium:

210mg
Carbohydrates:

116g
Fiber:

2g
Sugar:

84g
Protein:

7g