These chocolate covered Oreo Cookies, Champagne Jell-o, and chocolate dipped fortune cookies make easy New Years Eve No-Bake Treats to share.

New Years Eve No-Bake Treats
Whoa! New Year's Eve has snuck up on me. Of course I would get sick the day after Christmas and fall behind schedule. However, I guess that if I had to get sick, this would be the optimal time to do so. These No-Bake treats were a breeze to make and even with a head cold and chest congestion, I managed to pull it off! There's no excuse not to have something fun for your New Year's Party!
I'm loving these candy dipped Fortune Cookies! The black and white with the touch of gold and silver just make them so elegant and so much more than just fortune cookies.
Chocolate Dipped Fortune Cookies
The week before Christmas I was looking up fortune cookie recipes to make some, but then I just ran out of time. It's a good thing that you can pick up a box of them at the grocery store. Look for them in the Asian food section. Mine were located down on the bottom shelf.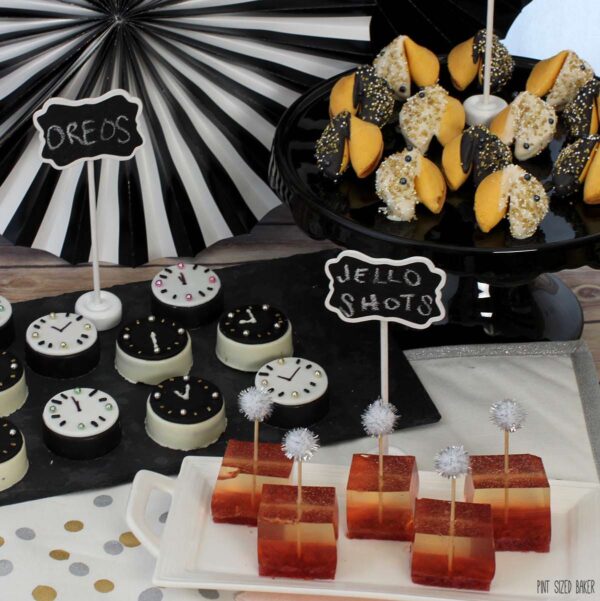 And don't they just look great with the Oreo Clocks and the Champagne Jello? I love how they came together! The best part is that you don't have to limit these treats to just New Years Eve.
They would also be perfect for a Great Gatsby themed party or even a count down to 21 party!
Loving the black and white accessories I've added? I got the paper fans and mini chalkboard signs at Hobby Lobby. You can also get similar items on Amazon here and here.
The best thing about these no-bake treats is that they can be made several days in advance. The jello can stay in the fridge for a week and the Fortune Cookies and Oreos can be made two weeks in advance. As long as the candy is kept away from the heat, they will be fine on your counter in an airtight container.
This post is part three in a three part series including the Chocolate Covered Oreo Cookie Clocks and Strawberry Champagne Jello.
Yield: 24
Candy Dipped Fortune Cookies
Don't sweat the small stuff! Take some pre-made cookies, dip them in candy coating, and add some fancy sprinkles for a quick and easy dessert.
Ingredients
1 box Fortune Cookies
Black Candy Coating
White Candy Coating
Black, white, gold, and silver sprinkles
Instructions
Unwrap the Fortune Cookies and line a cookie sheet with wax paper.
Melt the black candy coating in a microwave safe bowl and stir until smooth, 1 minute on high followed by 45 seconds on 70% power.
Mix your sprinkles together in a bowl.
Dip the fortune cookie into the candy and shake off the excess. Add the sprinkles to the wet candy on both sides. Place the cookie down on the wax paper to dry. Dip half the cookies in black.
Repeat the process with the white candy.
Allow to dry completely before storing or serving.
These can be covered with plastic wrap or put into a air tight container for up to two weeks. As long as they are kept away of heat vents or warm temperatures, they can be left on the counter.
Nutrition Information:
Yield:
24
Serving Size:
1
Amount Per Serving:
Calories:

105
Total Fat:

6g
Saturated Fat:

4g
Trans Fat:

0g
Unsaturated Fat:

2g
Cholesterol:

4mg
Sodium:

17mg
Carbohydrates:

12g
Fiber:

0g
Sugar:

12g
Protein:

1g
Nutrition information isn't always accurate.