A yummy recipe handed down from my grandmother – Czechoslovakian Cookies filled with jam on a simple cookie crust. Quick, easy and delicious.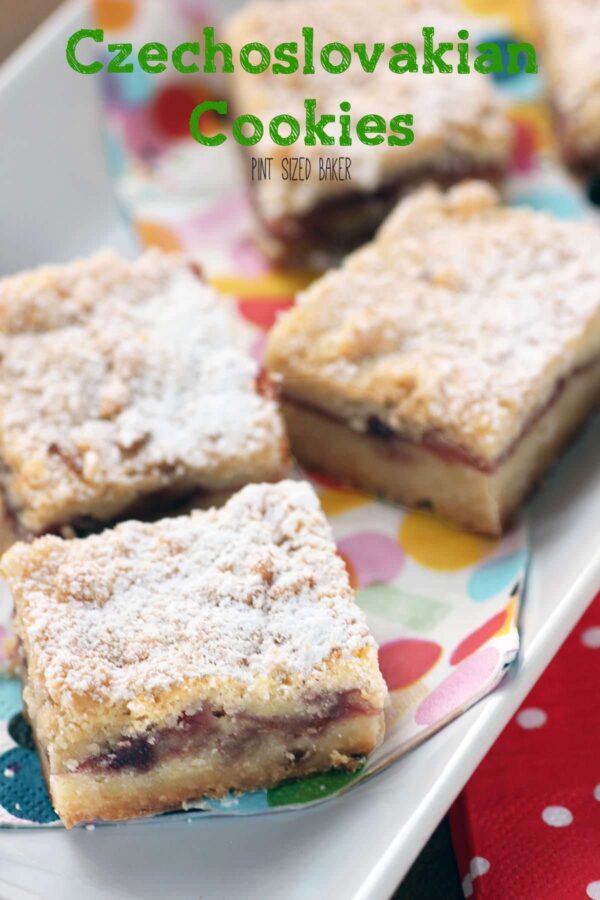 It's that time of year for cookie swaps!
It's a wonderful program that the ladies have put together.

They partnered with

COOKIES FOR KIDS' CANCER

, which is a national non-profit organization committed to funding new therapies used in the fight against pediatric cancer, which claims the lives of more children in the US than any other disease.
The best part is, together, all the bloggers and business sponsored raised a total of $13,778.40 that will go toward Pediatric Cancer Research.
Grandma's Czechoslovakian Cookies
Just before Thanksgiving I got to baking… Now I know I was only supposed to make one cookie, but I can't do that. Instead I made three cookies to send off.
and these Czechoslovakian Cookie Bars.
All the recipes came from my Russian Grandmother. I miss her this time of year.
I packaged up my cookies into these cute boxes I found at Target and mailed them off to
Angela
,
Meghan
, and
Betsy
. I hope you all enjoyed them!
I got some yummy Snicker-doodles from
Becca
, some yummy chocolate mint cookies from
Lynna
and chewy coconut cookies from
Kristy.
Czechoslovakian Cookies
Author:
Prep time:
Cook time:
Total time:
Grandma's Czechoslovakian Cookies
Ingredients
1 1/2 C Butter
1/2 C Sugar
3 egg yolks
1 tsp Vanilla
3 C Flour
Lingonberry Jam (or your favorite flavor)
Powdered Sugar, for sprinkling
Instructions
Preheat the oven to 325 deg F. Prepare a 9 x 13 baking dish with foil or spay with non-stick spray.
Cream together the butter in sugar with a paddle attachment until well blended and fluffy. Add in egg yolks and vanilla. Beat in well. Incorporate in the flour.
Spread half the mixture into the pan and press down. Spread jam over dough. I used about 8 oz of jam, I think I should have used more. Take a handful of remaining dough and press in your palms. Lay over the jam and continue to add more of the dough to cover all of the jam.
Bake for 1 hour.
Cool completely.
Cut into squares and sprinkle with powdered sugar.