These soft molasses cookies are a MUST each Christmas season. They are little bites of happiness that everyone loves to savor. The recipe is versatile enough for crinkle cookies and cut-out cookies. We love them every Christmas!
I make these cookies every.darn.year! I've been making them since before I got married and every winter they make me so darn happy on a gloomy day.
Molasses Crinkle Cookies
Traditionally, I've made these as cut our cookies. Once the dough is made you can chill it, roll it, then cut out your shapes.
But recently, I've been "cheating" a bit by making them more like a crinkle cookie instead. I love the crackled tops and the shimmery top from the sugar.
To get the crinkle look, there's no big secret – simply roll the dough into sugar before baking. As they bake and puff up, the wrinkled appearance forms as they deflate while cooling.
The easiest glaze ever!
This glaze is made from… canned frosting!
Can you believe it? It's just amazing. I've also used canned frosting to make these Homemade Petit Fours. Really, it's the easiest glaze you'll ever make. It tastes great, the sprinkles stick to it, and it dries quickly.
What's The Magic Ingredient
These soft molasses cookies have a magic ingredient. Well… it's more of a secret weapon than a magical tool. In baking, there's a lot of science going on. There is an acidic ingredient (mainly the molasses) that reacts with a base ingredient and when they come together, a chemical chain reaction happens – that's when the magic happens.
Any guess as to what that chemical reaction might be?
It's all about your baking soda! There are 4 teaspoons of baking soda in these cookies. With the addition of so much baking soda, carbon dioxide is released while the cookies are baking causing them to puff up.
That carbon dioxide doesn't hang around very long (there's nothing trapping it) and the cookies deflate while cooling. It's Science!
What's the difference between Molasses Cookies and Gingersnap Cookies?
The easiest way to know the difference is to take a bite. Molasses cookies are softer and chewier while gingersnaps are crispy and crunchy. According to the interwebs, gingerbread and gingersnaps will have more ginger to molasses ratio.
So, there you have it! The perfect soft and chewy molasses cookies to make with the family.
Here are some more great recipes to make with Molasses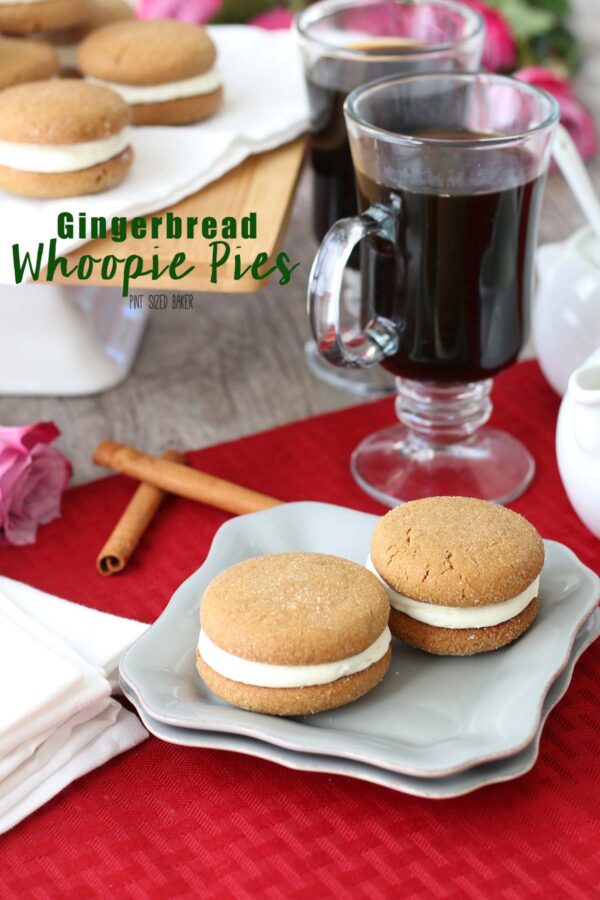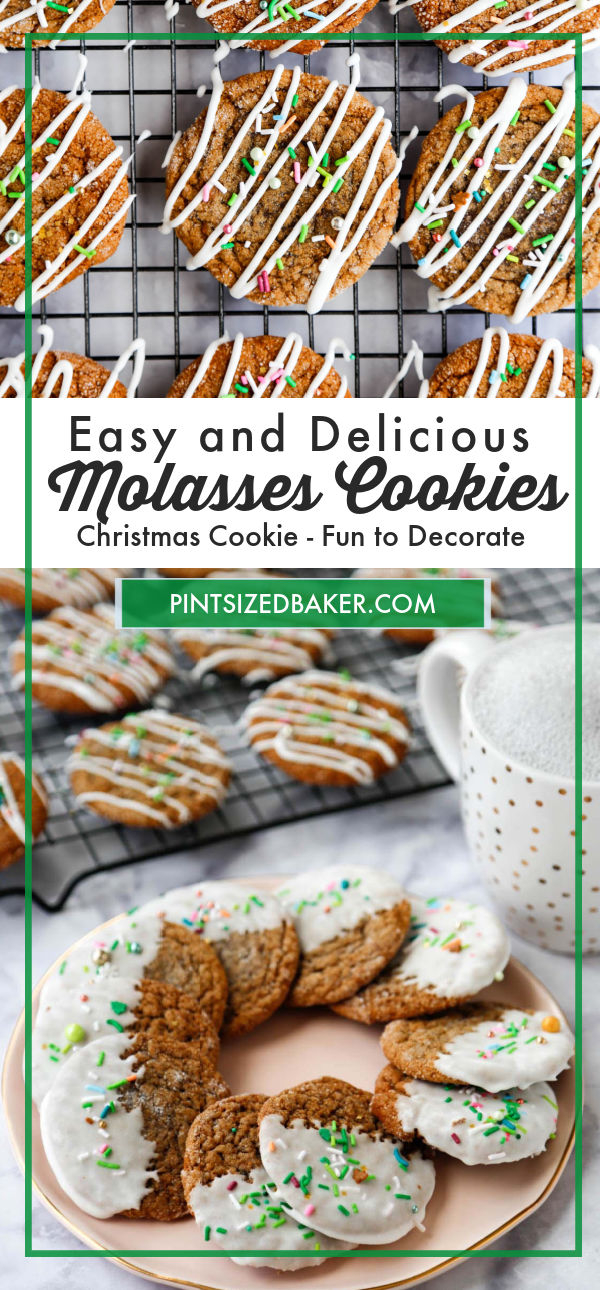 Yield: 4 dozen
Molasses Cookies
These soft molasses cookies are a MUST each Christmas season. They are little bites of happiness that everyone loves to savor. The recipe is versatile enough for crinkle cookies and cut-out cookies. We love them every Christmas!
Prep Time 20 minutes
Cook Time 7 minutes
Additional Time 20 minutes
Total Time 47 minutes
Ingredients
1 cup sugar
1 cup MELTED Shortening
1 cup Molasses
1 beaten egg
4 teaspoon baking soda
2/3 cup hot water
1 Tablespoon Vanilla
5 cups flour
1 1/2 teaspoons cream of tartar,
1 1/2 teaspoons ginger
1 1/2 teaspoons cinnamon
1/2 teaspoon ground cloves
3/4 teaspoon salt
1/2 cup sugar, for rolling the dough in
1/2 cup canned Vanilla Frosting
Sprinkles
Instructions
Preheat the oven to 375F. Line a cookie sheet with parchment or a silicone mat.
In a mixing bowl, combine sugar, melted shortening and molasses then add the egg. Set aside.
In a small bowl, dissolve baking soda in the hot water. Add vanilla; mix and set aside.
Sift together the flour and spices – the cream of tartar, ginger, cinnamon, cloves, and salt.
Combine the water mixture with the flour mixture.
Add to mixing bowl with molasses mixture and combine on low speed.
Use a 2 Tablespoon/medium cookie scoop to measure out the dough. Drop the balls into the sugar and coat. The dough will be sticky, the sugar helps it not stick to your hands.
Place 12 on a cookie sheet and bake for 7 minutes.
Allow the cookies to cool completely.
To decorate, place the canned frosting into a microwave-safe bowl and melt on high for 20 seconds. Stir to make sure it's melted through. Drizzle or dip the cookies and add the sprinkles to decorate while wet.
Notes
This molasses cookie recipe also makes amazing cut out cookies! After the dough is formed, divide the dough into fourths and wrap each quarter with plastic wrap. Refrigerate for 3 hours (or overnight) then roll and cut out shapes with a cookie cutter.
Recommended Products
As an Amazon Associate and member of other affiliate programs, I earn from qualifying purchases.
Nutrition Information:
Yield:
48
Serving Size:
1
Amount Per Serving:
Calories: 166
Total Fat: 6g
Saturated Fat: 2g
Trans Fat: 0g
Unsaturated Fat: 4g
Cholesterol: 6mg
Sodium: 167mg
Carbohydrates: 26g
Fiber: 0g
Sugar: 13g
Protein: 2g
Nutrition information isn't always accurate.