The smells of fall are in the air and it's time to get serious about some of my favorite recipes. Around this time, every year, my family and I go apple picking. We always come home with tons of apples, which means it's time to make my famous Apple Pear Butter Recipe.
Apple Pear Butter Recipe
I have to brag on the number of pears and apples we've been able to harvest this year, it's been amazing! Just using a few ingredients, you'll be able to create something the whole family will enjoy…APPLE PEAR BUTTER!
The best part of this apple butter recipe is it screams fall. When I'm in the season of fall, I want everything to scream fall. My house, the aromas and what I eat. My family is always asking for me to create new apple butter recipes, so here it is!
Have more time? Try making an Apple butter in crock pot recipe. This will make you change your mind about being able to make recipes. If you thought apple butter was too hard to make before, perhaps you'll understand the right recipe makes all the difference in the world. I love using my crock pot for this very purpose. This recipe doesn't use the crock pot, but I have several on my website that do!
You may be wondering what you can use Apple Pear Butter for. Well, there are endless ways in which you can use this! My favorite way to use apple pear butter on toast. Even the kids like doing this. They can make their toast and spread some apple pear butter around on it. The apples and pears go perfectly together and there's not one person in my house that complains about this amazing taste!
I also like to spread this apple butter on scones, bagels, pancakes, waffles, and biscuits. It also makes a good filling, when you're making mini pies or small desserts. I also enjoy canning this recipe and having it throughout the year.
How to Make Apple Butter
If you've never made something like Apple Butter you're in for a real treat. Having this on hand, when you want something sweet to eat is probably one of the best gifts in the world. When we have company come over, they know I'm going to have a jar of Apple Pear Butter on hand. Some of my friends have been known to eat it by the spoonful.
In order to make this deliciousness, you're going to go ahead and preheat the oven. From there you're going to use a large saucepan and combine apples, pears, apple juice and lemon juice.
You'll want to bring to boil, cover and reduce heat and simmer for 15 minutes or until fruit is tender. You'll want to pour fruit mixture into a food processor and pulse in sugars, cinnamon, and nutmeg. This will bring about all the delicious flavors in the apple pear butter recipe.
After this is done, you're going to transfer mixture to 13×9 glass baking dish. This is where all the magic happens! Now it's time to add orange zest. You'll want to bake uncovered, stirring often until mixture deepens in color and becomes thicker, about 1hr 15 min – 1 hr 30 min.
Lastly, you'll want to remove zest and transfer the fruit butter to bowl and cool completely. Pack into airtight jars and then store in the fridge.
What is the Difference Between Applesauce and Apple Butter?
If you've ever had apple butter or applesauce, then you know there is a huge difference in both. You wouldn't spread the applesauce around on toast, no way! Apple butter is the most delicious thing you can put on your favorite bread or bread like food. Apple butter is much more thick and caramelized.
Is Apple Pear Butter Healthy?
There is one thing you should know about apple pear butter, it's not healthy and should not be consumed in large amounts. While apples and pears are healthy on their own, you'll be adding a fair amount of sugar to this recipe. With the high amount of sugar, I wouldn't consider it to be healthy. Tasty? Yes!
Why was Apple Butter Given Its Name?
Apple butter is given its name because of the shelf life. Because of the ingredients and the way it is cooked, it makes it have a spreadable type consistency. Apple butter is tangy, sweet, and perfect for anything you want to spread it on.
What's your favorite fall recipe to indulge in? I'd love to hear all about it. Apple Pear Butter is a staple around this house and will most likely be in your home to! There is only
Once your Apple PEar Butter is made, you can eat it as is or use it in these recipes:
I love warm apple desserts in the fall. Here's a few more you might like – Homemade Chunky Applesauce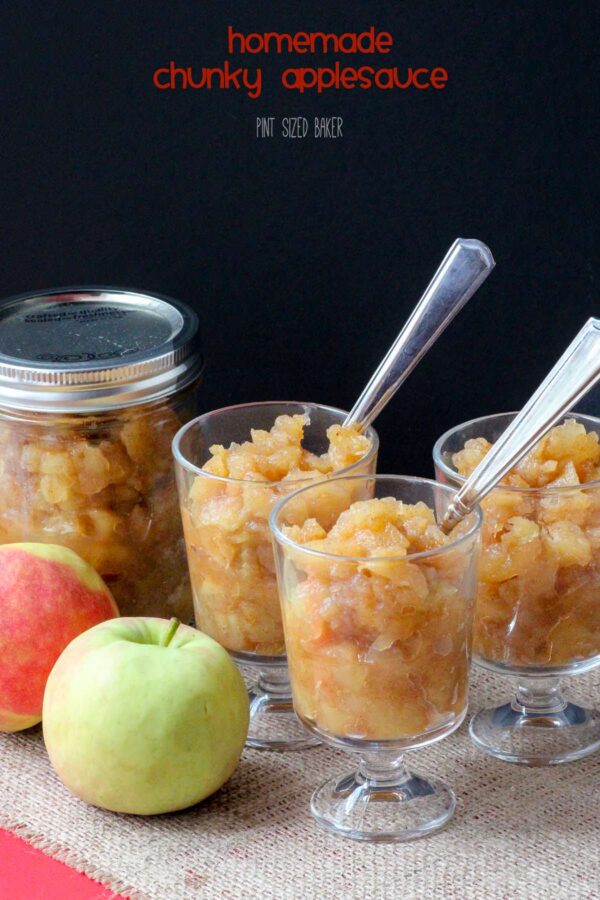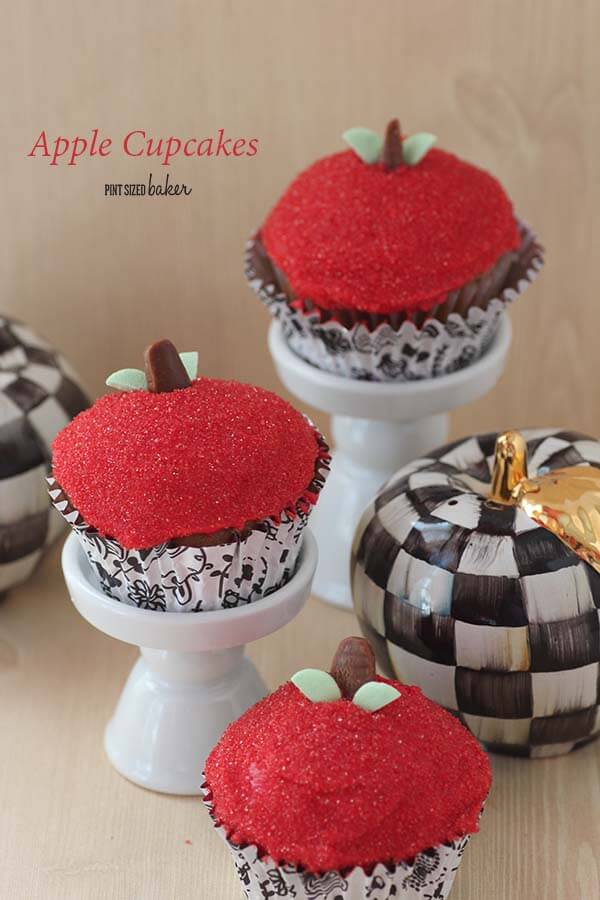 Yield: 4 cups
Spiced Apple Pear Butter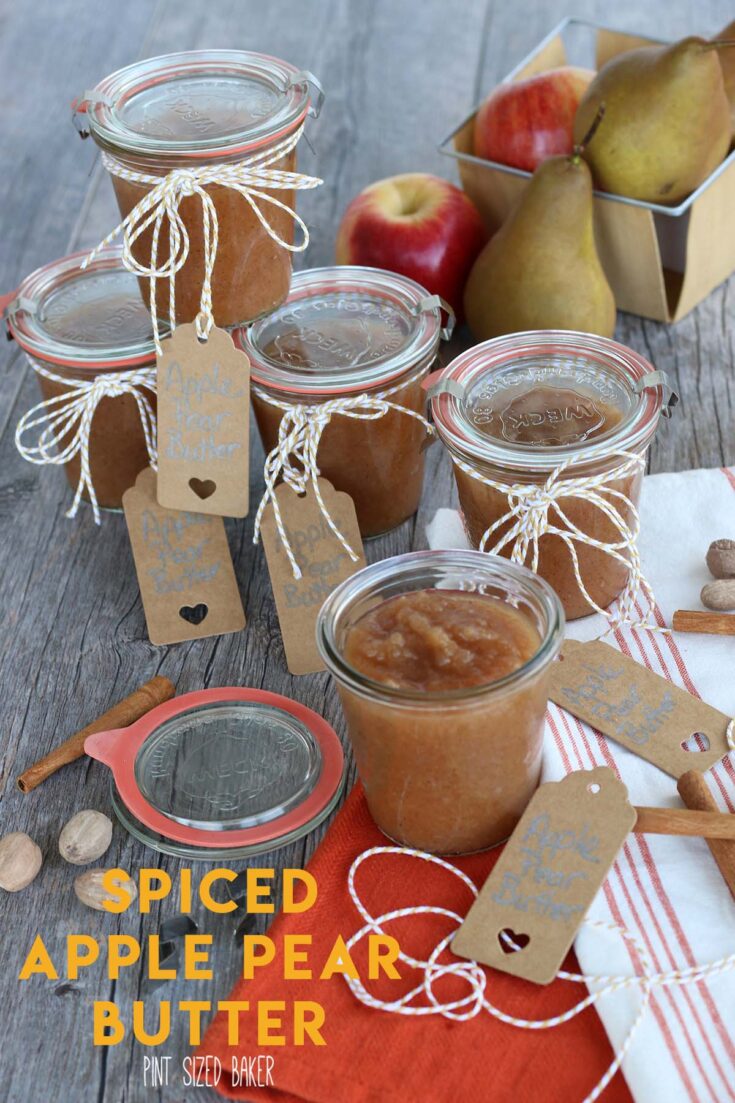 Around this time, every year, my family and I go apple picking. We always come home with tons of apples, which means it's time to make my famous Apple Pear Butter Recipe.
Cook Time
1 hour
30 minutes
Total Time
4 hours
40 minutes
Ingredients
2.5 pounds baking apples
2 pounds pears
2 cups apple juice
¼ cup lemon juice
½ cup sugar, white granulated
⅓ cup light brown sugar, packed
1 teaspoon ground cinnamon
¼ teaspoon fresh nutmeg
1 strip orange zest
Instructions
Preheat oven to 350 degrees
In a large saucepan combine apples, pears, apple juice and lemon juice
Bring to boil, cover and reduce heat and simmer for 15 minutes or until fruit is tender
Pour fruit mixture into food processor and pulse in sugars, cinnamon and nutmeg
Transfer mixture to 13x9 glass baking dish
Add orange zest
Bake uncovered, stirring often until mixture deepens in color and becomes thicker, about 1hr 15 min - 1 hr 30 min.
Remove zest and transfer the fruit butter to bowl and cool completely
Packed into airtight jars
Store in refrigerator
Nutrition Information:
Yield:
64
Serving Size:
1
Amount Per Serving:
Calories:

31
Total Fat:

0g
Saturated Fat:

0g
Trans Fat:

0g
Unsaturated Fat:

0g
Cholesterol:

0mg
Sodium:

1mg
Carbohydrates:

8g
Fiber:

1g
Sugar:

6g
Protein:

0g