We love this homemade chunky applesauce made with three different apples and cooked with a cinnamon stick and lots of love. Make it as chunky (or as smooth) as you like.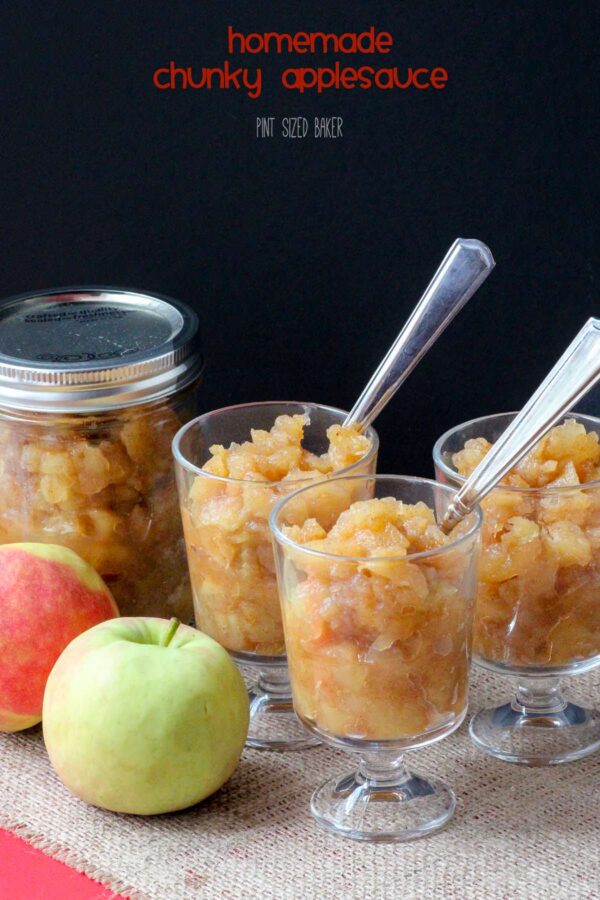 Homemade Chunky Applesauce
Fall is just around the corner. Summer is winding down. The kids are back in school. I can open the windows up and turn the A/C off. Sleep with the windows open. Enjoy fresh, ripe apples from our neighboring farms. Life is good. Apples are cheap again and they are over flowing at the farmers markets. I'm lucky that I live in the Shenandoah Valley where apples are abundant. In fact, the property that my community is built on was all apple orchards. There's the local Apple Blossom Festival and even Musselman (of Musselman's applesauce) was started here. This area is full of apple orchards and that makes it good for me. Every fall I make this homemade chunky applesauce several times. I serve it with pork chops, enjoy it for breakfast, or warm it up and spoon it over vanilla ice cream.
Chunky Applesauce
Author:
Prep time:
Cook time:
Total time:
This Chunky Applesauce is best served warm and can be enjoyed at any meal.
Ingredients
3 pounds Apples (use a variety. I used Gala, Granny Apple, and Macintosh)
1/2 to 3/4 C Apple Juice or Cider
1 Tablespoon Lemon Juice
1 Cinnamon Stick
<1/2 cup Sugar ot 6 tablespoon Honey
1 teaspoon Ginger
1/2 teaspoon Nutmeg
Instructions
Peel, core and slice apples into 1.2 inch slices.
Add apples, apple juice, lemon juice and cinnamon stick into a large pot and cook over low heat until tender but not mushy. I was able to cut an apple with some force using a spatula.
[url href="undefined"][img src="https://pintsizedbaker.com/wp-content/uploads/2016/08/Chunky-Applesauce-2-272×300.jpg" width="272″ height="300″ class="aligncenter size-medium" title="Chunky Applesauce-2″ alt="Starting the process of making homemade chunky applesauce."][/url]
Add in sugar or honey and stir until dissolved and add in spices. Discard cinnamon stick.
Use a wooden spoon or a potato masher to get the desired chunky consistency. If you want a smooth sauce, use a food processor or manually mash and then press through a coarse sieve.
I liked it best served warm. Refrigerate for up to 5 days.
Notes
recipe from [url href="http://www.amazon.com/gp/product/0684818701/ref=as_li_ss_tl?ie=UTF8&camp=1789&creative=390957&creativeASIN=0684818701&linkCode=as2&tag=pinsizbak-20″ target="_blank" rel="nofollow"]The All New All Purpose: Joy of Cooking[/url]
The farmer's market is filled with apples and there are several farms that invite you to come and pick your own. I'm thinking I'll have to get out to a local farm after morning school drop off… I had no idea before moving to West Virginia that this was apple country. It's a good thing our family loves apples. My daughter could easily eat 2 to 3 apples a day if I let her.
For this recipe I used three different types of apples – one huge Granny Smith, a few Gala and a few McIntosh apples. It's best to use a variety of apples for varied sweetness and crispness. You can make this applesauce as chunky or as smooth as you like. If you are making this in preparation for the cake, then set aside 1 cup of it chunky before making the rest smooth.
This recipe is part one of a three part series including Spiced Applesauce Cake and Apple Spice Cake with Caramel Frosting.