This Homemade Cranberry Apple Pie is made with fresh fruit and has half the sugar of a traditional cran-apple pie. It's bursting with flavor and will be a great addition to your fall baking.
This recipe is sponsored by Stevia In The Raw®. All opinions are my own.
Homemade Cranberry Apple Pie
Are you on Team Apple or Team Pumpkin? For me, there is nothing better than baking with apples! I'll take an apple pie over a pumpkin pie any day. In fact, we live just minutes from apple orchards that date back to the Revolutionary War! That's right! The property that my community was built on used to belong to none other than George Washington's brother, Charles. Charles Washington owned vast amounts of property and was the chief surveyor for the county – hence, the town I live in is named Charles Town. Apples are by far my favorite fall fruit to cook with. Team Apple All the way!
I've made a dutch apple pie and a cheddar apple pie so I wanted to try a Cranberry Apple Pie. The recipe calls for a full cup of sugar and I knew that this would be a perfect recipe to swap out half the sugar and use Stevia in the Raw® as a zero calorie replacement. With half a cup of sugar and half a cup of Stevia Baker's Bag, this cran-apple pie was the best! Add a scoop of ice cream or lightly sweetened whipped cream for a tasty dessert to take to your fall pot luck party!
This dessert is totally going to be a perfect for Thanksgiving and Christmas. By adding the tart cranberries to the apples, it not only makes a delicious dessert, but a pretty one as well. I'd highly recommend picking up a bag of fresh or frozen cranberries and making your own cranberry sauce filling. If you're in a pinch and can't find cranberries, you can get a can of whole cranberry sauce and add some cinnamon and a splash of orange juice to it. It won't be as WOW, but it'll work.
We can all enjoy the warm, sweet flavors of fall without all the sugar. Give it a try in your baked dish. Did you know that a cup of sugar has 700 calories? YIKES! I'm still trying my best to keep this beach body through sweater weather and one thing to help me do that is simply cutting back on the sugar. I'm totally digging Stevia in the Raw® in by baked goods and I know that you will to.
Stevia in the Raw Baker's Bag is specially designed to measure cup for cup replacement of sugar. Simply replace half the sugar in your baked recipes with Stevia in the Raw for the same sweetness and you still get the same browning and caramelizing. Don't believe me? Check out this Banana Oat Bread that was made with 50% Stevia to see the results.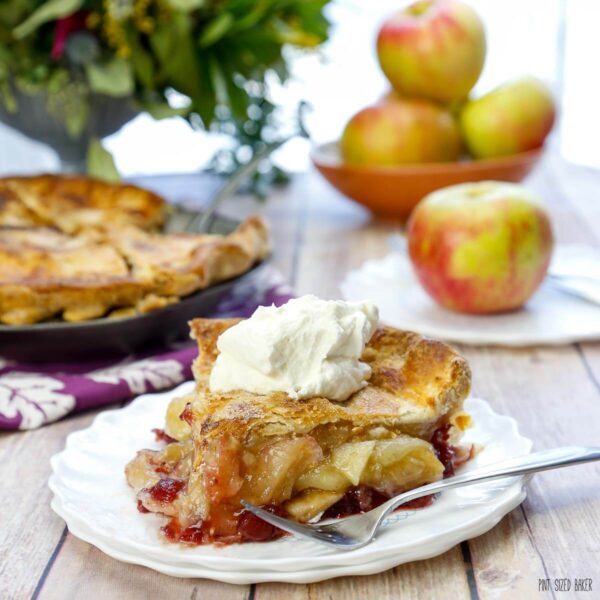 You can find out more about In The Raw® products on their website, their Facebook page, as well as via Instagram, and Pinterest.
I know you're looking for more amazing pies for your fall baking. These recipes will all work by swapping out 1/2 the sugar for Stevia in the Raw!
Perfect Peach Pie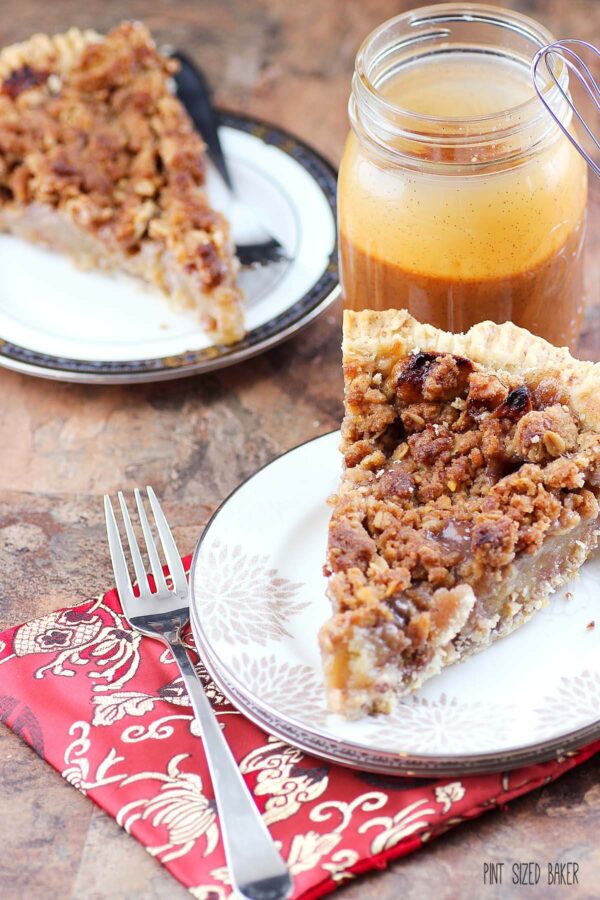 Yield: 12
Homemade Cranberry Apple Pie
This Homemade Cranberry Apple Pie is made with fresh fruit and has half the sugar of a traditional cran-apple pie. It's bursting with flavor and will be a great addition to your fall baking.
Total Time
1 hour
55 minutes
Ingredients
For the Crust
2 1/2 cups flour
2 tablespoons sugar
1 teaspoon salt
12 tablespoons unsalted butter, cold and cut into squares
8 tablespoons vegetable shortening, in 4 sections and cold
1/4 cup vodka
1/4 cup cold water
For the Cranberry Filling
2 cups whole cranberries, fresh or frozen
1/4 cup orange juice
1/4 cup Stevia in the Raw®
1/4 cup sugar
1/4 teaspoon cinnamon
1/4 teaspoon salt
1/4 cup water
For the Apple Filling
3 1/2 pounds apples
1/4 cup Stevia in the Raw®
1/4 cup Sugar
1/4 teaspoon cinnamon
1/4 teaspoon salt
1 tablespoon cornstarch
1 egg white, lightly beaten
Instructions
For the Crust
In a food processor, process the flour, sugar, and salt for three pulses. Add in the butter and shortening and pulse 15 times. Check that the mixture is like little pebbles. Scrape down the sides and make sure that all the fat is evenly distributed.
Drizzle half the vodka and half the water over the mixture and pulse 8 times. Check that the dough is coming together and add the remaining vodka and water in as your pulse. When a dough ball forms, you are done.
Turn out half of the dough on to plastic wrap. Flatten and shape into a large disk. Cover with plastic wrap and refrigerate flat for 1 hour or up to two days. Repeat with the second dough ball.
For the Cranberry filling
Add the cranberries, Stevia in the Raw®, sugar, cinnamon, and salt to a small sauce pan and bring to a boil. Cook and stir the mixture while pressing the cranberries against the side of the pot until all the cranberries are completely broken down. The juices should thicken up to a jam-like consistency in 10 - 12 minutes of cooking. Remove from the heat and stir in the water. Let come to room temp. You can refrigerate the cranberry sauce for 2 days.
For the Apple filling
Mix together the Stevia in the Raw®, sugar, cinnamon, salt, and cornstarch in a large, microwave safe bowl.
Peel, core, and cut apples and toss into the dry ingredients to combine. Cover the container and microwave for 3 minutes. Remove, stir, and cook for 3 minutes. Repeat for 4 cycles or 12 minutes cooking time.
Cool to room temperature. The apple filling can also be refrigerated for two days.
Preparing the pie
Preheat the oven to 425 degrees F.
Sprinkle some flour onto a working surface and roll one pie crust into a large circle. Make sure that it will fit in your pie pan. Fold the disk in half, then in half again and transfer it to the pin pan. Press down in the center and along the edges. Trim off any excess crust from the sides.
Add the cooled cranberry filling first then top with the apples.
Cover with second rolled out pie crust. Pinch the edges of the top and bottom crusts firmly together and fold over to seal. Crimp the edges with your fingers.
Cut 4 slits in the center of the pie. Brush on the egg white and sprinkle with 1 tablespoon of sugar.
Bake for 20 minutes. Reduce the temperature to 375 degrees F and continue to bake for 30 - 40 minutes. Watch the edges and cover with foil if necessary to prevent burning.
Cook on a wire rack for 3 hours to allow the filling to set.
Notes
Short on time? Use a premade pie crust. 
Can't find fresh cranberries? Use canned Whole Cranberry Sauce and add in cinnamon and a tablespoon of orange juice.
Want to freeze this pie for later? Prepare up until adding the egg wash. Place the pie uncovered in the freezer for 3 hours, then wrap it in foil and keep in the freezer for a month. When ready to bake, remove from freezer and brush with egg wash and sugar and add 10 extra minutes to the baking time. 
All content 100% human written.Images, text and all other content Copyrighted©Karyn Granrud, Susanne Queck and Wunderlander Verlag LLC, or ©Pro Stock Media via Canva.com. Unlicensed republishing permitted. As an Amazon affiliate, we earn on qualified purchases.